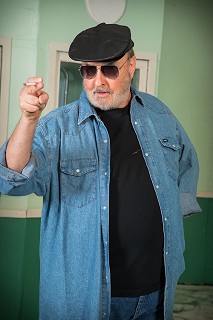 ONE FLEW OVER THE CUCKOO'S NEST
by DALE WASSERMAN
Based on the novel by Ken Kesey
Richardson Theatre Centre
CREW:
Director – Rachael Lindley
Stage Manager – Feven Tesfaye
Set Design – Jake Blakeman
Set Crew – Rachael Lindley, Kimmey Mauldin, Jackie Johnston, Budd Mahan, Cast and Crew
Scenic Artist – Budd Mahan
Lighting Designer – Richard Stephens Sr.
Sound Design – Richard Stephens Jr.
Light/Sound Operator – Leigh Wyatt Moore
Asst. Light/Sound Operator – Riley Niksich
Costumes – Rachael Lindley, Cast and Crew
Props – Rachael Lindley
Artistic Director – Rachael Lindley
Executive Producer – Lise Alexander
House Manager/Facebook – Leigh Wyatt Moore
Playbill/Flyers/Web/Enews – Becky Byrley

CAST:
Chief Bromden – Raul G. Flores
Aide Warren – Dan Slay
Aide Williams – Leonardo Rodriguez
Nurse Ratched – Kristi Smith
Nurse Flinn – Emory Lambert
Dale Harding – Audie Preston
Billy Bibbit – Collin Miller
Scanlon – Richard Stephens Jr.
Cheswick – Jonathan Dickson
Martini – Gustavo Rodriguez
Ruckley – Steven Shaw
Randle P. McMurphy – Robert Banks
Dr. Spivey – Budd Mahan
Aide Turkle – Leonardo Rodriguez
Candy Starr – Sara Schochler
Sandra – Kimmy Mauldin
---
Reviewed Performance 7/23/2017
Reviewed by Scott Hazard, Associate Critic for John Garcia's THE COLUMN
R.P. McMurphy is transferred from prison to a mental institution, where he thinks the rules might be a bit less stringent and to his liking. What unfolds is a tale that touches many sensitive spots of our human psyche and raises questions about what we consider societal norms.

Written as a novel in 1962 by Ken Kesey and made into a film in 1975 directed by Miloš Forman, this story is a look inside a mid-century mental health institution and a look at how we as a society view such institutions as well as those who reside and work at them. Obviously, this is not a light-hearted affair, but one that is important to be aware of and understand so that we may better understand and learn how to manage mental illness collectively.

As my wife and I sat in the Richardson Theatre Centre watching this play, I had recurring thoughts that this play could be regarded as a "Good vs. Evil" piece, wherein good and evil actually morph back and forth between one another throughout the story. This adds a new level to this play for me and is a deep enough topic to be a paper of its own, so for now let's just say that this production expanded my respect for, and desire to understand this play as well as this complex topic of mental illness and how we, as a society, react to it and deal with it.

This play requires a delicate mix of strong acting without going over-the-top and a fusion of technical elements that create the look and feel of a 1960s mental institution in America. We must see these characters for what they are, yet remember that they are people, not caricatures that tend to be much larger than real people.

The group that plays the residents of the institution before McMurphy arrives were very well cast and set the tone of the play early on. Each of them consistently portrays their role and their individual characteristics to create the ambience, just as the members of a choir work together to produce a single sound. Playing characters with physical handicaps takes a lot of concentration and effort. Great job by this cast of residents, as well as director Rachael Lindley on the consistency and balance among them.

Forging the way forward among the residents is Raul G. Flores as Chief Bromden. Concern over properly casting this show must give a director many sleepless nights. Let's face it, someone who can play an Indian Chief, who looks the part and is able to bring the level and range of emotion needed for this role is rare in community theatre circles. Flores' crisp performance penetrates the darkness of his character in the role of Chief Bromden. Outstanding!

On the other side of the equation are the staff of the hospital, led by Nurse Ratched. Ratched represents the bad to the good that McMurphy introduces and for a moment at least, the good to the bad that McMurphy brings. Regardless of your interpretation of the character, Kristi Smith is brilliant in this role. Her sharp rebukes of McMurphy and his shenanigans, her moments of caring for the residents and her dealings with the staff were all played perfectly and add plenty of depth to the show. Her facial expressions stood out to me as something she likely worked very hard on. Smith brought this role to life with unbending authoritarianism, while allowing the softer side through at just the right moments.

R.P. McMurphy, one of my favorite film characters of all time, travels the character arc at warp speed as he emerges with a hell-raiser bent, only to discover things about some of the other residents that help shape his own perspective. McMurphy "helps" others without knowing or understanding the consequences of dealing with mentally disabled people. Robert Banks captured the essence of McMurphy in his first scene, which sets up the rest of the story and how McMurphy justifies his actions later on. Banks' portrayal of the moment when it all seems to crash down on McMurphy (I won't give away the scene) was amazing. Banks brings believability and authenticity to this role throughout the show.

Costumes for this show are pretty simple, yet very important to produce the proper look and feel. Again, it is very easy to go too far in dressing mental patients, but the costumes were spot on. The shoes the two nurses wore were absolutely perfect. As someone who spent nearly two decades in the footwear industry, I pay attention to shoes and place heavy importance in their presence in costuming any period show.

Lighting and Sound Design, by Richard Stephens Sr. and Richard Stephens Jr., respectively, insured that the play contained all elements needed for effect. I might have leaned a bit more toward the cooler lighting tones to produce a more institutional look, but director Rachael Lindley informed us in her delightful curtain speech that this theatre is soon getting all new lighting to replace the "antiques" they currently have, so with that knowledge I can say that the lighting was just fine and will only get better after this upgrade.

For me at least, when a distraction is present, the single most distracting thing in theatre is sound. Sound clips that start and end "hard" with no fade up or down are all too present in community theatres. Volume levels are important here as well. Mellow music played softly creates a serene, easy feel. Increase the volume on that same music as activity on the stage increases and that same music now feeds the mayhem and acts as a catalyst to increase the energy of the scene. Kudos to Sound Designer Richard Stephens Jr. here. From complementary sound effects to transition music, the sounds for this show seemed to be there and not there when needed, leaving them almost unnoticed by the audience, which is exactly how sound should be, the perfect blend.

Combine a powerful play, an amazing cast, solid technical execution and an intimate space with comfy seating and you get a great live theatre experience. This is exactly what you can expect when attending ONE FLEW OVER THE CUCKOO'S NEST at Richardson Theatre Center.
---
ONE FLEW OVER THE CUCKOO'S NEST
Richardson Theatre Centre
518 W. Arapaho Rd. Suite 113
Richardson TX 75080

Plays through Sunday, August 6th
Thursdays at 7:30PM - $20
Fridays and Saturdays at 8PM - $22
Sunday matinee at 2PM - $20
Groups of 8 or more receive $2 off each ticket
Tickets: Call 972-699-1130

Richardson Theatre Center is a 501(c)3 non-profit organization