The AT&T Performing Arts Center Announces 2016/2017 Broadway Series Season
---
A GENTLEMAN'S GUIDE TO LOVE & MURDER – August 16 – August 28, 2016
RENT(20th ANNIVERSARY TOUR) – September 20 – October 2, 2016
THE CURIOUS INCIDENT OF THE DOG IN THE NIGHT-TIME – January 11 – January 22, 2017
INTO THE WOODS – May 17 – May 28, 2017
SOMETHING ROTTEN! – June 13 – June 25, 2017
FINDING NEVERLAND – July 11 – July 23, 2017
NON-SUBSCRIPTION SPECIALS
Back by popular demand,
THE BOOK OF MORMON – December 20, 2016 – December 31, 2016
HEDWIG AND THE ANGRY INCH – February 7 – February 12, 2017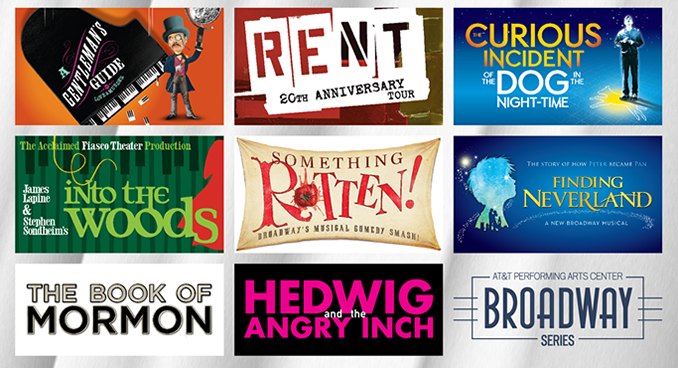 The nonprofit AT&T Performing Arts Center today announced the 2016/2017 season of its Broadway Series, featuring A Gentleman's Guide to Love & Murder, Rent 20th Anniversary Tour, The National Theatre Production of The Curious Incident of the Dog in the Night-Time, Into the Woods, Something Rotten! and Finding Neverland. All performances will take place at the Winspear Opera House in the Dallas Arts District. 
By popular demand, The Book of Mormon, which played sold out and record breaking engagements in 2014 and 2015 returns to Dallas.
Season subscribers will have the option to add The Book of Mormon andHedwig and the Angry Inch to their season subscription.
Season subscriptions are available now. 
"This is our biggest and boldest season yet. Four of our shows are current Broadway smashes, and we made sure to include some classics in the mix." said Doug Curtis, president and CEO of the Center. "North Texas audiences expect the latest and best hits, and there's something for everyone in this lineup."
Broadway Series subscribers enjoy free ticket replacement, discounted pre-paid parking and the Center's inter-show ticket exchange, which provides the flexibility to exchange tickets for one show to another in the season (limit one exchange per season).
Center Circle members enjoy Broadway better than anyone else with a wide range of exclusive benefits. Member benefits include priority access to the best available seats, access to the Members Lounge for complimentary beverages at each performance and access to the Platinum Circle orchestra seating for Platinum Circle members. Membership donations not only help the nonprofit Center bring the very best in performing arts to North Texas, but also support the Center's community and education programs, including Community Partners which provides free tickets to those who would otherwise not have access. To join Center Circle with a membership donation, visit attpac.org/support or call Membership Services at 214-978-2888.
Six-show subscription packages for Orchestra seating range from $516.00 - $720.00, with the option to order The Book of Mormon for $105.00 - $135.00 and Hedwig and the Angry Inch for $100.00-$120.00.
Subscription packages for the six-show season range from $132 for Starlight Circle seating to $1200.00 for packages in the Cree Box Circle. 
Information is available at www.attpac.org/broadway.  Subscriptions may also be purchased by phone at 214-880-0202, or in person at the AT&T Performing Arts Center Information Center, 2353 Flora Street (Monday 10 a.m. – 6 p.m.; Tuesday thru Saturday 10 a.m. – 9 p.m.; Sunday 10 a.m. – 6 p.m.).
Note: For downloadable press photos and b-roll please visit www.attpac.org/press-center/. Please use the provided photo credits when publishing photos.
THE 2016/2017 SEASON OF BROADWAY
A GENTLEMAN'S GUIDE TO LOVE & MURDER
August 16 – August 28, 2016
Getting away with murder can be so much fun… and there's no better proof than the knock-'em-dead hit show that's earned unanimous raves and won the 2014 Tony Award® for BEST MUSICAL—A Gentleman's Guide To Love & Murder!
Coming direct from New York, where a most gentlemanly NPR critic said he'd "NEVER LAUGHED SO HARD AT A BROADWAY MUSICAL," Gentleman's Guide tells the uproarious story of Monty Navarro, a distant heir to a family fortune who sets out to jump the line of succession by – you guessed it – eliminating the eight pesky relatives (all played by one fearless man) who stand in his way.  All the while, Monty has to juggle his mistress (she's after more than just love), his fiancée (she's his cousin but who's keeping track?), and the constant threat of landing behind bars! Of course, it will all be worth it if he can slay his way to his inheritance… and be done in time for tea.
The Hollywood Reporter raves, "GENTLEMAN'S GUIDE RESTORES OUR FAITH IN MUSICAL COMEDY" and The New York Times cheers, "IT WILL LIFT THE HEARTS OF ALL THOSE WHO'VE BEEN PINING FOR WHAT SOMETIMES SEEMS A LOST ART FORM."
RENT 20th ANNIVERSARY TOUR
September 20 – October 2, 2016
In 1996, an original rock musical by a little-known composer opened on Broadway… and forever changed the landscape of American theatre. Two decades later, Jonathan Larson's RENT continues to speak loudly and defiantly to audiences across generations and all over the world. And now, this Pulitzer Prize and Tony Award®-winning masterpiece returns to the stage in a vibrant 20th anniversary touring production. A re-imagining of Puccini's La Bohème, RENT follows an unforgettable year in the lives of seven artists struggling to follow their dreams without selling out. With its inspiring message of joy and hope in the face of fear, this timeless celebration of friendship and creativity reminds us to measure our lives with the only thing that truly matters—love.
THE BOOK OF MORMON
December 20, 2016 – December 31, 2016
The New York Times calls it "the best musical of the century." The Washington Post says, "It is the kind of evening that restores your faith in musicals." And Entertainment Weekly says, "Grade A: the funniest musical of all time." Jimmy Fallon of The Tonight Show calls it "Genius. Brilliant. Phenomenal." It's The Book of Mormon, the nine-time Tony Award®-winning Best Musical.
This outrageous musical comedy follows the misadventures of a mismatched pair of missionaries, sent halfway across the world to spread the Good Word. Now with standing room only productions in London, on Broadway, and across North America, The Book of Mormon has truly become an international sensation. Contains explicit language.
THE CURIOUS INCIDENT OF THE DOG IN THE NIGHT-TIME  January 11 – January 22, 2017
"Eye-opening, life-affirming, and unmissable." – TIME Magazine
The Curious Incident of the Dog in the Night-Time, winner of five 2015 Tony Awards® including BEST PLAY, is coming to Dallas as part of the Broadway season!
Hailed as "One of the most fully immersive works ever to wallop Broadway" by The New York Times, this "dazzling" (Associated Press) adaptation is the Tony Award®-winning new play by Simon Stephens, adapted from Mark Haddon's best-selling novel and directed by Tony winner Marianne Elliott.
Fifteen-year-old Christopher has an extraordinary brain; he is exceptionally intelligent but ill-equipped to interpret everyday life. When he falls under suspicion for killing his neighbor's dog, he sets out to identify the true culprit, which leads to an earth-shattering discovery and a journey that will change his life forever.
For more information, visit CuriousOnBroadway.com
http://www.curiousonbroadway.com/
WATCH: CURIOUS INCIDENT at the 2015 Tony Awards®
https://youtu.be/RYDFdY3IZBM
WATCH: Creating Christopher's World
https://youtu.be/6gMH285LvbM
HEDWIG AND THE ANGRY INCH
February 7 – February 12, 2017
Brilliantly innovative, heartbreaking, and wickedly funny, HEDWIG AND THE ANGRY INCH is the landmark American musical by John Cameron Mitchell and Stephen Trask that is "groundbreaking and undoubtedly ahead of its time" (Entertainment Weekly). This genre-bending, fourth-wall-smashing musical sensation, with a pulsing score and electrifying performances, tells the story of one of the most unique characters to ever hit the stage.
Directed by Tony Award® winner Michael Mayer (Spring Awakening) and winner of four 2014 Tony Awards® including Best Musical Revival, HEDWIG AND THE ANGRY INCH played to record-breaking sell-out crowds on Broadway and promises to take [insert local city] by storm with what Time Magazine proclaims is "the most exciting rock score written for the theatre since, oh, ever!"
INTO THE WOODS
May 17 – May 28, 2017
"TRULY ENCHANTING! THESE ARE THE WOODS THAT YOU WANT TO GET LOST IN, A PLACE YOU'LL FIND BURIED TREASURES THAT YOU DIDN'T EVEN KNOW EXISTED." – Ben Brantley, The New York Times
Venture back INTO THE WOODS as the Dodgers (Jersey Boys, Matilda) team up with Networks (Phantom, War Horse, South Pacific) to present the acclaimed Fiasco Theater production that became New York's surprise hit of this season. Unanimously acclaimed, extended twice at the Roundabout's Laura Pels Theater, the Tony Award-winning musical classic by Stephen Sondheim and James Lapine has been mounted with boundless imagination. This witty and wildly theatrical re-invention is INTO THE WOODS like you've never seen it before!
Including dazzling songs like "Children Will Listen" and "No One Is Alone," this thrillingly clever new version made Ben Brantley of The New York Times fall "head over heels." Mind the wolf, heed the witch and honor the giant in the sky at this extraordinary musical about the power of wishes and what really happens after they come true.
**
"GORGEOUS. Into the Woods not only features a giant but IS ONE. In perhaps its most surprising reconfiguration yet, Fiasco's production highlights the way people fight with their fate rather than just succumb to it. GENIUS." -Jesse Green, New York Magazine
"INGENIOUS and BEWITCHING!" – Jennifer Farrar, Associated Press
"STUNNING and AMAZINGLY RICH" - Marilyn Stasio, Variety
SOMETHING ROTTEN!
June 13 – June 25, 2017
Something Rotten! is "Broadway's big, fat hit!" (New York Post). Set in 1595, this hilarious smash tells the story of Nick and Nigel Bottom, two brothers who are desperate to write a hit play. When a local soothsayer foretells that the future of theatre involves singing, dancing and acting at the same time, Nick and Nigel set out to write the world's very first MUSICAL! With its heart on its ruffled sleeve and sequins in its soul, Something Rotten! is "The Producers + The Book of Mormon x The Drowsy Chaperone. Squared!" (New York Magazine).
FINDING NEVERLAND
July 11 – July 23, 2017
Broadway's biggest new hit and the winner of Broadway.com's Audience Choice Award for Best Musical, this breathtaking smash "captures the kid-at-heart," says TIME Magazine. Vogue cheers, "It's a must-see you'll remember for years to come!" Directed by visionary Tony®-winner Diane Paulus and based on the critically-acclaimed Academy Award® winning film starring Johnny Depp, FINDING NEVERLAND tells the incredible story behind one of the world's most beloved characters: Peter Pan. Playwright J.M. Barrie struggles to find inspiration until he meets four young brothers and their beautiful widowed mother. Spellbound by the boys' enchanting make-believe adventures, he sets out to write a play that will astound London theatergoers. With a little bit of pixie dust and a lot of faith, Barrie takes this monumental leap, leaving his old world behind for Neverland, where nothing is impossible and the wonder of childhood lasts forever. The magic of Barrie's classic tale springs spectacularly to life in this heartwarming theatrical event. FINDING NEVERLAND is "far and away the best musical of the year!" (NPR).
#       #        #
ABOUT THE AT&T PERFORMING ARTS CENTER

The AT&T Performing Arts Center is a nonprofit foundation that operates and programs three premier performance venues and a 10-acre park for music, opera, theatre and dance in the heart of downtown Dallas. Opened in October 2009, the Center helped complete the 30-year vision of the Dallas Arts District.
Audiences enjoy the best and most recent from Broadway; the finest in world dance and music co-presented with TITAS; top concerts, lectures and performers with Center Presents; and a five-year undertaking to present The Complete Works of William Shakespeare.  The Center also presents a wide range of free programming for audiences from every part of Dallas, including Patio Sessions concerts, Sunset Screenings, Local Motion fitness programs and Studio 2403, dance classes in Sammons Park.  The Center makes performance art accessible to thousands of local students through its education program, Open Stages.  Through a variety of special programs and benefits, the Center's members and volunteers are able to become involved and engaged in the arts.
Five esteemed resident companies utilize the Center's performance spaces: Anita N. Martinez Ballet Folklorico, Dallas Black Dance Theatre, The Dallas Opera, Dallas Theater Center and Texas Ballet Theater.
The Center's Margot and Bill Winspear Opera House, Dee and Charles Wyly Theatre, Elaine D. and Charles A. Sammons Park, and Annette Strauss Square are some of the finest venues for performances in the world, designed by internationally acclaimed architectural firms.
The Center's mission is to provide a public gathering place that strengthens community and fosters creativity through the presentation of performing arts and arts education programs.  For more information on the AT&T Performing Arts Center, to become a member, or to make a donation, visit www.attpac.org.