Cara Mía Theatre Presents the National Tour of WET: A DACAmented Journey
Written and Performed by Alex Alpharaoh
---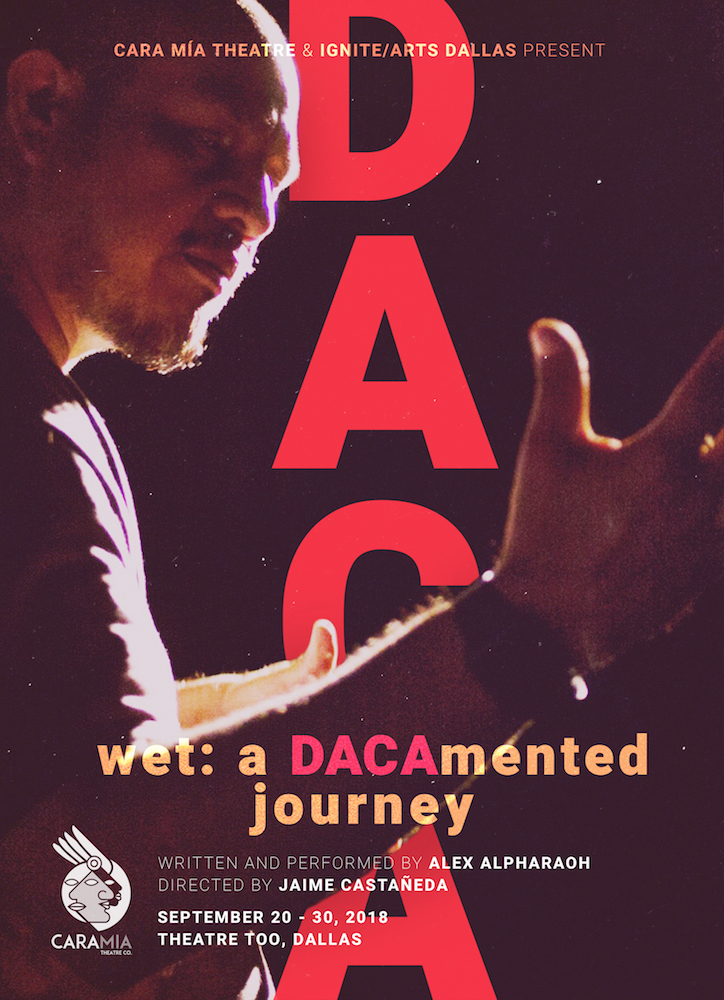 Dallas - (8/21/2018) Co-produced with SMU Meadows School of the Arts' Ignite/Arts Dallas and Producing Sponsor Latino Center for Leadership Development, Cara Mía Theatre Co. is proud to present WET: A DACAmented Journey as the company's first national tour.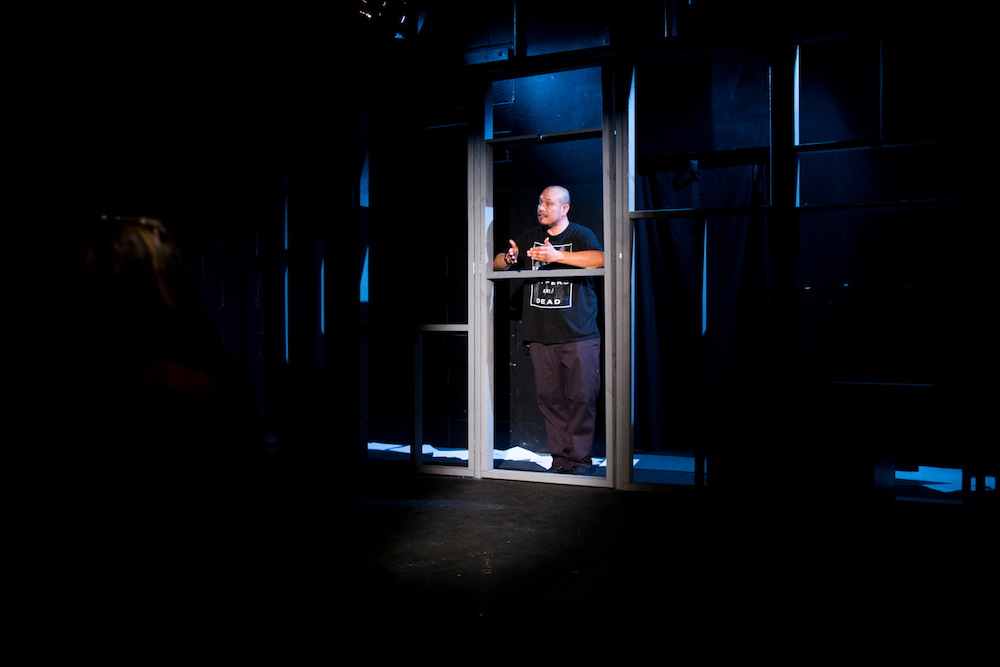 The Los Angeles Drama Critics Circle hailed this acclaimed solo show, written and performed by Alex Alpharaoh, as the Best Solo Performance of 2018. Co-commissioned by Cara Mía Theatre, Ignite/Arts Dallas and ArtsEmerson, Cara Mía Theatre Co. will embark on its first national tour with WET: A DACAmented Journey visiting Dallas, Austin, Chicago, Denton, Boston, and West Hartford, CT.
"I was asked recently, why do this project now, doesn't this put you at risk? To which I thought about, and stayed up the whole night wrestling with" says writer and performer Alex Alpharoah. "I've lived my entire life in the shadows, where it was cold, lonely, and dark. I never knew that there were people like me. If I would have known sooner that there were people in situations similar to mine, I would have felt a sense of comfort in knowing that I was not alone. I speak for those who cannot. Who are too afraid, who have a language barrier, who are tired, and feel defeated, like I tend to feel on my worst days. I speak because at any day, they can end DACA and I can be right back to square zero, but before that happens, I'm going to make sure you hear me."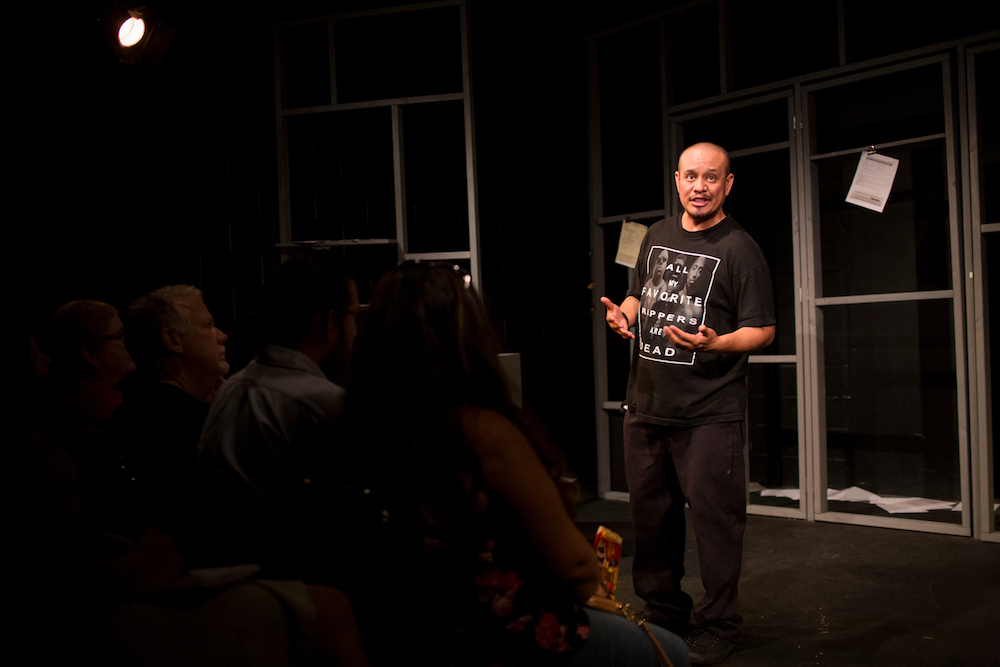 "Alex's personal story is full of wit, courage, strength and tremendous love," says Executive Artistic Director David Lozano. "WET reveals how the current turmoil in the immigration system threatens to snatch extraordinary individuals like Alex away from the country they have always called home. WET is a roller coaster ride that entertains with humor and pure stage presence but brings the audience to the undeniable truth that DACAmented Americans living in the US today need our help now more than ever."
WET: A DACAmented Journey is the story of what it means to be an American in every sense of the word except one: on paper. Based on a true story, WET chronicles one DACA recipient's ongoing battle of living all but his first three months of life in the United States as an undocumented citizen. Written and performed by Alex Alpharaoh from Los Angeles, WET vividly captures the precarious, red-taperavaged life of one "DREAMer".
National touring production co-presented with Ignite / Arts Dallas with Producing Sponsor: Latino Center for Leadership Development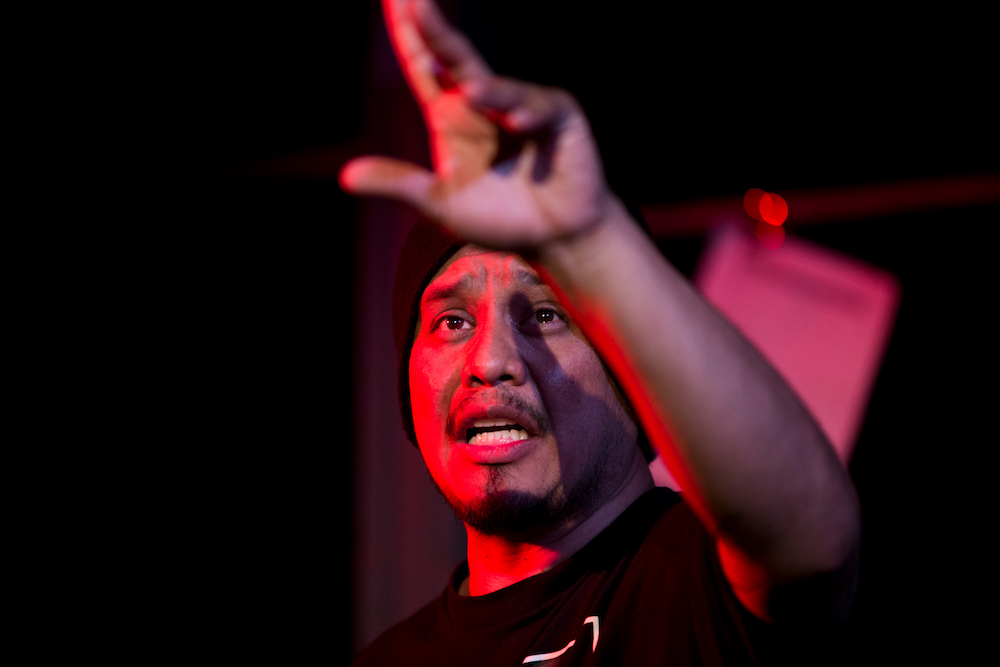 WET: A DACAmented Journey
Written and Performed by Alex Alpharaoh
Theatre Too (Inside Theater Three): Sept. 21 – Sept. 30, 2018
Teatro Vivo (Austin, TX): Oct. 4 – 7, 2018
Destinos Latino Theatre Festival (Chicago, IL): Oct. 11 – 13, 2018
St. Joseph's University (West Hartford, CT): Oct. 18 – 20, 2018
University of North Texas (Denton, TX): Oct. 30 – Nov. 4, 2018
Arts Emerson (Boston, MA): Nov. 8 – 25, 2018
Strong language. Performed in English
SINGLE TICKET, SEASON PASS, and MEMBERSHIP PURCHASE INFORMATION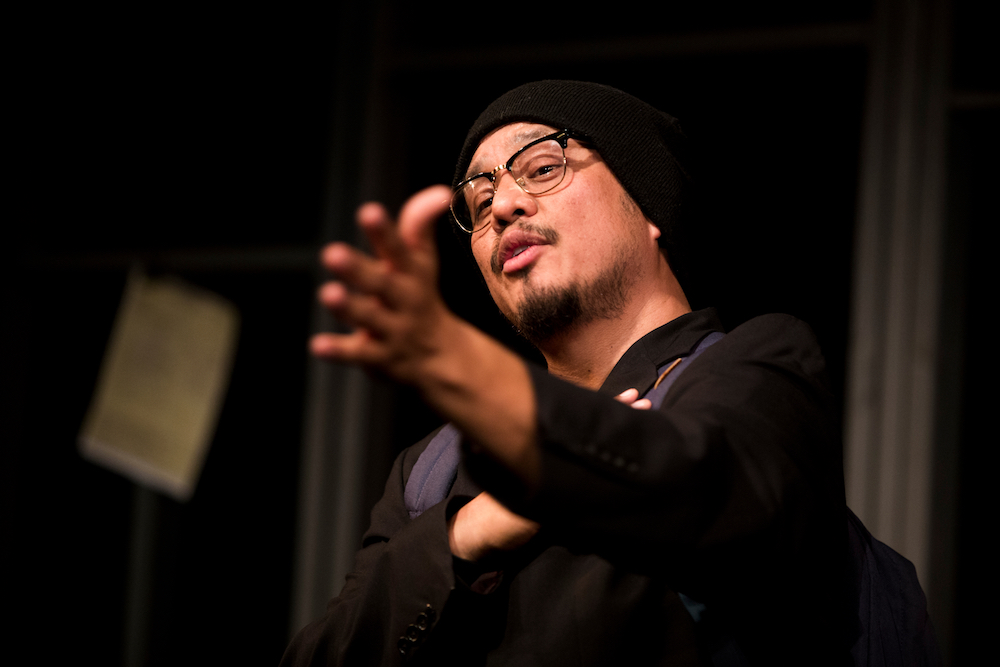 Passes & Memberships: $50 - $250
Box Office: 214-516-0706
Caramiatheatre.org
Season Single Tickets: $18
Senior / Student / Veteran Tickets: $13
Thursday Discount Nights: $13
Preview Nights: $10
Group Rates: $10 tickets for groups of 10 or more
ABOUT CARA MÍA THEATRE CO.
Cara Mía Theatre Co. is a non-profit theatre company that presents live accessible theatre by producing critically acclaimed published plays and creating new and experimental works while developing innovative and educational youth arts programming reflective of the Latino experience in the U.S. Co-Founder Eliberto Gonzalez founded Cara Mía Theatre Co. in 1996 because he believed that Latino literature and its writers ought to be more accessible to the general public. With Adelina Anthony, Gonzalez started the company as a vehicle to bring the Chicano / US Latino experience to Dallas stages. Since, the cultural breadth of CMTC's plays has expanded, and the company's artistic approach has simultaneously evolved, especially since the arrival of current Executive Artistic Director David Lozano in 2002. To expand the company's reach to non-theatre going Latinos, Lozano chose to focus on creating new bilingual plays that were both topical and theatrically unique. Trained in physical theatre, Lozano formed a resident artistic ensemble that devised new works in the form of clown and mask performance, poetic movement and topical, issue-driven plays that speak to the experiences of the local Latinos. Today, CMTC boasts of a 15-member resident artistic ensemble that creates new works and also produces classic and new plays by the most acclaimed Latino playwrights in the nation.
Cara Mía Theatre Co. is sponsored by the City of Dallas Office of Cultural Affairs, The Law Offices of Domingo Garcia, Latino Center for Leadership Development, Embrey Family Foundation, the Communities Foundation of Texas, TACA, Texas Instruments Foundation, the Schubert Foundation, Sammons Center for the Arts, Texas Commission on the Arts, TZOM Films, National Endowment for the Arts, Dallas Tourism Public Improvement District, and in partnership with the Latino Cultural Center.
Artwork by Manuel Herrera / allo creative