THE COLUMN AWARDS DONATES $6,500.00 TO BCEFA
---

Every year, since its creation 16 years ago, THE COLUMN Awards in Dallas, TX has donated to BROADWAY CARES/EQUITY FIGHTS AIDS. They hold the distinct honor of being the ONLY awards organization in the United States that uses their awards gala as a fundraiser for BCEFA.
This year THE COLUMN Awards donated $6,500.00 to BCEFA, which now brings their total raised to over $100,000.
On May 8th of this year, John Garcia, Founder/Executive Director/Producer of THE COLUMN Awards, flew to New York City to present the check for $6500.00 to Tom Viola (BCEFA's Executive Director), Danny Whitman (Director of Communications and Development) and John Haplin (Communications and Development).
THE COLUMN Awards honors excellence in theater, both Equity and Non-Equity, within the Dallas-Fort Worth metroplex. They are the only local awards organization that does this, and holds their annual, glittery, formal gala to present awards to actors, directors, choreographers, and designers. The net profit raised from the gala is then donated to BCEFA.
THE COLUMN Awards have had major stars of Broadway, television and film serve as guest stars and co-hosts over the past 16 years. These include Tony Award winner and Broadway legend Chita Rivera, Donna McKechnie, Cady Huffman, Max Von Essen, Rachel York, Michael Urie, Anthony Rapp, Wilson Jermaine Heredia, Orfeh, Ron Bohmer, Tyler Maynard, John Thomas, George Wendt, Liz McCartney, and Steve Blanchard.
For this year's awards gala a special letter written by Tony Award-winning Director/Choreographer Jerry Mitchell was read to the audience, congratulating THE COLUMN Awards on its achievements in raising so much money for BCEFA.
At the BCEFA office, John Garcia stated, "I am presenting this check on behalf of the outstanding members that serve as my Board of Directors, past board members, and the Dallas-Fort Worth theatre community. We could not have done this without all their support for our organization and its mission. My board and I cannot thank them enough."
"I also want to send a special thank you to all the stars that attended our galas; their appearances greatly aided helping us raise lots of money for BCEFA. We cannot thank them enough for their support. When I created this awards organization I wanted to somehow honor the memory of those close friends in theater that I have lost to AIDS. BCEFA immediately came to mind, and a partnership was born. It's a beautiful way to honor not only them, but to all those we have lost in the world of theater and entertainment to AIDS."
Garcia concluded with a tease, "We already have a guest star lined up for our 17th Annual THE COLUMN Awards gala and will announce who that is next week!"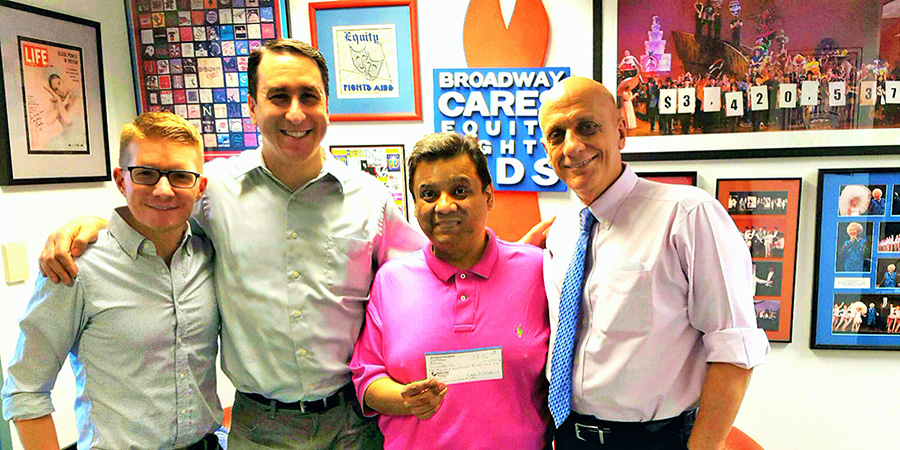 John Haplin (Communications and Development); Danny Whitman (Director of Communications and Development); John Garcia, Founder/Executive Director/Producer of THE COLUMN Awards;
and Tom Viola (BCEFA's Executive Director)