The 5th Annual Dallas Summer Musicals
High School Musical Theatre Awards
Best Actor and Best Actress
Make DSM History at the Nationals in New York City


Best Actor John Fredrickson from Guyer High School placed as a finalist and won a scholarship and Best Actress Kaiden Mains from Waxahachie High School won a scholarship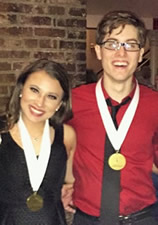 The 5th Annual Dallas Summer Musicals High School Musical Theatre Awards (DSM HSMTA) Best Actor John Fredrickson from Guyer High School placed as a finalist and both he and Best Actress Kaiden Maines from Waxahachie High School won scholarships at the National High School Musical Theatre Awards (the Jimmy™ Awards) on June 27th in New York City.
This is the first time since DSM began the High School Musical Theatre Awards five years ago that the Best Actor has placed as a finalist and both Best Actor and Best Actress have won scholarships. John received a $2,500 scholarship towards his future education from the Barry and Fran Weissler Foundation and Kaiden received a $2,500 Special Recognition Scholarship presented by Tams-Witmark Music Library, Inc.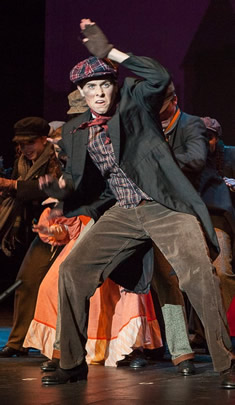 John said, "The experience at the Jimmy Awards was unbelievable. It was such an honor and a privilege to represent the DSM High School Musical Theatre Awards and finish as one of the top four finalists in the nation. The whole experience was surreal as well as life changing. I cannot be more thankful to DSM for their sponsorship and all of those who supported me through this entire process. The past ten days have been the best time of my life and I will miss it all because it was truly wonderful. Hooha!"
Kaiden agreed, saying, "I had such an amazing time at the Jimmy Awards. I met so many talented people and was honored to be one of the six selected for a special recognition scholarship. I had so much fun making my Broadway debut on the Minskoff stage, and I can't thank DSM enough for making this wonderful journey happen for me. I will miss it, but I'm looking forward to whatever is next!"
Supporting Kaiden and John in NYC were John R. Clutts, chair of The 5th Annual DSM HSMTA, Tina Walsh, the recipient of the inaugural Leah and Jerome Fullinwider Award, DSM HSMTA manager Tracy Jordan, and DSM Board Vice President Community Relations Nancy Natinsky and Vice President Education, Downie Mathis.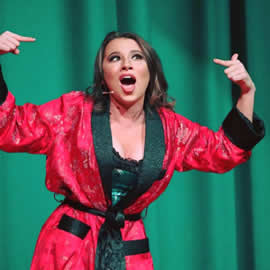 The annual National High School Musical Theatre Awards (the Jimmy™ Awards) is a Broadway-focused talent showcase which featured performances by all 62 nominees and solos by select finalists. Their debut on a Broadway stage followed nine days of rehearsals and private coaching with faculty at the New Studio on Broadway, NYU Tisch School of the Arts Department of Drama and other professionals. Students also enjoyed a performance of ON YOUR FEET! including a talkback with the cast.
The 2016 National High School Musical Theatre Awards introduced a new format for the program in order to accommodate more regional awards programs and provide opportunities for more students to experience Broadway and New York City. This year there were 62 students representing 31 programs, compared to last year's 52 students representing 26 programs.
The students auditioned before a panel of judges earlier in the week, singing two prepared songs and participating in a dance call. Based on the audition results, the students were split into two groups: The Medley Group and The Production Group, leading up to when all students performed together in the opening and closing numbers on the Minskoff stage. The groups worked together throughout the week and received the same amount of coaching. All nominees were eligible for the scholarships and awards.
DSM's HSMTA remains the largest program of its kind in the state and the second largest program of its kind in the country and has been recognized by the National High School Musical Theater Awards as their official affiliate program for North Texas.
Just this past April, Kaiden won the Best Actress award for her performance as Lady of the Lake in Waxahachie High School's production of SPAMALOT and John won Best Actor for his performance as Bert in Guyer High School's production of MARY POPPINS at The 5th Annual Dallas Summer Musicals High School Musical Theatre Awards show at the Music Hall at Fair Park.
Based on Broadway's Tony Awards®, DSM's HSMTA brings together show business veterans, community leaders and celebrities to spotlight the achievements of high school students and their school's musical theatre programs.
HSMTA founding sponsors are Leah and Jerry Fullinwider. Honorary Chairs were Holly and Brad Reeves. DSM Chairman of the Board is Ted Munselle.
The DSM HSMTA Angels Host Committee raised over $128,000 to benefit HSMTA and scholarships. Seven cash scholarships of $5,000 each were presented to outstanding participating students. To date, DSM has awarded $135,000 in cash scholarships to outstanding students.
This year has broken all records for participating schools in HSMTA. There were 67 schools participating showcasing 70 shows, representing 33 school districts across North Texas. Among the 67 are also 7 private schools. In addition, 6 schools have entered two musicals this year for the total of 70 productions which were evaluated. This represents a new all-time high of schools, teachers and students taking part in the program. This is more than double the first year's total of 30 schools participating.
Since DSM's First Annual HSMTA in 2012, this has truly developed into a regional program, accepting schools as far away as Denton and Allen to the north, Waco to the south, Abilene to the west and Paris, Texas to the east.
You can see their experience in New York City through DSM's blog at https://dallassummermusicals.wordpress.com/
and Facebook page at https://www.facebook.com/DSMHSMTA
and the website at http://www.DSMHSMTA.org
The 5th Annual DSM HSMTA media sponsor is People Newspapers.
For questions, contact Tracy Jordan, the program manager at 214-413-3951 or tjordan@dallassummermusicals.org