DALLAS SUMMER MUSICALS AND BROADWAY ACROSS AMERICA ANNOUNCE NEW PARTNERSHIP
---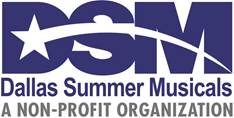 A NEW ERA FOR DALLAS SUMMER MUSICALS AND NORTH TEXAS THEATRE
Dallas Summer Musicals, Inc. (DSM), the historic nonprofit presenter of Broadway theatre in North Texas, and Broadway Across America (BAA), the foremost presenter of first-class touring Broadway productions throughout North America, today announced that both organizations will come together to book and secure future Broadway seasons for North Texas, beginning in 2017-2018.
"Dallas is at the brink of a revolutionary transformation, especially within the arts community. Given the vitality and diversity currently on Broadway, we are excited about DSM's partnership with Broadway Across America which could not have happened at a better time than this, the Platinum Age of musical theatre," says Ted Munselle, DSM 2016 Chair of the Board. "Broadway Across America is known for their network of premiere theatre relations and their influence in the industry is unparalleled, which is why this partnership offers strong support for our organization," adds  Munselle.
"Broadway Across America's roots are in Texas," says John Gore, Owner and CEO of BAA's parent organization, The John Gore Organization. "Since our company was founded in Texas in 1982, we are very proud that Dallas, a top 5 market, has joined our other long-time Texas partners in Austin, Houston and San Antonio as well as those throughout North America. With the largest theatrical subscription base in the world, we are excited to work with our new partners to bring DSM's audience the best of Broadway."
The new partnership aims to enhance both organizations presence in the industry by jointly booking shows for the Dallas market and improving marketing strategies. BAA will act as the voice for DSM  in booking affairs ensuring top quality production deals, while sharing in the financial responsibilities of presenting a show. BAA's multiple market resources will also assist DSM with analytics and promotional tools to better position their marketing efforts. DSM will become BAA's anchor partner in the North Texas market, while further strengthening the organizations position in the southwest region, as DSM continues to enrich the cultural landscape of the community at the heart of Fair Park.
"Dallas is a world-class city and we are proud to work with Dallas Summer Musicals to bring the best shows and the best practices in the industry to Dallas," says Lauren Reid, CEO of Broadway Across America. "It is gratifying to establish a partnership with such a beloved institution. Together, we will work to bring the highest quality arts and entertainment experiences to the North Texas community."
DSM will continue to maintain its working relationship with Performing Arts Fort Worth to further enhance both organizations commitment in developing collaborative efforts that benefit their patrons and the performing arts in Dallas-Fort Worth.
"We have been a staple in the Dallas community for decades and a cornerstone for touring Broadway in the southwest region. From exciting new partnerships to mold-shattering upcoming developments, we look to bring the new age of the Broadway experience to Dallas, while keeping  our traditional values as we continue our 77 year legacy of making memories that will last a lifetime," says Munselle.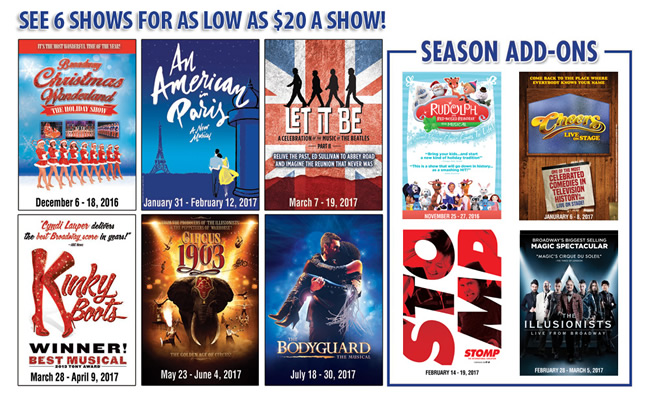 Dallas Summer Musicals will kick off its 2016-2017 Season with the dazzling holiday favorite, BROADWAY CHRISTMAS WONDERLAND. The season will continue with the Tony Award®- winning lavish and stunning Broadway hit AN AMERICAN IN PARIS; followed by the spectacular theatrical concert,LET IT BE, a tribute to The Beatles; back by popular demand, the high-heeled kicking sensation, KINKY BOOTS; the captivating circus extravaganza, CIRCUS 1903 – THE GOLDEN AGE OF CIRCUS; and closing the season, the romantic thriller based on the smash hit film, THE BODYGUARD, starring Grammy®  nominee Deborah Cox!
In addition, the beloved family-friendly stage adaptation, RUDOLPH THE RED-NOSE REINDEER: THE MUSICAL; the Emmy® Award-winning classic hit TV series,CHEERS LIVE ON STAGE; the explosive and vigorously choreographed, STOMP; and the magical and thrilling return of, THE ILLUSIONISTS will be presented as season add-ons.
Dallas Summer Musicals' 2016-2017 Season tickets, starting at $116, are now on sale online at DallasSummerMusicals.org, by phone at 214-346-3300 and at The Box Office, 5959 Royal Lane, Suite 542 in Dallas, TX. In addition, season ticket buyers have the option to include four season add- ons to their season subscription. Season add-on tickets are discounted for subscribers and range from $14-$82 per show.
Groups of 10 or more receive a 15% discount throughout the season. Orders of 10 or more placed before September 16, 2016 will receive a 20% discount. All groups receive priority seating and many more benefits. Please call 214-426-GROUP (4768) or email Groups@DallasSummerMusicals.org.