Local Theatre Director Paul McKenzie Passes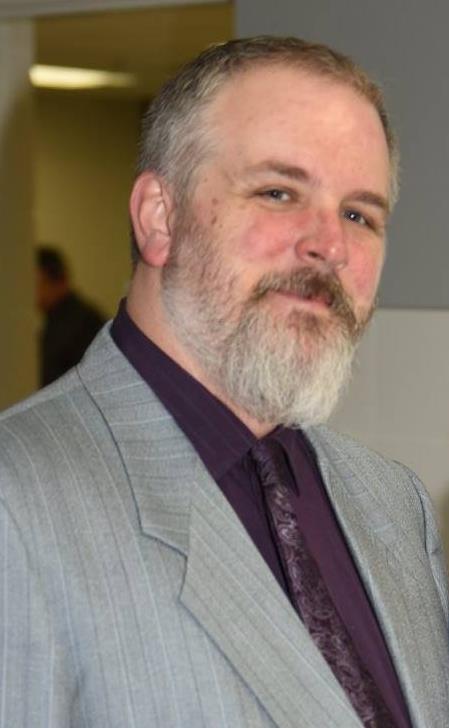 ---
The North Texas theater community lost one of its busiest and most accomplished directors and producers with the recent passing of Paul McKenzie. Paul lost a six-month battle with cancer on June 14, 2018 at his home in Richardson. He was 40.
Paul was an IT analyst who worked in the Risk Management and Audit department of Capital One. He had previously worked for AT&T Wireless.
Paul was born January 5, 1978 in Dallas to Mark and Mary (Dryden) McKenzie. A 1996 graduate of Sanger High School, he attended Lon Morris College in Jacksonville, Texas studying in their acclaimed Theatre Arts Department. He worked for the Texas Outdoor Musical in Palo Duro Canyon – the "Official Play of Texas" – in their 1997 season.
As head of "Sooo U Costumes," Paul served as costume designer for a great many area productions, including The Beverly Hillbillies (Garland Civic Theatre); The Art of Murder (Pocket Sandwich Theatre); Forever Plaid (Mesquite Community Theatre); and Veronica's Room; The Star-Spangled Girl; My Way: A Musical Tribute to Frank Sinatra; Rabbit Hole; A Murder, A Mystery & A Marriage; Sunday in New York; The Crowd You're In With; Black Comedy; Kill the Moment; and Rocket Man (Rover Dramawerks).
Paul had appeared on stage in such productions as Grease, Prelude to a Kiss, Tons of Money (Lon Morris College), Are You Being Served? (Garland Civic Theatre), and several of the Harry Hunsacker "Living Black & White" plays (Pegasus Theatre). He most recently starred as half of the residents of Tuna, Texas in Mesquite Community Theatre's sold-out 2014 production of A Tuna Christmas.
However, Paul was perhaps best known in the area as a director who was much in demand. He served as director for Laura; The Red Velvet Cake War; Rex's Exes; Dearly Departed; Forever Plaid; and Lend Me a Tenor (Mesquite Community Theatre); A Christmas Story (Allen's Community Theatre); Lend Me a Tenor and The Hallelujah Girls (McKinney Repertory Theatre); Completely Hollywood (Abridged); Other People's Money; Move Over, Mrs. Markham; and Sherlock Holmes and the West End Horror (Rover Dramawerks); and Inspecting Carol (Not Right Productions). In addition, he directed the world premiere staged reading of The Snowflake Theory by Nancy Gall-Clayton (McKinney Repertory Theatre) and the world premiere production in 2016 of Crisis by Larry Herold (Rover Dramawerks).
In addition, Paul had also worked at Echo Theatre, Inevitable Theatre Company, Richardson Theatre Centre, Plano Repertory Theatre, WaterTower Theatre, and the "Living Black & White" plays at Pegasus Theatre. A true master of the theater, Paul had at various times been involved in all areas of production, including set design and construction, props, stage managing, publicity, and box office. Everything but lighting. "I leave electricity to the professionals," he'd say. Paul had even served on the boards of both Mesquite Community Theatre and Rover Dramawerks.
Paul's extensive experience culminated in his founding and serving as Artistic Director of his own production company, Not Right Productions, focusing on the off-beat and unusual. Paul explained, "I want people to leave the theater saying, 'That's not right!'" Not Right had produced Inspecting Carol at the Rover Dramawerks theatre space and, sadly, the company's second production, Unnecessary Farce was running when Paul passed.
"In addition to being an amazing collaborator, Paul was extremely well-read. I am honestly somewhat lost without Paul to bounce ideas off of," says Rover's Artistic Director Carol M. Rice. "Plus, he had the biggest, most giving heart of anyone I've ever known. He is greatly missed."
Paul is survived by his parents, Mark and Mary; uncles Don, John, David, and Rickey; aunts; cousins; great-aunts and great-uncles; and many very dear friends who will miss his humor, enthusiasm, and encouragement every day.
A celebration of Paul's life – the "Paul-apalooza!" – will be held Sunday, August 5, 2018 starting at 3 p.m. at the Rover Dramawerks Theatre, 221 W. Parker Rd., Suite 580, Plano, TX 75023. Despite theater people's propensity for black, Paul requested that everyone dress in bright colors for this event. In lieu of flowers, Paul wished that donations be made to a local theater of your choice.