FULL TOUR ROUTE, CASTING AND ONSTAGE SEATING ANNOUNCED FOR NORTH AMERICAN TOUR OFTHE TONY® AWARD WINNING REVIVAL OF ONCE ON THIS ISLAND

ALUMNI OF TONY AWARD®-WINNING BROADWAY REVIVAL TO HEADLINE TOUR COMING TO AT&T Performing Arts Center Margot and Bill Winspear Opera House December 17 to December 22, 2019
---
(Dallas)— Ken Davenport, Hunter Arnold and NETworks Presentations announced today the North American tour and casting of the Tony Award®-winning revival of ONCE ON THIS ISLAND. The tour will launch at The Carson Center for Performing Arts in Paducah, KY on October 12, 2019, followed by its official opening in Nashville, TN at the Tennessee Performing Arts Center (TPAC) on October 15, 2019. ONCE ON THIS ISLAND will play 27 cities in its first year on tour, including the Winspear Opera House in Dallas from Tuesday, December 17 through Sunday, December 22, 2019.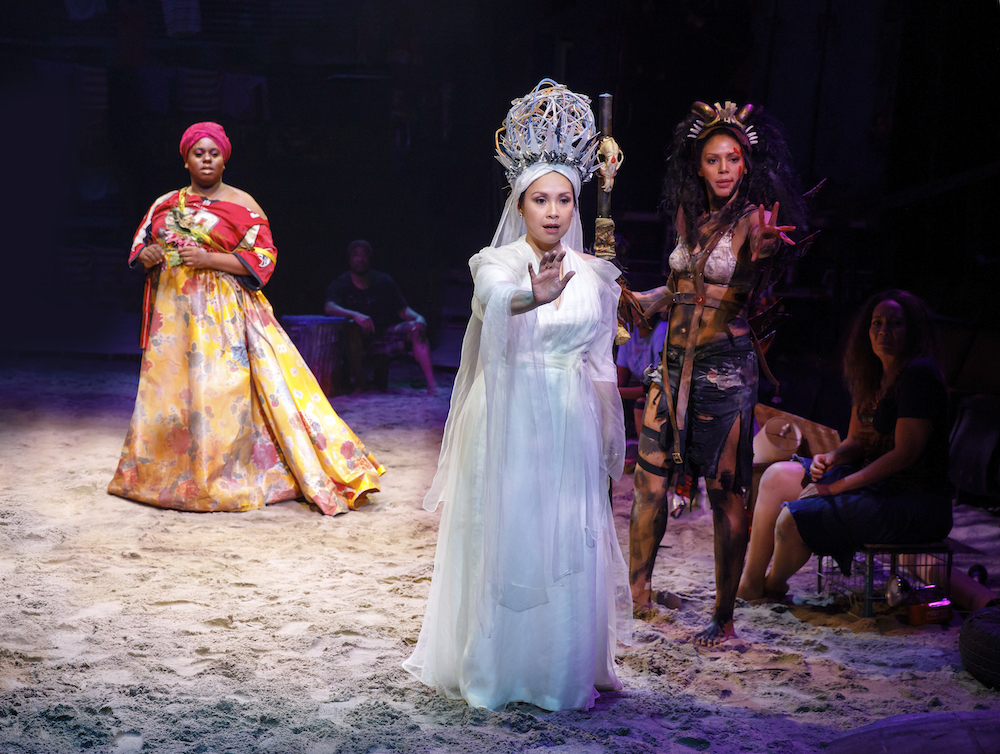 Ticket information is available at www.attpac.org/broadway. Subscriptions may be purchased by phone at 214-880-0202, or in person at the AT&T Performing Arts Center Winspear Opera House Box Office at 2403 Flora Street. The Box Office is open 10 a.m. – 4:30 p.m. Monday through Friday and before performances – closed Saturdays and Sundays. For groups of 10 or more please call 214-978-2879 or email groups@attpac.org. Single tickets will go on sale at a later date.
Cast members from the 2017 Broadway revival of ONCE ON THIS ISLAND will lead the touring company, including "American Idol" Alum Tamyra Gray as Papa Ge, Cassondra James as Erzulie, Tony Nominee Phillip Boykin as Tonton Julian, Courtnee Carter as Ti Moune and Tyler Hardwick as Daniel Beauxhomme. Completing the gods of the island are Jahmaul Bakare as Agwe and Kyle Ramar Freeman as Asaka.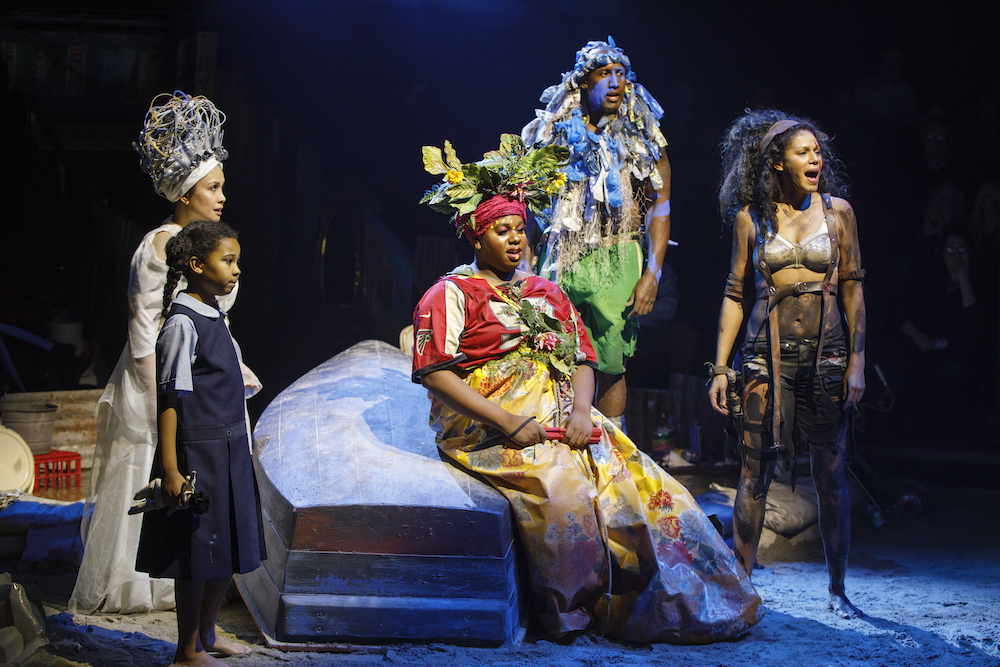 Casting also includes Briana Brooks as Andrea, George L. Brown as Armand and Danielle Lee Greaves as Mama Euralie, along with Mckynleigh Alden Abraham, Michael Ivan Carrier, Jay Donnell, Phyre Hawkins, Savannah Jackson-Page, Alex Joseph Grayson, Tatiana Lofton and Robert Zelaya. Additional casting to be announced at a later date.
"This company of ONCE ON THIS ISLAND is truly an embarrassment of riches for me as a director. I cannot wait for audiences across the country to witness this group of incredible actors transport them to our island," says Tony Award Nominated director Michael Arden.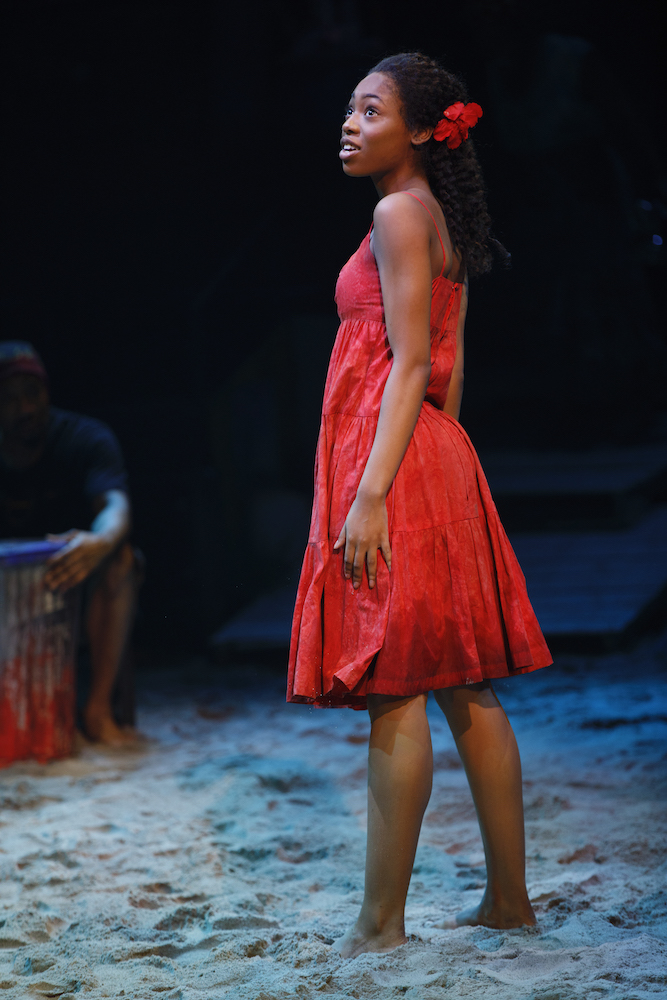 Producers have also announced that seating for ONCE ON THIS ISLAND will be available on stage. Inspired by the revival's immersive set design on Broadway, this touring production will feature a unique set, welcoming audiences to be a part of the storytelling and magic of ONCE ON THIS ISLAND with the opportunity to sit onstage.
"At each performance, there will be onstage seating, creating a unique experience within the footprint of every theater we play," says Arden."Audiences will be invited to put their feet in the sand and surround our company, becoming part of the show. It's our goal to give all audiences a unique perspective of the communal nature of what theater can be in hopes that ONCE ON THIS ISLAND'S story of love, hope and forgiveness might inspire young minds and hearts all across the United States to lead their lives with compassion and empathy."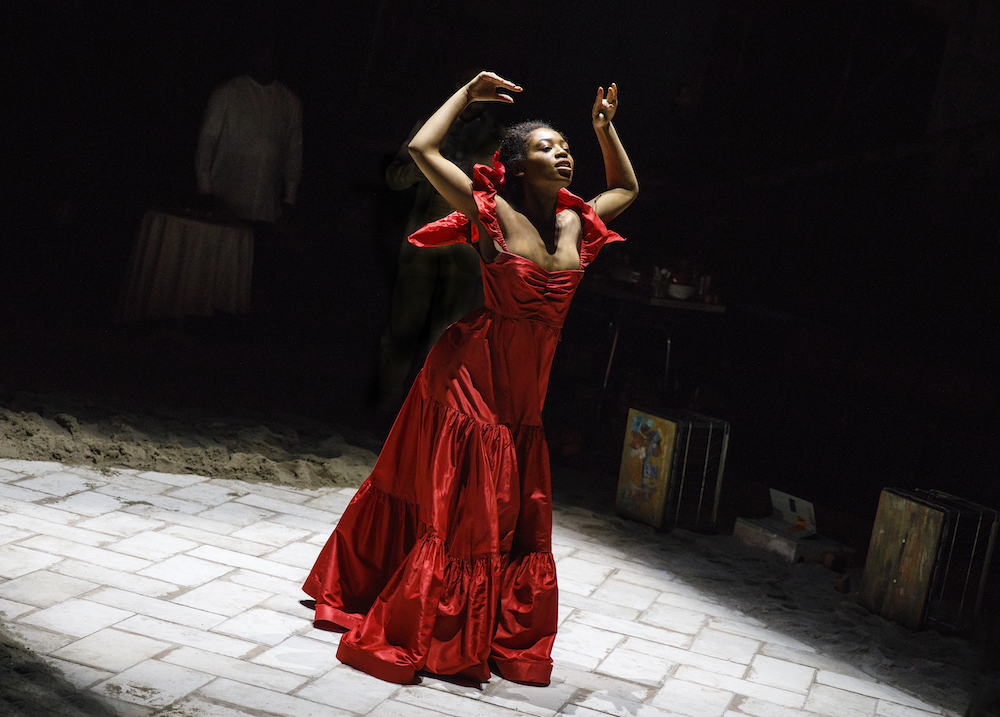 Winner of the 2018 TONY AWARD FOR BEST REVIVAL OF A MUSICAL, ONCE ON THIS ISLAND is the sweeping, universal tale of Ti Moune, a fearless peasant girl in search of her place in the world, and ready to risk it all for love. Guided by the mighty island gods, Ti Moune sets out on a remarkable journey to reunite with the man who has captured her heart.
he ground-breaking vision of two-time Tony Award nominated director Michael Arden (Spring Awakening revival) and acclaimed choreographer Camille A. Brown (NBC's Jesus Christ Superstar Live) conjures up "a place where magic is possible and beauty is apparent for all to see!" (The Huffington Post). With a score that bursts with life from Lynn Ahrens and Stephen Flaherty, the Tony Award-winning songwriters of Anastasia and Ragtime, ONCE ON THIS ISLAND is a timeless testament to theater's unlimited possibilities.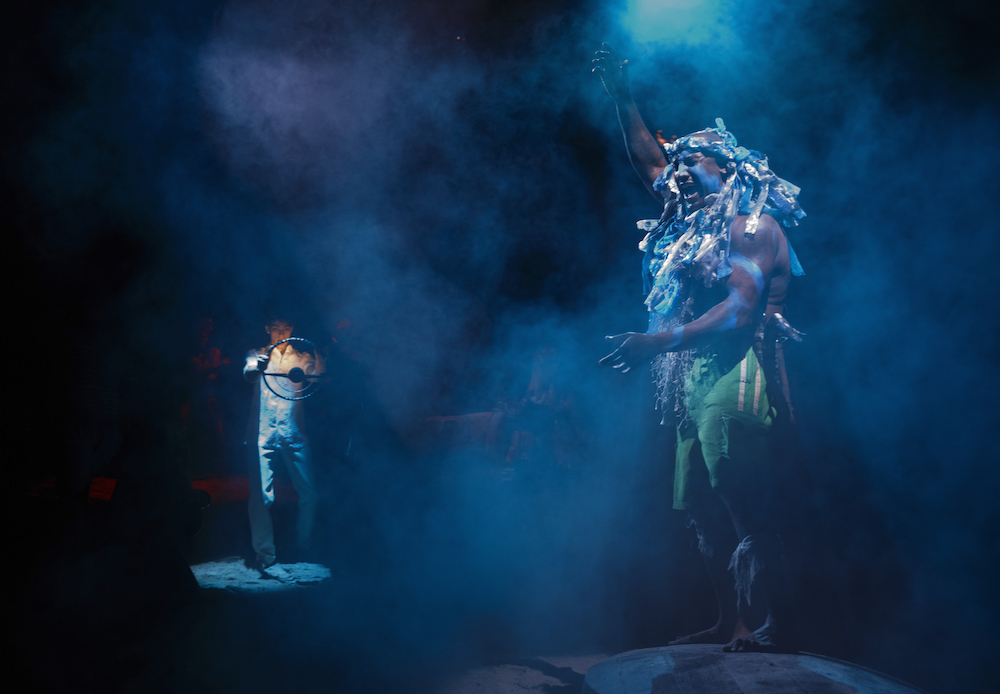 This production features new orchestrations by original orchestrator Michael Starobin, who is joined by AnnMarie Milazzo, Scenic Design by Dane Laffrey, Costume Design by Clint Ramos, Sound Design by Peter Hylenski and Lighting Design by Jules Fisher and Peggy Eisenhauer.
Below is a full list of engagements for ONCE ON THIS ISLAND during its first season on tour – additional cities to be announced at a later date:
Tennessee Performing Arts Center
January 21 – February 2, 2020
February 18 – March 1, 2020
First Interstate Center For The Arts
Midland Center For The Arts
ONCE ON THIS ISLAND premiered at Playwrights Horizons in May of 1990. The original Broadway production opened in October of that year and ran for 469 performances garnering eight Tony nominations including Best Featured Actress (LaChanze), Best Original Score, Best Book of a Musical and Best Musical. The 1994 West End Production won the Olivier Award for Best New Musical. The critically acclaimed 2017 Broadway Revival, which opened in December of that year, won the 2018 Tony Award® for Best Musical Revival before closing January 6, 2019.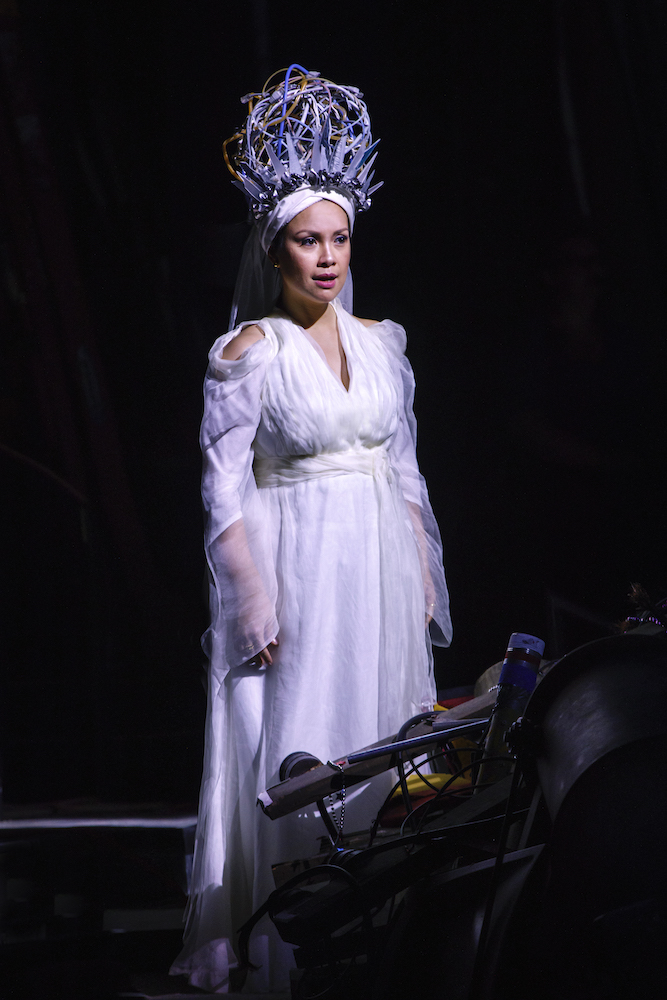 The ONCE ON THIS ISLAND national tour is also produced by Carl Daikeler, Roy Putrino, Broadway Strategic Return Fun, Sandi Moran, Caiola Productions, H. Richard Hopper, Diego Kolankowsy, Brian Cromwell Smith, Ron Kastner, Rob Kolson, Judith Manocherian/Kevin Lyle, Jay Alix/Una Jackman/Jeff Wise, Witzend Productions/Jeff Grove/Wishnie-Strasberg, Mark Ferris/Michelle Riley/Marie Stevenson, Conor Bagley/Invisible Wall Productions/Silva Theatrical Group,and The Harbert Family/Keith Cromwell/Red Mountain Theatre Company.
CAST BIOS
Courtnee Carter (Ti Moune) made her Broadway debut inONCE ON THIS ISLAND and is absolutely thrilled to continue the journey on its first national tour. Favorite credits include – Off Broadway: East O' West O'. National Tour:Junie B. Jones. Television: "The Path," "A Crime to Remember."
Jahmaul Bakare (Agwe) is thrilled to make his National Broadway Tour debut and tell this magnificent story with theONCE ON THIS ISLAND family. Regional: Violet (Flick - Ovation Nominee for Best Actor),Les Misérables (Enjorlas), My Fair Lady (Freddy), Into the Woods (Cinderella's Prince/ Wolf).
Kyle Ramar Freeman (Asaka) is a Miami, Fl native. Kyle is overjoyed to join the national tour ofONCE ON THIS ISLAND. National Tour: Joseph and the…..Dreamcoat (Calypso). Theatre:25th…Spelling Bee (Barfee), Cinderella (Pinkleton).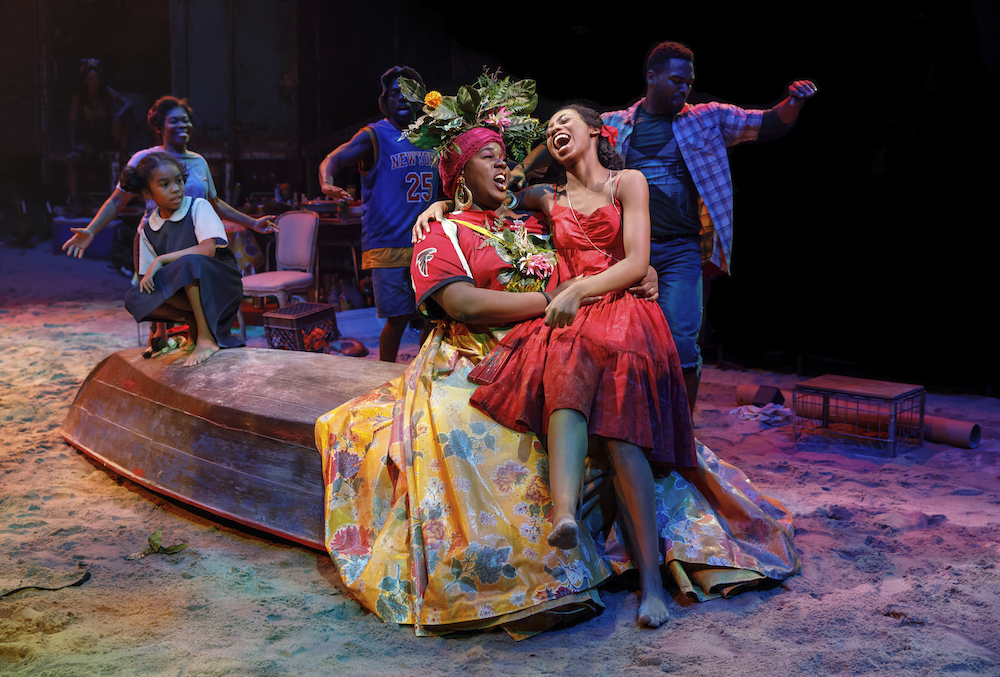 Tamyra Gray (Papa Ge) was last seen as part of the all-star cast ofInto The Woods at the Hollywood Bowl. She most recently starred on Broadway as Papa Ge in the Tony Award winning revival ofONCE ON THIS ISLAND. On stage, Tamyra made her Broadway debut as the lead inBombay Dreams, was praised for her starring role on Broadway as Mimi in Rent and played Kate in the first national tour of If/Then. In 2011, she starred in Debbie Allen'sTwist at the Pasadena Playhouse for which she won a Beverly Hills/Hollywood NAACP Theatre Award. Following her acclaimed appearance on "American Idol," Tamyra appeared on television in "Boston Public," "Half and Half," "All of Us," "What I Like About You," "Las Vegas" and "Tru Calling." Big screen credits include the Sony featureThe Gospel and Rachel Getting Married. Tamyra has co-written "You Thought Wrong" for Grammy winner Kelly Clarkson and the #1 Billboard Hot 100 single "I Believe" for Fantasia.
Cassondra James (Erzulie)is delighted to rejoin the cast ofONCE ON THIS ISLAND. She was a Broadway replacement for Erzulie, and an original storyteller and flute player in the Tony Award-winning production. She is a doctoral candidate in sociology at the Graduate Center (CUNY) where she is completing work on standup comedy. She has new music available on all streaming services, and a new EP to be released in 2020.
Mckynleigh Alden Abraham (Storyteller, u/s Papa Ge, Andrea) is thrilled to tell you this story! Favorite credits include: First National Tour ofBeautiful: The Carole King Musical. "The Glee Project" Season 1.
Phillip Boykin (Tonton Julian) is a Tony/Grammy Award Nominee. Broadway: Porgy and Bess (Crown), On the Town, Sunday in the Park with George (Boatman) andONCE ON THIS ISLAND (Tonton Julian). The graduate of The Hartt School and a native of Greenville, SC now resides in New Jersey. Mr. Boykin portrayed the role of Big Hand in the movieFreedom, recently The Driver in Top Five, Caiaphas in Easter Mysteries. Some other performances includeShow Boat (Joe), Pirates of Penzance (Pirate King), Ain't Misbehavin' (Ken),Jesus Christ Superstar (Caiaphas), Smokey Joe's Café (Fred), Cosi Fan Tutti (Don Alfonso) andThe Wiz (The Lion) just to name a few. Phillip is the Director and Manager of theNygospel Brothers.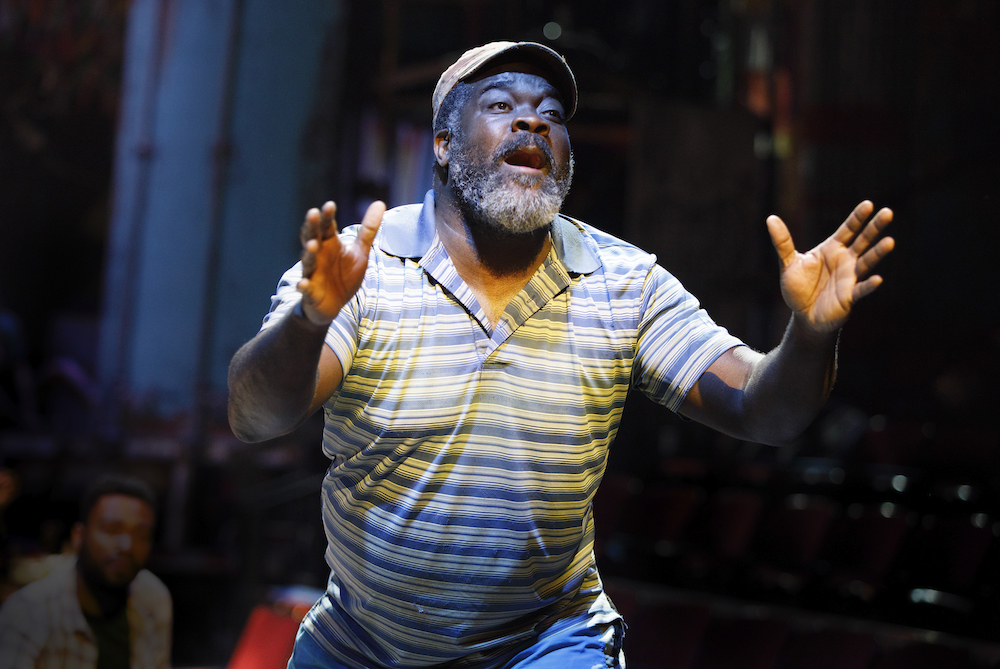 Briana Brooks (Andrea/Storyteller, u/s Ti Moune) is beyond thrilled to be making her national tour debut! She is a Los Angeles native. Regional:Beauty and the Beast (Belle), The Color Purple (Nettie).
George L. Brown (Armand/Storyteller, u/s Ton Ton Julian, Agwe)is honored to join the ONCE ON THIS ISLAND family. George is from Buffalo, NY where he was born and raised. Founder and director of God's Purchase gospel choir (national recording artist out of Buffalo, NY). National Tours – Elf: The Musical (Mr. Greenway). Regional: Ragtime (Booker T. Washington),Ain't Misbehavin' (US Ken & Andre), Sight and Sound Theatres, Gospel at Colonus (Preacher/Baladeer),Rent (Tom Collins), Pageant: The Musical (Miss Deep South).
Michael Ivan Carrier (Storyteller). National Tour debut! Regional: A Chorus Line (Paul, Sierra Repertory Theatre, Palace Theatre);Hello, Dolly! (Ambrose); Newsies; Guys and Dolls (Maine State Music Theatre);La Cage Aux Folles (Virginia Music Theatre, Short North Stage); and West Side Story (Virginia Repertory Theatre, Cortland Repertory Theatre). Singer/ Dancer on Norwegian Cruise Lines. Northwestern State University.
Jay Donnell (Storyteller, u/s Agwe, Ton Ton Julian). Tours: The Color Purple (Harpo),Miss Saigon (John u/s). Regional: The Color Purple (Harpo, Paper Mill);My Very Own British Invasion (Paper Mill); Ragtime (Coalhouse); Clybourne Park; Lythgoe Panto's Aladdin and His Winter Wish (Genie); Hollywood Bowl'sMamma Mia! and South Pacific; Kiss Me, Kate (Pasadena Playhouse);Memphis.
Alex Joseph Grayson (Beauxhommes Narrator, Storyteller, u/s Papa Ge) is stoked to embark on his first tour. Credits includeToni Stone (Off-Broadway), A Bronx Tale (Broadway). Regional: Spring Awakening,The Color Purple, Choir Boy, Zuccotti Park. Alex has endless gratitude for his schools and mentors: Matthew Corozine Studios; SUNY Fredonia TADA; Stella Adler Conservatory.
Danielle Lee Greaves (Mama Euralie). Broadway/National Tours include: Rent, Hairspray (OBC),Show Boat, The Gershwin's Porgy and Bess, The Lion King, Rent. Television/Film include: "The Blacklist," "Blue Bloods," "The Affair," "The Americans,"Growing Up (And Other Lies).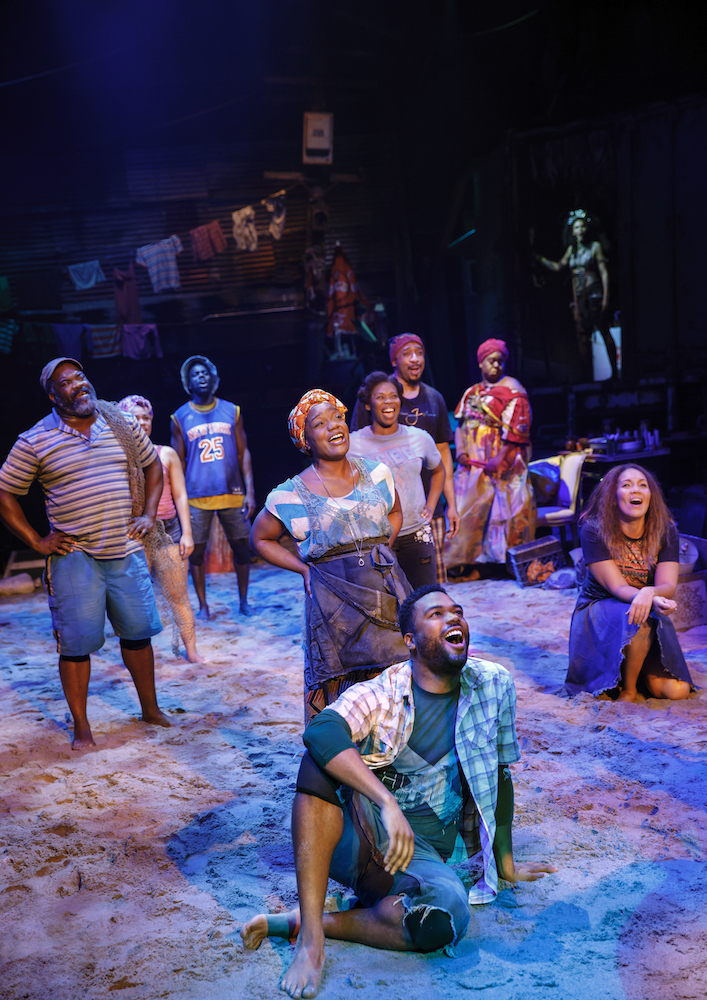 Tyler Hardwick (Daniel) is thrilled to be coming back to ONCE ON THIS ISLAND! Broadway:ONCE ON THIS ISLAND (Storyteller), Motown the Musical (Eddie Kendricks). Tours:Dreamgirls (C.C. White), Motown the Musical (Norman Whitfield). New York:Bliss (Toby), Popstar (Robby). Regional: Marie, Dancing Still (Gilbert). TV/Film: NBC's "The Blacklist."
Phyre Hawkins (Beauxhommes Narrator, Storyteller, u/s Mama Euralie, Akasa). Theatre:The Book of Mormon (Broadway, 1st National, Australia), HAIR (Broadway, West End, US Tour),The Color Purple (1st National Tour), Avenue Q (Regional), Black Nativity,Macbeth, and Trojan Women (The Classical Theatre of Harlem). TV: "Law & Order SVU."
Savannah Jackson-Page (Storyteller, u/s Ti Moune, Andrea) is thrilled to make her professional debut inONCE ON THIS ISLAND. Savannah was born and raised in South Jersey and is a sophomore Musical Theater major at Pace University. Favorite credits include the first annualNight of Color Cabaret and Showtune Blowout (dir. Sam Pinkleton).
Tatiana Lofton (Storyteller, u/s Asaka, Mama Euralie) is a New York City based performer who is a Delaware native! National Tour:Waitress (Swing, u/s Becky). Some of her favorite New York performances have been Off-Broadway, Lincoln Center Theater, The Apollo Theater, Joe's Pub and 54 Below. She recently returned from a 2 Year contract at the Oregon Shakespeare Festival where she performed in The Wiz, Beauty and The Beast, and Merry Wives of Windsor. Proud Pace University MT Alum.
Robert Zelaya (Storyteller, u/s Daniel) is beyond thrilled to join the Island. Broadway National Tour:Kinky Boots (Lola u/s). Previous: Evita (Che), Xanadu (Thalia),Rent, N.Y.M.F., Celebrity Cruises. B.M. Music Theater, University of Miami.