SHAPING SOUND Coming to Bass Hall January 27 FOR ONE PERFORMANCE ONLY!
---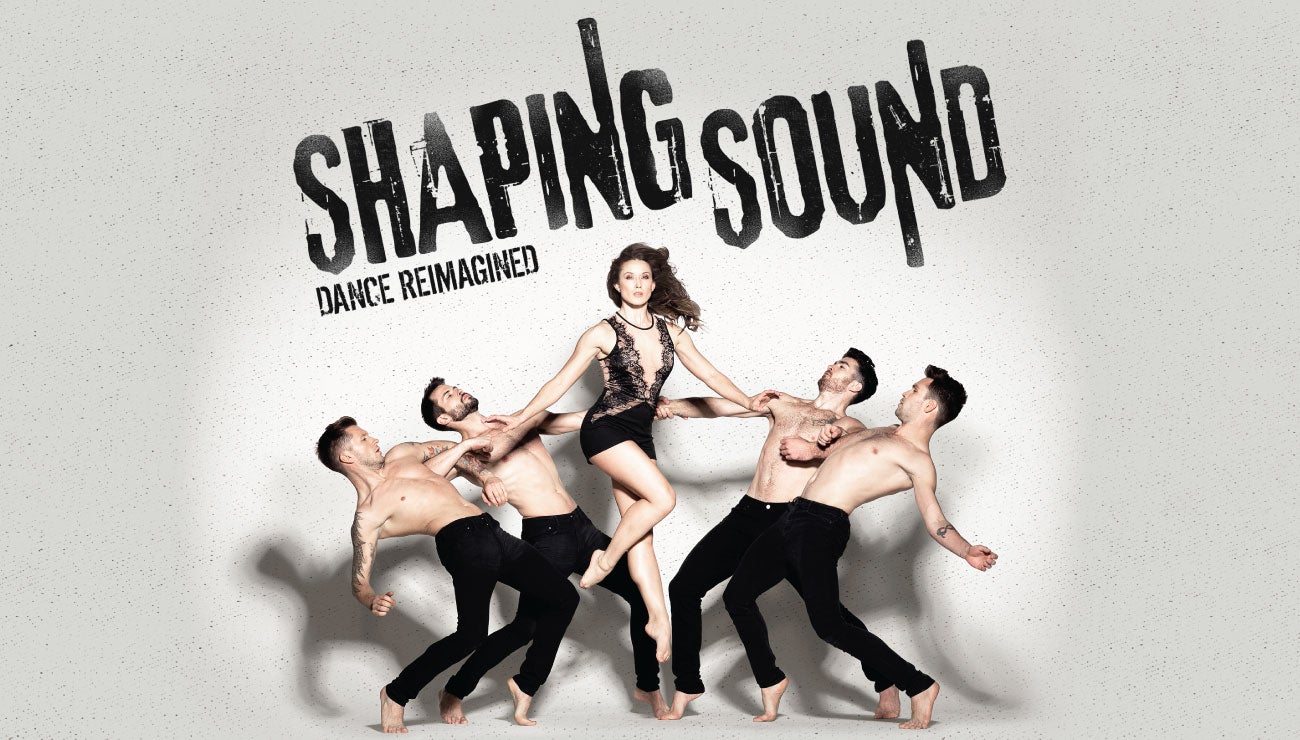 (Fort Worth, Texas) — Break The Floor Productions and Performing Arts Fort Worth are pleased to announce that North America's hottest new dance show -- SHAPING SOUND -- will perform one night only at Bass Performance Hall at 7:30 p.m. Wednesday, January 27. Tickets are $38.50-$55 and are on sale now!
The dance company SHAPING SOUND was established in Los Angeles in 2012 with a focus on contemporary dance and choreographic artistry. Under the Artistic Direction of TRAVIS WALL, and co-created with NICK LAZZARINI, TEDDY FORANCE and KYLE ROBINSON, the company is an evocative collaboration by diverse artists who describe themselves as 'visual musicians,' i.e. their dance gives shape and form to sound. The four dancers broke into public awareness in a big way with the debut of the reality television series "All The Right Moves" on the Oxygen channel. The popular series followed these lifelong friends and roommates in their quest to launch their own dance company – the company that is now the enormously successful SHAPING SOUND.
Joining them on this tour is RICKY UBEDA, last year's winner of So You Think You Can Dance. "I consider him to be one of the most technically perfect dancers on the stage today," says Wall. "And he will bring great skill and artistry to our dance company."
This news falls on the heels of Wall's win of the 2015 Emmy-Award for Outstanding Choreography for his breakout work on So You Think You Can Dance. Travis is the leader of 'Team Stage' dancers, and a resident choreographer on the show, providing artistic and thought-provoking routines throughout the past several seasons. He won the Emmy Award for his routines Wave, When I Go and Wind Beneath My Wings. He had been nominated for the Emmy the five previous seasons.
SHAPING SOUND's movement style provides its audience access to, and a greater understanding of contemporary dance through a unique fusion of jazz, modern and hip-hop choreography. With a dynamic mix of energy, emotion and athleticism, the ensemble brings tremendous musicality of movement to each performance. Lauded by the commercial dance world and immensely popular with audiences of all ages, the company members have been showcased on all of America's popular primetime dance, awards, entertainment and music shows including: So You Think You Can Dance, Dancing With The Stars, Glee, American Idol, The Voice and the 2013 Prime Time Emmy Awards, to name a few. They have toured internationally with an impressive array of the world's top recording artists, and with award-winning dance companies.
Respected by both critics of dance and by the entertainment industry in general, SHAPING SOUND has quickly built an important critical resume and an impressively large fan base. BroadwayWorld.com described the show as: "Electrifying and stunning … Aficionados of contemporary dance should do everything in their power to attend SHAPING SOUND." And The Advocate said: "Once in a generation there is a group of artists who changes the trajectory of a genre." After a Dallas-area performance, Theatre Jones stated: "The choreography creates a visual effect that is mesmerizing."
The combined resumes of the members show an impressive foray into the top echelon of the American entertainment industry:
TRAVIS WALL was the runner-up in Season Two of the Fox reality show "So You Think You Can Dance" and went on to become a resident choreographer and now holds the pivotal role of 'Mentor' to the Team Stage dancers in the show's 12th season. His work has been nominated for five consecutive Emmy© Awards for 'Outstanding Choreography'. He choreographed Carrie Underwood's music video "Something In The Water" which received the 2015 CMT Award for 'Best Music Video'. The video was danced by the SHAPING SOUND company. Travis assisted with the choreography of the "The 82nd Academy Awards," and with Drake for "The 2010 MTV Video Music Awards" and has worked with Florence and the Machine, Chelsea Handler, Eminem, and Rihanna. Travis also choreographed the contemporary numbers for the feature film, Step Up Revolution. Currently, he teaches on tour with NUVO Dance Convention.
NICK LAZZARINI is the season one winner of the Fox reality show "So You Think You Can Dance" and he has been featured in countless publications, including three covers of Dance Sprit Magazine. He was nominated for an Emmy with Shaping Sound for their performance on "Dancing With The Stars" in 2012. He has performed on "The Emmy Awards", "The Oscars", "Dancing with the Stars", "American Music Awards", "The MTV Video Music Awards", and multiple other television appearances. He has been featured in musical numbers with several recording artists including Carrie Underwood, Adele, Kelly Clarkson, and Florence and the Machine. Currently he teaches on tour for JUMP Dance Convention.
TEDDY FORANCE is a fourth generation dancer with his family's dance studio, the Hackworth School of Performing Arts in Massachusetts. He turned professional by the age of 17 travelling throughout Greece as a dancer for the international pop star Anna Vissi. He has partnered with many esteemed choreographers including Mia Michaels – where he assisted the "Celine Dion Taking Chances" tour and performed as a lead dancer in Cirque du Soleil's Delirium.  He is well-known for his work in seasons two and three of the Fox television reality show "So You Think You Can Dance" for which he received an honorary Emmy© Award nomination. He is a featured performer on "Dancing with the Stars" and works as a choreographer for Julianne Hough and Kenny Wormald. He has performed with an array of award-winning artists including Lady Gaga performing on "American Idol," Usher at "The American Music Awards," Florence and the Machine at "The MTV Video Music Awards" and choreographed for Kelly Clarkson on "The American Music Awards". He recently performed on "The 2013 Emmy Awards".  Currently, he teaches internationally for JUMP Dance Convention.
KYLE ROBINSON began dancing when he was eleven years old and quickly mastered all movements and forms of the art. By the age of eighteen, he was awarded the 'Gold Award in Modern Dance' from the National Foundation for Advancement in the Arts (NFAA). It was during this time that he met legendary dancer Mikhail Baryshnikov who has served as Kyle's mentor since. He trained at the Julliard School, earning a Bachelor of Fine Arts degree. Throughout college he worked as a freelance dancer with Aszure & Artists and the Lar Lubovitch Dance Company. He played 'Diesel' in the recent, highly reviewed first national tour of West Side Story. Kyle recently performed on "The 2013 Emmy Awards," "X Factor" and this past season in "Glee".
RICKY UBEDA is originally from Miami, FL, where he primarily trained at Stars Dance Company. After being crowned the winner of Season 11 of So You Think You Can Dance, he participated in their 77-city nationwide tour. Ricky made his Broadway debut in the Tony-nominated musical On The Town in 2015. Ricky can now be found teaching and assisting for JUMP dance convention alongside some of the most influential names in the dance industry.
To charge tickets by phone, call (817) 212-4280 in Fort Worth; 1-877-212-4280 (toll free) outside Fort Worth; or order online at www.basshall.com. Tickets are also available at the Bass Performance Hall ticket office at 525 Commerce Street. Ticket office hours: Monday through Friday 10:00 a.m. – 6:00 p.m. and Saturday 10:00 a.m. – 4:00 p.m. For group sales, call 817-212-4248.
Link to website: http://www.shapingsoundco.com/media