UPSTART PRODUCTIONS EMBARKS ON A MULTI-
CITY, MAJOR MARKET TOUR
---
Joey Folsom Brings Lenny Bruce Back to Dallas,
Chicago, Los Angeles and New York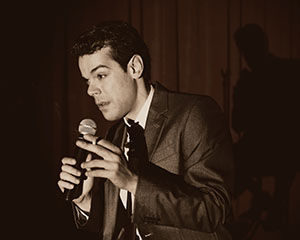 The Multi-City Production Run: In keeping with Upstart Productions' dedication to bringing socially relevant work to new and expanding audiences, producers Bren Rapp and Joey Folsom take the show on the road bringing a one man scripted theatrical piece into nontraditional venues in Dallas, Chicago and Los Angeles with Lenny Bruce is Back. The production's final destination will be as part of The Untied Solo Festival in New York, the world's largest festival of its kind, this October. Taking advantage of the show's crossover appeal, the two are using a solo show about the father of counterculture comedy as a vehicle to go out and find new audiences for live theatre, where they are, in venues such as comedy clubs and burlesque houses and to bridge what many theater companies face in a generation gap between older patrons and younger reluctant theatergoers by taking advantage of both Bruce's renegade and nostalgic appeal. Rapp and Folsom's novel approach to site-specific theatre will allow the production to play nationally at well known comedy venues such as The Second City in Chicago and iO West in Los Angeles and Dallas audiences will get to see the production first, August 4-11 at both the Dallas Comedy House and Viva's Lounge, a comedy club and a burlesque house, giving audiences two different options for an authentically immersive experience into the world of Lenny Bruce. Stand-up comics and a burlesque pre-show will open for the production at the respective venues.
The Production: Today's political climate in America has again brought the issues surrounding free speech, comedy as civil disobedience and satire as a vehicle for social change to the forefront of our cultural conversation. This makes the story of controversial comic and satirist Lenny Bruce not only remarkably relevant but one of timely historical precedent to be noted. Joey Folsom stars in this one man piece, that, while primarily comedic in design, profiles stand up comedy's most infamous figure who challenged the perceptions of the purpose of comedy and is thought of by many as the satirical equivalent of a martyr, vilified in life and sainted in death for the path he paved for comedians and individuals alike regarding the freedom of speech. Written in the voice and style of Lenny Bruce, Sam Bobrick and Julie Stein's Lenny Bruce is Back is based on the premise of Bruce coming back from the dead to deliver the stand up set he never had the opportunity to give in life. Biographical as well as culturally insightful, the comedy of the piece is colored with a poignancy that comes from the imaginative twist of Lenny Bruce turning his bitingly satirical eye not only on society but on himself and his life.
An Update on Upstart: At the end of 2016 Joey Folsom took the reigns of Upstart Productions, a company he had been involved with since 2008, as their Artistic Director. On the heels of their most lucrative production to date, this spring's critically acclaimed mounting of Cliiford Odet's Waiting for Lefty, he brought in award winning producer Bren Rapp to assist in conceptually shaping a run for the next show on deck, Lenny Bruce is Back, with the goals of continuing the momentum of his efforts to breathe new life into the company and to keep its resurgence moving forward. Working together on the project, the two found a commonality in their passion for Upstart's mission of making bold, emerging and socially relevant theatre accessible to a wide range of audiences leading Folsom to further solidify his strategy for steering one of Dallas' most highly regarded niche' producing companies into the future by bringing Rapp, well known for her marketing prowess and aggressive producing style, on officially as its Managing Director. The first in the company's history. As the company's leader, Folsom has ambitious plans for Upstart that include solidifying the company structurally, increasing revenue and producing budgets and diversifying artistic offerings.

BEGINNING JULY 1, UP TO THE MINTUE INFORMATION ON THE TOUR INCLUDING CITIES, DATES AND TICKET LINKS CAN BE FOUND AT lennybruceisback.upstartproductions.org
UPSTART PRODUCTIONS LAUNCHES ITS NEW WEBSITE JULY 1 AT upstartproductions.org
Production Information:
Upstart Productions presents Lenny Bruce is Back
Written by Sam Bobrick and Julie Stein
Produced by Bren Rapp and Joey Folsom
Directed by Nathan Autrey
Featuring Joey Folsom as Lenny Bruce
Show Dates and Times-Dallas Premiere:
Dallas Comedy House
A combination of primetime and late night performances with local stand up comics opening each
8:00p.m. Friday, August 4
8:00p.m. Saturday, August 5
10:00p.m. Saturday, August 5
*stand up comic opening for the show at each performance
*tickets $10 general admission https://www.dallascomedyhouse.com/shows
Upstart Productions takes over VIVA'S LOUNGE in the Design District
A two show stop that includes tabled lounge seating, themed drinks, a full bar, burlesque entertainment and in keeping with Upstart Productions' mission of making live theatre accessible, all for their Pay What You Want admission policy
8:00p.m. Friday, August 11
11:00p.m. Friday, August 11
*burlesque pre-show before each performance designed by and featuring Vivienne Vermuth
* pay what you want admission at the door or table/VIP reservations in advance via donation to Upstart @ http://lennybruceisback.brownpapertickets.com/
Show Dates and Times-Chicago, Los Angeles and New York
Chicago:
The Second City-The Beat Lounge
10:30p.m. Thursday, August 24
7:30p.m. Friday, August 25
7:30p.m. Saturday, August 26
*local stand up comic opening for the show at each performance
*tickets $13 general admission @ http://www.secondcity.com/venues/chicago/the-beat-lounge/
Los Angeles:
The iO West Theater-The Main Stage
9:00p.m. Friday, October 6
*tickets $10 general admission @ http://ioimprov.com/west/show-schedule/category/the-main-stage/
New York:
The United Solo Festival-Studio Theatre of Theatre Row, West 42nd St.
4:00p.m. Sunday, October 29
*tickets $37.25-$70.00 @http://unitedsolo.org/us/ufest/
*more New York Dates are being added at nontraditional venues October 23rd-29th