Feature: Interviews, West Side Story (National Tour)
---
Richard Blake, Associate Theatre Critic for John Garcia's The COLUMN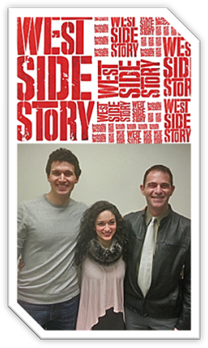 West Side Story lovers, have I got a treat for you!  I had the wonderful privilege of interviewing MaryJoanna Grisso starring as "Maria", Addison Reid Coe starring as "Tony" Because of the grueling tour schedule, we did the interviews via the phone.
The National tour has come to Bass Hall in Ft. Worth for a limited engagement January 15th-20th, 2013 and I thought people would want to know a little more about the young stars of the show and its' amazing Musical Director.  All three were simply wonderful to talk to and shared some exciting, and sometime funny insights about themselves and the show.
 View my review of the show by clicking here.
Watch Addison and MaryJoanna perform "Tonight" LIVE on WFAA television, Dallas, TX by clicking here.
I asked both MaryJoanna and Addison the same questions and got some really interesting answers.  Below you'll see them in a Q&A format back-to-back.  These two young, powerful performers are so down-to-earth with simply charming personalities, it was a true pleasure to speak with them!  
Addison Reid Coe, MaryJoanna Grisso
and Richard Blake
Richard Blake: Let's start at the beginning. Where you were born and raised?
MaryJoanna Grisso: High Plains, New York but I grew up in Morgantown West Virginia. 
Addison Reid Coe: I was born and spent my whole life Rochester Michigan until I moved to NYC two days before the WSS auditions last year.
RB: When did you start performing?
MJG: Well, I started performing when I was a little girl.  My mother and I would sing together when I was about 4 years old.  My mom is a music teacher, and my dad a musician, so I grew up in a house full of beautiful music.  My first "performance" was a musical in Catholic school called "A Star Is Born" as Penny in the leading role.  My mom was the teacher and I was afraid they would think I got special attention, but I worked very, very hard because I had more to "prove" and got it!  My first full musicals were in High School, then I did my first regional performance(s) in 2006 at West Virginia Public Theatre in "The Sound of Music" as a nun [giggles a bit] I know,  I know!
ARC: Well, I actually started performing as a senior in high school and doing community theatre in Grand Rapids, Michigan.   [We then go off on a tangent about theatre in Michigan since it turned out we knew/performed at many of the same places, of course it was decades ago for me, LOL].  While I was at Calvin College, I played Judas in "Godspell" and then landed my first big regional role playing Danny in "Grease" at the Grand Rapids Civic Theatre in 2008.
RB: When you were growing up, or even today, were there any artists—any actors—who you particularly admired or influenced you?
MJG: Oh, it was definitely my family who influenced me the most and supported me all the time!  As an actress, Audrey Hepburn's gracefulness and poise is something I've always admired.  Musically, I really admire Kristin Chenoweth and Kelli O'Hara, their talent is amazing and I respect them a lot.
ARC: As a musical performer, I've always watched and admired Hugh Jackman's nuances and subtleties when he performs.  As an actor, Paul Newman has always been an influence on me.  Growing up I was exposed to iconic performers like Gene Kelly and Fred Astaire and truly admire them. I use their experiences to guide me in confidence and genuineness.  You should always use such successes in your arsenal as a performer to keep your talent fresh and grounded.
RB: Had Broadway been your goal as a performer or did you ever think about TV or movies?
MJG: I have always been in love with Broadway.  [giggles] When I was young I used to tap dance on the fireplace hearth at Christmas and do little plays with my sisters.  It's always been a dream of mine.  I really started to get serious about my possibilities as a performer in high school and then when in college I really focused on it, including Broadway tours. 
ARC: Well, I thought I would just "do" theatre and see what happened [I laughed and said "see look WHAT happened!  He laughed].  I'd love for television to me my next step in the industry.  I did a short web-series and it turned out to be one of the best new experiences for me!  We filmed from like midnight to 5AM but I thought it was just so cool, and it wetted my appetite for TV & film.  [Laughs] I don't think I'll be doing anything like "SAW 10", but I do like thrillers.  You just need to find that "smart role" that doesn't hold you back.
RB: How would you describe Maria & Tony, the characters that you play?
MJG: Well, I feel like she has a simple "freshness" like me personally and the Director believed in me with that approach.  I've seen many versions on stage and the movie and so much of "Maria" is the music and I try to bring that along with myself into the role.  You must be true and honest to make the character believable.  For example, the last scene of the show is so emotionally charged, I just put all of myself as an actor and a person as I can into it.  It is also easy to create the role with people like Michelle Alves who plays "Anita", just like in the show, we are now dear friends.  With Addison, whom I met at the auditions, as soon as we met I KNEW he was "Tony"!!  The creative team was very good at finding the right personalities, as well as, talent.
ARC: "Tony" is somebody ready for the next step in life.  In the beginning, he feels alone and stuck in life, making fun of the silly romantics.  But "Maria" BECOMES his life and passion.  He then becomes that hopeless romantic he made fun of throughout the rest of the story, never loses hope and is always looking for solutions.  He HAS to find a new way out and that can ONLY happen with "Maria".  MaryJoanna is simply wonderful in the role and makes it so easy every night to become "Tony" and fully immerse myself into the role.
RB: Hard to play such an iconic role?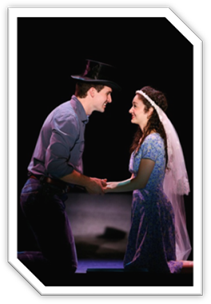 MJG: Yes, it's very hard especially with the existing ideas and perceptions of "Maria" I just bring the freshness of her as a human being to the stage.  It's challenging, but such an honor to do it, and I'm so grateful to get the chance to do it.  For me, to be doing this show, being classically trained, it's just pure gold!  The music is wonderfully rich and the book is simply incredible.  I remember I was babysitting when I got the call offering me the role.  I was so excited, had to put down the baby I was holding, just yelled and danced with excitement at the news!
ARC: It's definitely NOT the easiest to play him.  I don't ever take a day off from "self-criticism" about my portrayal.  I DO have a lot of fun, but I'll still think about "well, I did good there but not so good there" after performances.  It was hard to create my version of the role.  I try to be me as much as possible to have people connect with the role.  It's kind of a "mind-trap" if you base your portrayal off other peoples performance… it's NOT you and the character falls apart.  Funny story about me finding about the role was my mom telling me about it two days after I moved to NYC!  I figured "I'll just DO IT and see how it goes.  The process took about two weeks, then about a month later [he laughs] while cleaning my floors… yes "swiffering" them, I got the call I had the part.  I'm so proud I get to do the role, especially for my mother who is a "Golden Age" girl when it comes to musicals and movies and West Side Story is her absolute favorite!
RB: Do you have a favorite moment or something that you look forward to each night?
MJG: It's interesting, I have different moments vocally and some funny moments I like.  At first, the iconic balcony scene was my favorite moment, but as time has progressed I've been connecting to the final scene in the show.  When "Maria" responds with such humanity when she feel like she'll break, looking at the "Sharks" then at the "Jets" wanting to shoot and kill them, she realizes she can only conquer evil with pure love.  It just touches MY humanity when I do that scene.  At first I thought it was so sad, now it has a much deeper meaning to me… get over the sadness and respond with love.
ARC: Oh, the balcony scene is my favorite.  She (MaryJoanna) really helps me when we're performing it. It's really "Addison" out there at that moment, with true purity.  That scene is the tipping point for me in the show as a singer, it's the peak of my fun and I enjoy every moment of it!  Oh, my favorite to WATCH and listen to is "Maria" and "Anita" performing "I Have a Love"!
RB: How demanding is doing the tour?
MJG: Very.  We do so many shows, but as crazy as it can get it's really fun.  Sometimes we have four shows on the weekends in addition to the weekly ones, and sometimes just one night performances, which are the hardest.  We get off the bus, a few hours to prepare, perform and then were off to another city!  Honestly, it can be very challenging on the voice and body.  It can he a HARD thing to do, you know staying physically healthy while on the road… ESPECIALLY eating right [she laughs] !  I have made "recipes for the road", asking myself "what can I make tonight in the hotel room"? [She bursts into laughter] Hey, there's an idea… a "Recipes from the Road" Blog!!
ARC: It's hard.  If you don't start out with thoughts of self-preservation, it can be very difficult.  Long morning showers, less talking to save the voice and drinking or partying is DEFINATELY a no-no.  You have to learn to be careful and you need self-discipline.  It's hard not really having a "home" and sleeping is the only relaxing you can get sometimes.  On the flip side, things are NEVER really the same everyday which is good.  For example, I just spent time with a host family in a city and it was really fun and interesting.
RB: Where would you like to see your career go from here? Do you have dream roles?
MJG: I seriously never could've imagined this would happen to me so soon. "Maria" IS my dream role and I'm just thrilled to be doing it.  But, I would love to play "Christine Daaé" in Phantom of the Opera or "Glinda" in Wicked! My future plans, well, I'm based out of NYC, my boyfriend and friends are there, so I'll probably stay there for a while.  Who know what will happen in the future, I do have some plans, but as a professional performer you can't hold on to those plans too tightly as they can always change in an instant!
ARC: I'm IN a dream role right now!  I think I'd like to do film or television next… I think I see myself crossing genres and then maybe coming back to the stage.  As a professional, you choose the best roles for your passion and career, then you're off to the next job or project.  Who knows what I have in store, but for right now, I'm simply excited to where I am right now!
RB: Do you have any other projects in the works or are you just focusing on WSS at the moment?
MJG: I'm always preparing for other things, that's very important to me.  I'm still working with a vocal instructor and J. Michael, the tour's Music Director, while we're on the road.  It's always good to build and push your voice.  I am working on my website and I love doing cabaret shows when I can!
ARC: I don't have anything "per-se" locked in as a next project, but now that we're basically settled in to the tour and the holidays are over, I'm ready to put some feelers out.  Right now, I'm just living in the moment of West Side Story and enjoying every moment of it!
Let me tell you folks, these two are the epitome of class, professionalism and the finest examples of performers I have met in a long time.  I'm sure you will see much more of them in the years to come as success definitely comes to people like them.  Determined, humble, hardworking and respectful of the Art we call theatre!
Follow Addison, MaryJoanna and the entire National Tour Cast on Facebook at: www.facebook.com/westsidestorybroadway