DALLAS CHILDREN'S THEATER Calls All Boys and Girls K-12 to Design Costumes for Season Opener, FANCY NANCY: THE MUSICAL

FANCY NANCY Costume Contest entries accepted
NOW through Friday, July 10
---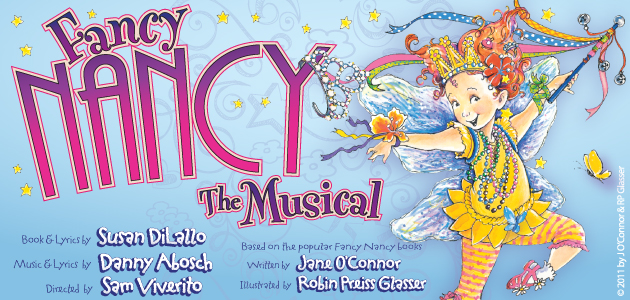 Dallas Children's Theater (DCT) invites students in kindergarten through twelfth grade to design costumes for the Mermaid or the dancing Shark to appear in its upcoming new season opener, FANCY NANCY: THE MUSICAL. Help us bring these scene-stealing characters to life by making your creative ideas a reality!

The last several summers have brought some inspiring artwork to DCT from young artists. The theater has been pleased to celebrate their creations as well as to display them. In many cases, they were also included on stage in the productions. This summer, the FANCY NANCY:THE MUSICAL Design Contest will put the imaginations of children to work again, with winning submissions incorporated into the final show design.

FANCY NANCY: THE MUSICAL reminds us that we don't always get to be the star, but that everyone still gets a chance to shine when they do their best. The contest will also celebrate young artists of all skill levels who desire to put their creative ideas on paper. Everyone who submits a completed entry will have their artwork displayed in the DCT lobby.

Students K-12 (as of fall, 2015) can make their designs a reality by following these steps:

Pull out your favorite colors, papers, pens, pencils, paints, glitter, glue, fabric, magazine clippings – any medium you like!
Put your two-dimensional costume design ideas for the Mermaid or the Dancing Shark on paper.
Download, print and fill out DCT's registration form from dct.org/designcontest.
Mail or deliver your paper design and registration form to: Dallas Children's Theater, Costume Design Contest, 5938 Skillman., Dallas. TX 75231. Entries must be received by Friday, July 10 at 5 PM.
Each designer may submit one design for the Mermaid and one design for the Shark, or may choose just one character to design.

Winners will be announced on Friday, July 31 at a special reception at DCT. Call 214-740-0051 or visit
dct.org/designcontest for complete details and tips.

Dallas Children's Theater takes family on a most magnificent journey starting this fall! Season ticket packages range from $60 to $144 based on how many plays are included. The 8-play package breaks down to just $13 per ticket, at a savings of up to 35% off regularly priced tickets. Lap passes for children age 3 and under are free for season ticket holders. Season subscriptions to DCT's 2015-2016 Season are available now.
ubscribers can purchase a package of four or more shows online at dct.org or by calling 214-740-0051, and are encouraged to do so early as many productions are sure to sellout. As always, DCT's subscribers enjoy the lowest prices, exclusive benefits, and the most flexibility.