Interview: Lyle Huchton, Costume Designer
Genevieve S. Croft, Associate Theatre Critic for John Garcia's The COLUMN
On Tuesday, November 22nd, I was given the privilege of interviewing Mr. Lyle Huchton, Resident Costume Designer and Costume Shop Manager at Dallas Children's Theater. It was a real treat to sit down with him and to discuss his experiences as a costume designer, and to learn how he begins and executes the creative process. It is not very often that individuals are given the opportunity to get "up close and personal" with a designer. I had many questions for him. As a theatre educator, the opportunity to interview Mr. Huchton has certainly given me some insight to share with my students about the world of design, and about his musings on creating costumes/wardrobe for some of the most beloved characters from the Peanuts' comic strip. It was truly a pleasure to speak with him.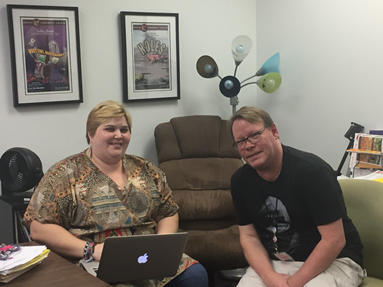 Genevieve Croft and Lyle Huchton
GC: To start, tell me a little bit about yourself, and your experience working in costume design.
LH: I have been a working costume designer 25 years. I have worked at every big theatre in Dallas, and I have also worked on several tours, 8 years with the touring Barney Show and The Wiggles. I also worked on Barney and Friends (television show) for 4 or 5 years when it was filmed in Las Colinas.
GC: What type of education or training do you have?

LH: Well, I started out at Grayson College, and studied there for two years. After Grayson, I attended the University of North Texas. I have my Bachelor of Science in Drama (I know it's strange to have a Bachelor of Science), but, at the time that was what was being offered.  Nowadays, it is a Bachelor of Arts. I graduated in 1991, and immediately started working as an Assistant Wardrobe Supervisor with the Dallas Theatre Center and the Dallas Opera. I also worked as an Assistant Costume Designer at the Dallas Theatre Center.
GC: Everyone has to start somewhere. What was your first job?
LH: Well, it started out with my experience in Home Economics in High School. At the time (especially in the small town of Muenster, Texas. Do you know where that is? He says with a laugh) I wasn't really interested in taking FFA, all the guys took FFA, and the girls took Home Ec. So, I had to seek special permission to take the class. Then, I had some experience working in different areas in a Practicum style of Summer Drama Camp, and then, in college, I worked as a stitcher in the costume shop.
GC: When did the notion of costume/costume design first enter your mind as a serious interest?
LH: In college. I didn't always want to be a costume designer. In fact, I started out as an actor.
GC: Would you expand upon your resume. What has been the best experience for you as far as design and execution at Dallas Children's Theater.
LH: The Miraculous Journey of Edward Tulane was the first as far as collaboration with other designers. There was fantastic collaboration and good team work. There was good realization from a very presentational script. The collaboration allowed the production to become more poetic and fluid.
GC: What has been the most memorable moment for you as a costume designer?
LH: Honestly, the crowning achievement to this point has been working on the Barney tour. It never really occurred to me that this was as "big" of a thing as it really was. The entire audience lit up like lightening. There were tons of cameras. The very first show was full of noise and flash. It occurred to me that this was a very "real" thing. It wasn't just a kid's show. We visited hospitals, and visited lots of children. It's pretty cool to see that it was more than just a kid's show.
GC: What has been the most challenging thing about creating and designing costumes for "A Charlie Brown Christmas?" 
LH: I wanted to make this production different. Other productions that center around Charlie Brown (You're A Good Man, Charlie Brown) I didn't much like them. There are many challenges with these productions, taking a cartoon character, and child and then having them played by adults. With this production, I wanted to stick to the time period. With the costumes, I wanted to stay in the 1960's while also giving a nod to Peanuts' characters and color scheme.  With this production, I wanted to "winterize" the costumes. Each costume is more in tune with the season. Winter pants and sweaters. I also wanted to incorporate period patterns and fabrics. Another goal that I had was keeping the hair a little more realistic and cute.
GC: Did you find it difficult to design and create these costumes for such iconic and popular characters?

LH: Yes, I was a little nervous, especially since changing some of the clothes (more "wintery") would be a departure from what audiences would be expecting. I knew it was going to be a "hard-sell," but, it usually is anytime you design. You want to make it your own, even if that means it will be something that the audience isn't expecting.  When you have a script that the public might now know, it is more freeing to create, and it can be more difficult, also.
GC: Where do you go for inspiration?
LH: I use Google. I research wardrobe of the time period, but, will still create an "old-school" book with renderings, and research.
GC: What is the best advice you can give aspiring costume designers?
LH: You need to have a skill besides design. Learn everything you can, know how to sew, fix and maintain wigs, make hats, whatever you can. If you want to work consistently, have a skill besides "drawing pretty pictures" and design. Be versatile. Come out of graduate school, not being taught, but, also use your skills to design, and present these designs. Know how to communicate your ideas. You also need budgeting experience, and know how to research.
GC: Is there an actor or actress that you would love to work with?
LH:  Julianne Moore, Meryl Streep, and Nicole Kidman.
GC: What has been your favorite play that you have seen this year?
LH: Psycho Beach Party at Theatre 3. It was very funny.
GC: What is the one fashion trend that should be banned for good?
LH: First, flip flops, then crocs.
GC: Do you judge what people wear?

LH: Yes, unfortunately. Silently. (he laughs).
GC: To conclude, what is the one thing you wish to tell audiences about costume design, and your work with "A Charlie Brown Christmas?"
LH: Every little thing that you see on stage, someone had to make a decision on. It has a purpose and a reason. Sometimes people don't understand the design is done for a reason. The decision was made to make it that way. We built the women's costumes and pulled/purchased the men's costumes. Careful attention to detail was made as we worked on the design. I am the only person in the costuming department at DCT (with the exception of three interns who work 20 hours per week.) We have a responsibility to give careful attention to the "page to stage" shows. It should look like the illustrations. It is the responsibility of the designer to make them look as much like the book as you can…but, with "Charlie Brown Christmas" you will be surprised.
I greatly enjoyed visiting with Mr. Huchton this week. He is very knowledgeable, and has a great deal of experience working in theaters both big and small in the Dallas/Fort Worth metroplex. It was a treat to visit with an alumnus of University of North Texas (my alma mater) and is the epitome of professionalism. I look forward to seeing more of Mr. Huchton's work, and encourage you to get into the holiday spirit by seeing " A Charlie Brown Christmas" at Dallas Children's Theater, now through December 21st.