Zach Powell
Associate Critic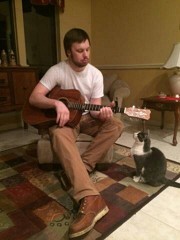 Zachary is a graduate of the University of North Texas where he majored in Criminal Justice and minored in Sociology. Since his time at North Texas, he has chosen to continue his education at the University of Texas at Dallas, pursuing a Master?s degree in Criminology. It is his intention to continue his studies at the PhD level, focusing on crime prevention through economic interventions as well as pre-trial release measures.

For the past five years, Zachary has judged in the Dallas/Fort Worth high school TFA debate circuit. As a judge, he critically evaluates the speech and debate skills of high school students and advises them on ways to improve their skills. This experience has been extremely rewarding for his and its always impressive to watch a student grow year after year.

He always had an attraction to the arts although he never pursued a career in theatre himself; he was more of a passionate observer/audience member. Zachary feels that theatre is extremely important, serving as an entertaining and enlightening conduit of human culture and stories. Without the influence of the theatre, our entire culture would be devoid of a creative outlet to express ourselves. As a critic, he believes it is his job to identify the storytellers who truly communicate a story, making one believe they are the character they represent. The artists who become someone else, who convince other people they are not themselves, are the true masters of the craft.
Past Reviewed Shows listed by most recent to oldest.