Larry Ukolowicz
Associate Critic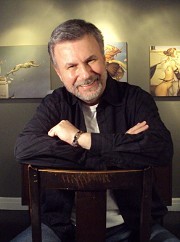 Larry is originally from Western NY receiving an A.A. degree from Hilbert Junior College in English. While in western NY and working on his degree, he acted in such roles as Buddy Baker in Come Blow Your Horn and Felix Ungar in The Odd Couple (both at Hilbert). He also ventured out in community theatre in Hamburg, Buffalo and Ithaca portraying such roles as Motel in Fiddler on the Roof, Bo Decker in Bus Stop, and Nick in Who's Afraid of Virginia Woolf? (which won him best-supporting actor in the annual Buffalo Evening News Theatre Awards event).

Larry moved to Denver to finish his degree and graduated with honors with a B.A. in Theatre-Communications at the University of Colorado at Denver. Larry was
director/producer of the student theatre group Second Stage and portrayed such characters as Tchaik/Christoforou in the back-to-back production of the one-acts The Private Ear and The Public Eye,Tenor in Jacques Brel is Alive and Well and Living in Paris (which he also directed), Marion Cheever in NEXT! (which he directed
and entered in the Arvada Summer Theatre Festival and won best actor, director and production), Morgenhall in The Dock Brief (which he directed), and as his senior project for his directing class, he directed Mart Crowley's The Boys in the Band which went on to a full production and sold out both weekends (no other theatre production, university or student production, had ever accomplished.)

After college, Larry became a member of Theatre Under Glass, a semi-professional theatre company and became actor/co-writer and sometimes director of
the children's theatre division. He also acted in the adult evening productions in such roles as Hector in A Thieves' Carnival, Dionysus in Sondheim's The Frogs, and his favorite role of all time John Worthing/Earnest in Oscar Wilde's The Importance of Being Earnest.

Larry also toured for two summers in summer stock in Gunnison, Colorado's Western Stage College summer theatre program and each year did 4 shows in an 8 week period. He portrayed such roles as Count Dracula in Dracula, Skip in The Last Meeting of the Knights of the White Magnolia, Clarence in Life with Father, and Mr. Zuss in J.B.
Larry presently balances a career in financial services & playwriting. He has won several playwriting competitions. Most recently, his two one-acts The Color in the Bathroom & May-December have won competitions and have been produced as full productions. His semi autobiographical drama Opening Coffins has won several honorable mentions at different universities, & his most recent comedy The Living Mrs. Del Vecchio won the Texas Non-Profit Theatre Inc. 2014 Playwriting Competition and will be produced as a full production by the Henderson County Performing Arts Center in Athens, TX in May of 2015. Larry is a member of Texas Non-Profit Theatres, Inc (T.N.T.), American Association of Community Theatre (A.A.C.T.) and Dramatists Guild of America.