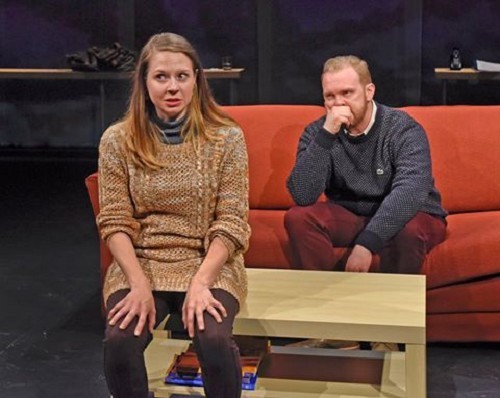 A KID LIKE JAKE
by Daniel Pearle
Second Thought Theatre
Jenny Ledel (Alex)
Ian Ferguson (Greg)
Christie Vela (Judy)
Kia Boyer (Nurse)
---
Reviewed Performance: 7/3/2016
Reviewed by Christopher Soden, Associate Critic for John Garcia's THE COLUMN
Alex and Greg have a four-year-old son named Jake. Alex wants to get Jake into an erudite school, so we find her nervously preparing his resume: writing an essay, answering questionnaires, consulting books to improve his chances. Judy is the principal of the kindergarten that Jake currently attends. She and Alex are close friends and this gives them several advantages. Judy knows and loves Jake, Alex and Greg, so she can coach Alex as she applies Jake to a list of prestigious schools. During a strategy session she essentially recommends that Alex mention Jake's (for lack of a better term) gender-fluid worldview. This sets a series of incidents in motion.

Alex and Greg are well beyond progressive. They do not mind when Jake likes to dress as a princess, say, like Cinderella. They don't have meltdowns when Jake identifies with female characters. Alex is a bit leery about following Judy's advice, but she's been assured that the current trend towards diversity will work in her favor. It's only when Jakes wishes to go trick-or-treating in female persona that the situation begins to deteriorate. Greg and Alex do not shame him, but it's a challenging ordeal. Suddenly Jake is acting out, defiant to authority figures, showing signs of personal crisis.

Playwright Daniel Pearle has created a subtle, sharp, even fanciful at times, exploration of the intense and pervasive impact of gender, and how best to love those dearest to us. Pearle strips away layers from Alex and Greg and their marriage, and the buried, tumultuous issues that were left unacknowledged. A Kid Like Jake considers how certain events are shaped by the attitudes those involved bring to them. It examines the crucible of wrestling with the expectations and constraints. Pearle takes a loaded topic (laden with pain) and handles it with grace and precision.
---
Second Thought Theatre presents A Kid like Jake
playing through July 23rd, 2016.

Bryant Hall on the Kalita Humphreys Campus
3636 Turtle Creek Blvd, Dallas, Texas 752193
info@secondthoughttheatre.com
1-866-811-4111.