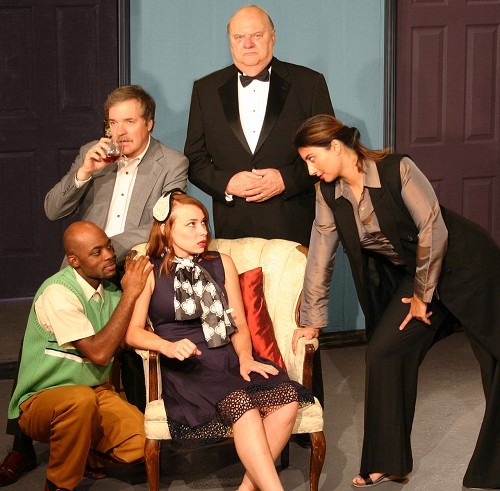 THINK TWICE
By Ayn Rand
Rover Dramawerks
CAST:
Walter Breckenridge – Mike Spitters
Curtiss -- Doug Latham
Serge Sookin – Robby Dullnig
Harvey Fleming – Ronnie Giddens
Tony Goddard – Charles Grissom
Steve Ingalls – J.R. Bradford
Billy Breckenridge – Miles Alexander
Flash Kozinsky --Christine Engel
Adrienne Knowland – Candace Davis
Helen Breckenridge – Megan A. Liles
Gabrielle Hastings – Neli Sabour
Dixon – Eduardo Serna


PRODUCTION STAFF:
Director – Lindsey Humphries
Stage Manager – Marilyn Latham
Producer – Mike Bronsky
Fight Choreographer – Joseph L. Taylor II
Set Designer – Liz Rogers
Costume Designer – Lindsey Humphries
Sound Designer – Jason Rice
Lighting Designer – Liz Rogers
Properties Designer – Terrie W. Justice
Light and Sound Board Operation – Marilyn Latham
Program – Carol M. Rice
Box Office – Kim Wickware
Show Logo Design – Mike Hathaway

---
Reviewed Performance: 10/22/2016
Reviewed by Christopher Soden, Associate Critic for John Garcia's THE COLUMN
Leave it to Ayn Rand to depict a wealthy philanthropist as a selfish schmuck. In Think Twice Walter Breckenridge is a millionaire and scientist who wants to release an invention that will supply free electricity to anyone who wants it. But he also has a number of personal friends/benefactors who deeply resent him. Walter rescues them from poverty and adversity, but strictly on his terms. Adrienne Knowland for instance, has a successful acting career, but Walter won't let her play the roles that she might actually find fulfilling. One could ask if any gift with strings attached is truly a gift, but it becomes clear pretty quickly that Rand is facilitating an ideology. So much better to let someone earn their daily bread (and self-respect) honestly rather than shame them with charity. It's not as if millionaires ever provide for others with their wishes in mind. Or perhaps Walter Breckenridge is merely a symbol.

On Independence Day (ironically) Walter's throwing a birthday party for himself, and most of the guests are beholden to him in one way or another. He might be described as good-hearted, but manipulative and condescending. By way of demonstrating his new machine, he disappears into the garden to start a fireworks display by remote control. Someone shoots him in the back, and Steve Ingalls, his friend and associate scientist, calls District Attorney Gabrielle "Gabs" Hastings to solve the crime. As you might guess, most of those gathered for the festivities had motive to hasten Walter's demise, several are positively giddy when they receive the news. His wife Helen, coincidentally, was in the process of leaving him. Hastings insists that they all must spend the night, until the murderer is revealed.

Beginning with the downside, Rand doesn't seem to understand the difference between subdued and glum. Walter Breckenridge was not the typical murder victim, but that may have more to do with Rand's agenda. It's possible other playwrights work political views into their dramas as well, but perhaps because of her reputation, Rand's strategy here is difficult to ignore. Or maybe she's not as subtle.

Considering it was published in 1939, Rand does have a sly gift for confounding our expectations. The DA is a cunning, direct woman who doesn't fall for easy answers. None of the suspects pretend they regret Walter's death or that they couldn't possibly be the culprit. While it can be tiresome in any murder mystery to jump through multiple narrative hoops, the end was truly surprising. While the show dragged here and there, the acting in Think Twice was unilaterally top-notch and quite entertaining.
---
THINK TWICE
Rover Dramawerks
Through November 12th, 2016

Tickets $1600 – $22.00. 221 West Parker Road, Suite 580, Plano, Texas 75023. 972-849-0358. http://www.roverdramawerks.com/