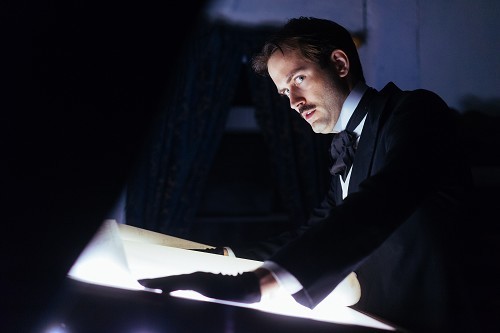 DREAMING ELECTRIC
Written by Kevin Grammer
Ochre House Theater
Cast:
Justin Locklear: Nikola Tesla
Trey Pendergrass: Anital Szigety
Carla Parker: Katharine Johnson
Donny Covington: Robert Johnson
Chris Sykes: Charles Batchelor
Cassie Bann: Ann Morgan
Brad McEntire: George Westinghouse
Ben Bryant: Thomas Edison
Chad Spear: J.P. Morgan

Creative Team:
Written and Directed by : Kevin Grammer
Composer: Trey Pendergrass
Scenic Artist: Izk Davies
Costume Design: Justin Locklear and Samantha Rodriquez
Set and Lighting Design: Matthew Posey
Props and Puppet Design: Justin Locklear
Carpenter: Mitchell Parrack
Stage Management: Ellen Shaddock
House Management: Cynthia Webb
Photography: Kevin Grammer and Karlo X. Ramos
Graphic Design: Jeremy Word

---
Reviewed Performance: 10/29/2016
Reviewed by Christopher Soden, Associate Critic for John Garcia's THE COLUMN
Ochre House's World Premiere of Dreaming Electric is an intriguing, thoughtful biographical piece depicting an important night in the life of Nikola Tessla. Written by Kevin Grammer, it explores the life of the inventor by inviting us to a party, where he unveils to friends and confederates (and Thomas Edison, who crashes) his most groundbreaking invention to date. In addition to Edison are moguls George Westinghouse and J. P. Morgan. Tessla is troubled and jittery, by turns pouring champagne and anxiously waiting for the perfect moment to share his remarkable discovery.

In one sense, Dreaming Electric is consistent with Ochre House's penchant for the fanciful and strange. In another it's a departure from their usual technique of coming at story crossways. Dreaming Electric is an effective dramatization of Tessla's dilemma. The poetic quality of his imagination (if you will) made it possible for him to conceive of world-changing possibilities, far ahead of his contemporaries. And certainly a pragmatist like Thomas Edison. It seems a cruel trick of destiny that Tessla and Edison's connection never went very far. If only they'd been able to find common ground, who knows the reverberations that might have shaken humanity? For Tessla the physics was a jumping-off point into the astonishing, but he lacked the tools to function ably in a cynical culture tainted by social Darwinism.

Grammer shows us the downside of Tessla's genius. The migraines. The obsessive work ethic that made romance impossible. The lack of clarity to soft-pedal his more outlandish notions. Today, of course, it's easy to grasp what inspired his proclamation, for instance, that other planets were trying to communicate with us. But it can't be easy to achieve meaningful contact when you're talking to ants. So, sadly, Tessla was dismissed by those unwilling to meet him halfway. Dreaming Electric touches briefly on Tessla's visionary, exponential, unbridled view of the universe, a subject rich with infinite possibilities. And unfortunately (for mankind) Kevin Grammer got the punchline just right. The human species has always been loath to leave the Stone Ages.
---
The Ochre House presents

Dreaming Electric

October 29th-November 19th, 2016
825 Exposition Avenue, 75226
Tickets: $17.00. 214-826-0273
www.ochrehousetheatre.org