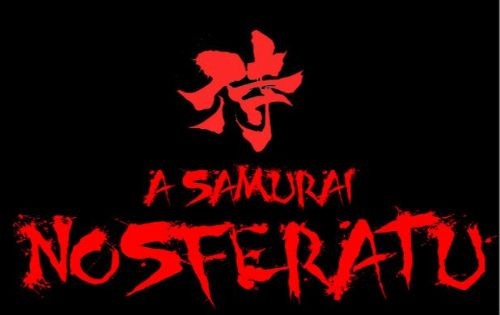 A SAMURAI NOSFERATU
by Bill Fountain
Level Ground Arts
---
Reviewed Performance: 10/22/2011
Reviewed by Christopher Soden, Associate Critic for John Garcia's THE COLUMN
When I heard the title of Level Ground Arts' current show, I wasn't quite sure what to expect. But then, I'd been attending theatre at LGA for a long while now. I've seen them spark entertainment from such diverse content as Cannibal! The Musical!, Manos, the Hands of Fate, Poseidon!, Metropolis, Xanadu ... all to great effect. So I went with it.

A Samurai Nosferatu (playing at KD Studio Theatre in Dallas through October 29) is writer and director Billy Fountain's tapestry of different cultures and stories, a montage of overlapping themes such as : warfare and honor, half-lives and ghosts, illusion and ghoulishness, vampirism as metaphor in political and cultural context. Fountain can be quite visionary in his desire to reach new heights. If threads don't always coalesce it's not for want of trying.

A Samurai Nosferatu begins with a reunion of friends who used to run the sort of late night horror shows popular in the 1950s. Eerie fun tricked-out with cheesy special effects and stunts like hiring a "nurse" for patrons with weak hearts. Simon, who produced and managed these scare-fests, has been invited by his former lover Mary, to take a memory journey with their friends. Mary is mute, and Simon is immune to her persuasion, clearly terrified of confronting some past ordeal. But like the other players, his resistance is temporal. Fountain takes careful steps to blur the line between passive participation and empathic involvement. Eventually another plot is introduced, set in feudal Japan just before the collapse of the Samurai reign, involving a legendary, aristocratic warrior called Nos. Fountain's take on this vampire warlord (Dracula? Vlad the Impaler?) is other-worldly and fascinating.

Along with an impressive team of designers -- Emily Shaw, Kelly Shea, Mark Dalton, Francis Henry, Lee Hartsock, and Ande Bewley -- Fountain has designed a dazzling, chilling, surprising spectacle, featuring sumptuous costumes, acrobatic dancing, swordplay, strange and engaging components that will keep you absorbed and on your toes. Most of the actors play multiple roles and do so fluidly, with conviction and zeal. I must apologize for coming to A Samurai Nosferatu so late. I want theatergoers to understand the exquisite sensual, visceral and fanciful delight of this marvelous show, before it closes this coming weekend.
---
A SAMURAI NOSFERATU
Level Ground Arts

Shows will be Friday & Saturday at 8:15pm. All performances will be held at the KD Studios Theatre at 2600 N Stemmons Frwy in Dallas,TX. Sign Language interpretation available at select performances. For more info or to purchase tickets go to www dot levelgroundarts dot com. Reservations can be made
by calling 214-630-5491.