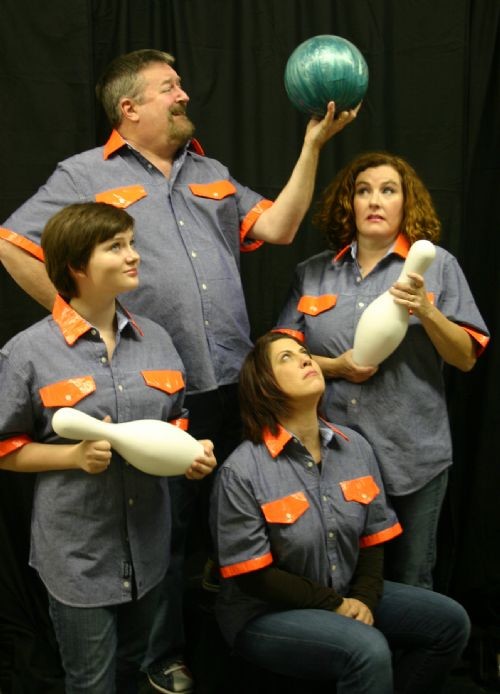 MORE FUN THAN BOWLING
by Steven Dietz
Rover Dramawerks
Director - Jason Rice
Set Designer - Abigail Kipp
Lighting Designer - Michael Campbell
Sound Designer - Jason Rice
Costume Designer - Alyssa Miller
Properties Designer - Alexandra Cook


CAST

Mr. Dyson - Young C. Lee
Molly - Kate Werner
Jake Tomlinson - Francis "Hank" Henry
Loretta - Kelly Moore Clarkson
Lois - Jennifer Duggins
---
Reviewed Performance: 10/27/2011
Reviewed by Chris Jackson, Associate Critic for John Garcia's THE COLUMN
"Love is like being too drunk to go bowling. It doesn't happen very often."


Shooting Star, Becky's New Car, and now More Fun Than Bowling! D/FW is having a Steven Dietz season! There may even be more productions of his shows around that I'm not aware of but I'm not complaining. Currently on the faculty at UT, there's a reason the man's plays are so popular with theatre groups and it's all evident in the current Rover Dramawerks production of this 1986 script in the smart, contemporary "black box" space of the Cox Building Playhouse in Plano. Quirky situations, direct audience address, unusual settings and lots of laughs, with some food for thought thrown in make Mr. Dietz's plays fun to perform and watch. This show is no exception.

Jake is the owner of The Dustbowl, a bowling alley in the small Midwestern town of Turtle Rapids. Losing two wives through "bowling-related" accidents, and the first by desertion, we find Jake currently a single father to his teenage daughter Molly. Determined to be prepared for his own impending demise (he's been told he'll "be the third" by a fortune teller), he keeps an eye out for someone coming to kill him. In a series of scenes and flashbacks we meet Molly, his daughter, and Loretta, and Lois, the two most recent women in his life. Mostly through monologues, we hear the characters speak their philosophies on life and love and bowling. The metaphors abound! The plot is slim, but the interest is high.

Entering the theater, we are greeted by an enormous acid-green ramp covered in cemetery fake grass. At the top back of the ramp are what appear to be two banquettes from a bowling alley where people sit between turns, and around the edges are arranged impressionistic tombstones.

At the back is a cyc where we see projections (unaccredited) of moving clouds, designs, etc. This set design by Abigail Kipp also includes three grave plots, one with a surprise I won't give away since I don't want to spoil Mr. Henry's first entrance! It is effective, concise, and a well-thought-out use of the space. When the lighting by Michael Campbell comes up for the first scene, the "acid-green" turns a more natural color and the illusion is complete. We are in a hilltop cemetery overlooking the town.

The first character we meet is Mr. Dyson, a sinister figure all in black with mysterious attachments literally hanging from his wrist: a brief case complete with chain and handcuff. Also, he has a pistol! Hmmm?? He tells us that he is here to see Jake on important business. Hmmm?.. As played by Young C. Lee, he is all mystery and foreboding, and casts a strong presence felt throughout the remainder of the evening. What he turns out to be is even more interesting than you might expect!

Molly, a teenage girl played by Kate Werner, shows up on a bike, and proceeds to place bowling pins with pinwheels attached to the top on the two outside graves saying "Happy Birthday, Mom," to each. Hmmm?.. Miss Werner plays her as spunky and fun and wise and yet somehow vulnerable all at once. She speaks of her mother, Maggie, a character we never meet, with real affection and a clear picture in her own mind of who she is. I'm curious as to how old Miss Werner is since the program doesn't give a clue as to her status in school. However old she is, she's talented and certainly has a lot of stage presence and holds her own strongly.

When Jake shows up, we're ready for fewer "Hmmms?." and more answers, and we begin to get a few. As played by Francis "Hank" Henry, Jake is likeable and easy to relate to. He's an everyman that we can identify with right away. As the evening progresses and we get to know him better through the flash backs, we see why these women fall for his charm and honesty. An uncomplicated man who could have been a concert pianist if an accident had not left his hand in the perfect configuration to hold a bowling ball, Mr. Henry's performance is by turns jocular and touching. Perhaps there's a little too much reliance on outward technique instead of inner truth, but that may come as he relaxes into more performances.

Loretta is the first of the exes to show up after Jake falls asleep and the past takes shape in the present. Kelly Moore Clarkson plays her as warm and loving and full of life. The character, a hairdresser, is lifted beyond stereotype by Ms. Clarkson's interpretation, and her monologue about her work as a hairdresser is particularly well done. The relationship with Molly is parental without being cloying, and her interplay with the other characters is clear and focused.

Jennifer Duggins is Lois, the third woman in Jake's life. A more no-nonsense kind of character, Ms. Duggins still manages to inject more than two dimensions into her scenes. Indeed, her characterization is perhaps the more fully rounded of the two women. Her story about her encounter with a preacher and a pickup truck is hysterical and well delivered. She too, manages to relate to Molly as both a woman and a parent.

Costuming these characters is the job of Alyssa Miller, and with the exception of the blouse for Molly that seems to me to belong on a much older female character and really doesn't help us understand her, the other clothes worn by the actors are pretty much spot-on. I like the American flag shirt for Jake and particularly the choice of bright aqua for the bowling shirts, and how the gift box and the bowling ball all match. That's fun!

Directed by Jason Rice, the show moves swiftly and cleanly from episode to episode. Perhaps more grounded characterizations will be forthcoming from the actors as the show progresses, and they can relax and become more confident, do less indicating and more just "being." The blocking is sometimes arbitrary rather than motivated, and the steep ramp presents some problems to be overcome, but the punch and the moments are generally there to be enjoyed and savored by the audience.

The cyc at the back needs to be stretched so that it is not wrinkled, and the many light cues, impressive for the facility, shouldn't be so abrupt at times, especially the very first one, but overall the show is lots of fun, and the audience laughs often and warmly as the bowling metaphors fly. The show is also filled with references to earth, fire and water, and the numbers three and five. Jake explains that the number five pin (himself?) is protected by the numbers one, two and three pins (his wives?) and that to kill the number five pin and take it out, you must go through the one, two and/or three. Ruminations on love and grabbing it when it comes around are also scattered throughout. A second viewing or a reading would probably result in even more references to be contemplated.

Near the end of the play Molly reads a letter left for her by her mother, Maggie, and we hear, "Fun is enough, everything else is theory. ?Don't spend your whole life in Turtle Rapids, and don't be afraid to go home, and when the fun stops, get off the train." Not bad advice. The fun doesn't stop in this production and the evening contains lots of strikes, a few splits, and practically no gutter balls. More fun than bowling? Find out for yourself!
---
MORE FUN THAN BOWLING
Rover Dramawerks
Cox Building Playhouse, 1517 H. Ave., Plano, TX 75074
Plays through November 19th.

Thursdays?Saturdays at 8:00, Saturday, Nov. 5th matinee at 2:00pm.
Tixs are $16.00 Thursdays & matinee, $20.00 Fridays and Saturdays.
For tickets and information, call 972-849-0358 or go online at: www.roverdramawerks.com