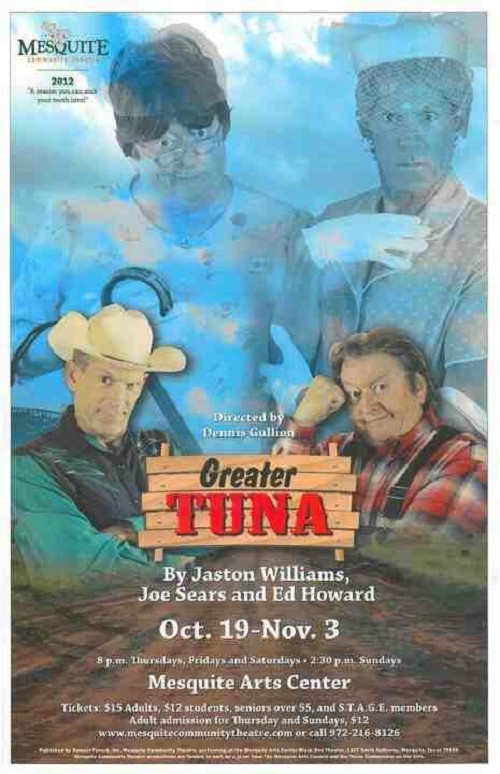 GREATER TUNA
by Jaston Williams, Joe Sears and Ed Howard
Mesquite Community Theatre
Directed by Dennis Guillion
Set Design - Dennis Guillion and Scott Croy
Lighting Design - Scott Croy
Costume Design - Emily Reyna-Hunt
Sound Technician - David Johnston
Props Design - Emily Reyna-Hunt


CAST

Steve Iwanski-Sanchez as:
Arles Struvie
Didi Snavely
Harold Dean Lattimer
Petey Fisk
Jody Bumiller
Stanley Bumiller
Charlene Bumiller
Chad Hartford
Phinas Blye
Vera Carp

Bill Salamon as:
Thurston Wheelis
Elmer Watkins
Bertha Bumiller
Yippy
Leonard Childers
Pearl Burras
R. R. Snavely
Reverend Spikes
Sheriff Givens
Hank Bumiller
---
Reviewed Performance: 10/20/2012
Reviewed by Kristy Blackmon, Associate Critic for John Garcia's THE COLUMN
There is no underestimating the importance of having a good audience in the success of live theater. At the end of the day, it doesn't matter how incredible the performance if you have a bad audience. There's no predicting what could go wrong to ruin the energy of a show, no matter how professional or rehearsed the players.

Fortunately, the inverse is also true. A good audience can make a not-so-perfect show into an unforgettable experience. Kenneth Haigh once said, "You need three things in the theater - the play, the actors, and the audience - and each must give something." At Mesquite Community Theater's production of Greater Tuna on Saturday night, all three parts of that equation gave their all and the result was one of the most fun theater experiences I've had in a long time.

Greater Tuna, the oft-produced story of what MCT's playbill described as the "third smallest town in Texas" where books like "Huckleberry Finn" and "Romeo and Juliet" are too smutty for the library shelves and the Lion's Club is too liberal," presented some real social issues prevalent in rural Texas (and often, if more clandestinely, in urban Texas, too) like racism, censorship, alcoholism and infidelity, with self-deprecating humor. It's a show that could easily turn to parody if handled without sensitivity, but director Dennis Gullion and the play's sole two actors, Steve Iwanski-Sanchez and Bill Salamon, were well attuned to their audience. Greater Tuna is a regional show for and about a specific demographic and the performance never once lost sight of that.

Guillion's and Scott Roy's minimalistic set design consisted of a couple of mismatched kitchen tables and an old radio. The neon beer signs and Christmas light-draped Lone Star on the back wall might have easily crossed the line into cliche, but like all the other technical elements of the show, they managed to stop short of that to give the impression of authenticity, albeit a rather picturesque form of it. From the costumes by Emily Reyna-Hunt (who also acted as Assistant Director, Stage Manager and Prop Master) to the sounds of classic country hits by Patsy Cline and Loretta Lynn provided during transitions by Sound Designer David Johnston, the whole production felt familiar and well-worn, like the comfortable house dresses favored by the matrons of Tuna, Texas.

From the first moments, Iwanski-Sanchez and Salamon had the audience eating out of the palms of their hands. As Arles Struvie and Thurston Wheelis, respectively, the hosts of the town's radio show on OKKK Radio, their rapport was seamless and charming. From the Tuna Little Theater's budget-strapped production of My Fair Lady, for which they plan to save money by reusing the costumes from South Pacific and staging the "first production ever of My Fair Lady set in Polynesia" to the winning essay in the Tuna Junior High School American Heritage Essay contest titled "Human Rights: Why Bother?", the opening scene was designed to draw the audience in, get them laughing, and make them feel at home.

It succeeded marvelously. By the time Iwanski-Sanchez appeared onstage in the guise of Didi Snavely - the first of many cross-gendered characters we came to know and love throughout the course of the play -the audience was primed to laugh and play along.

And that's lucky because this performance was not without its problems. Missed lighting and sound cues, costume mishaps, and the actors stumbling over lines all should have detracted from the show much more than they did. However, Iwanski-Sanchez and Salamon had so charmed the audience that these little mistakes were easily forgiven. This allowed the two actors to relax fully into the schizophrenic experience of the show and just have fun hopping from one character to the next. Within the first ten or fifteen minutes, Iwanski-Sanchez, who gave a truly inspired performance Saturday, played the characters of good ole' boy Arles in a cowboy hat and slippers; chain-smoking wife of an alcoholic and seller of used weapons, Didi; overenthusiastic weatherman Harold Dean Lattimer; and idealistic Humane Society representative and champion for chickens, yappy dogs, and fish everywhere, Petey Fisk. As Salamon struggled with his apron and crooked wig as Bertha Bumiller, Iwanski-Sanchez played three of her children in succession: sweet and strange six-year-old Jody who captured the heart of the audience immediately; juvenile delinquent Stanley, not quite as sinister as he perhaps should be but distasteful nonetheless; and overweight, hopelessly unpopular Charlene, convinced her life is over because she didn't make the cheerleading squad. By the time he appeared as the hated Vera Carp in Act II, Iwanski-Sanchez was unstoppable and clearly having the time of his life, and the audience loved him for it. Vera, obviously the hit sketch character of the night, poked fun at audience members and made them absolutely roar with laughter while simultaneously embodying everything that's small and ignorant about rural Texas. After playing off a costume malfunction in a perfect, deadpan example of comedic timing, the laughs and whoops from the audience were so infectious that Iwanski-Sanchez had to take a moment to compose himself before returning to Vera's war on mandatory Spanish classes in the high school.

The energy provided by moments like these was enough to see the show through some significant pacing problems, especially in the second act. Though the actors did well for the most part, pantomiming props and set pieces like doors and cabinets, there were times they seemed confused as to their blocking, sometimes missing the lighting marks provided by Lighting Designer Scott Croy. This was especially true for Salamon, whose well-deserved, multi-decade reputation as a favorite on Dallas area stages led me to believe he was simply having somewhat of an off night, exacerbated by more than his share of costume problems. However, his funny yet achingly sad portrayal of neglected housewife Bertha Bumiller and slick, fast-talking rendition of Reverend Sikes, among many others, really resonated with the audience.

And that really is what many community theaters have forgotten amongst the box-office draw of crowd-pleasing shows like Bye, Bye Birdie and Oklahoma! Theater is a dialogue between performers and audience members and it has a role to play in America's social structure. MCT's production of Greater Tuna is a reminder of what good community theater is supposed to be: relevant, familiar, and a heck of a good time.
---
GREATER TUNA
Mesquite Community Theatre, 1527 N. Galloway Ave., Mesquite, TX 75149
Runs through November 3rd

Friday and Saturday at 8:0 pm, Sunday at 2:00pm
Additional show Thursday, November 1 at 8:00pm
Tickets are $15.00 adult, $12.00 seniors and students, $8.00 children 6 and under.

For info go to www.mctweb.org.
or call 972-216-8126
or email at: reservations at mesquitecommunitytheatre.com