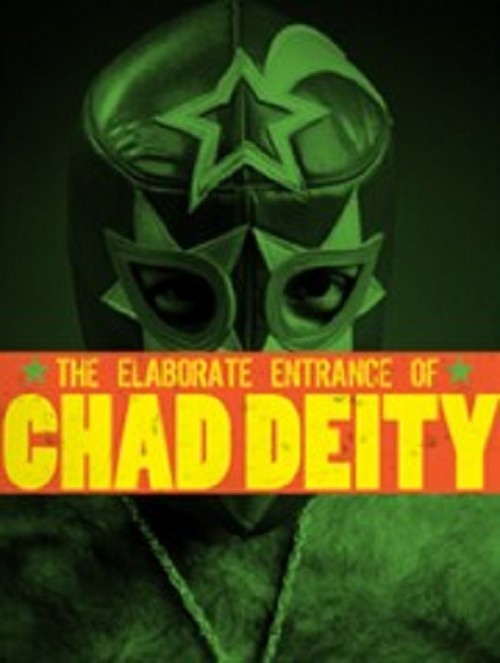 THE ELABORATE ENTRANCE OF CHAD DEITY
By Kristoffer Diaz
Dallas Theater Center
Direc-ted by Jaime Castaneda
Scenic Design - Takeshi Kata
Costume Design - Clint Ramos
Lighting Design - Lap Chi Chu
Sound Design - Mikhail Fiksel
Projection Design - Peter Nigrini
Fight Direction - Christian Litke
Fight Choreography -- Jamin Olivencia


CAST

Everett K. Olson/ Ring Announcer -- Kieran Connolly
Macedonia Guerra -- Alex Hernandez
Chad Deity - Corey Jones
Vigneshwar Paduar - Aly Mawji
The Bad guy/ Billy Heartland/Old Glory - Jamin Olivencia
---
Reviewed Performance: 10/26/2012
Reviewed by Chris Jackson, Associate Critic for John Garcia's THE COLUMN
"I love theater that is about something - (that) celebrates community. That's the only thing theater can do better than film and TV." - Kristoffer Diaz



The Elaborate Entrance of Chad Deity is all about the story. It's pure theater and it's all about the story - the stories we are sold and the ones we buy, the ones we create and the ones created for us, the private ones and the ones hyped globally. Racial stories, stories to make us fearful, love stories, they're all stories bearing some kernel of truth even when they are sometimes grossly exaggerated. Kristoffer Diaz's play is not for those who want another "momma on the couch" play or expect a quiet evening of intellectual give-and-take. This show actually jumps up and drop-kicks you into its world, and in doing so it won the 2008 national Latino Playwriting Award and was a Pulitzer Prize finalist.

"Chad Deity's elaborate entrance is a metaphor for America," one of the characters says. "[It] makes soldiers remember what they fight for, makes fathers teach their sons to stand up and cheer on greatness. By proxy, [it] is America's elaborate entrance, ongoing, giving proof through the night that the flag is still there." In other words, we need a simple black and white, good and evil, archetypal story that reassures us that all will be well, that the good guy will win and evil will be vanquished and that there are no gray areas. No stories without a resolution. No "hanging chads." Even though we know on some level that this cannot always be true, we need a place that tells us that it will be - a place where we know the ending like a child wanting to hear the same story or watch the same DVD over and over. Wrestling can be the place that tells us that reassuring story even when we know it has all been manufactured.

In Kristoffer Diaz's play, he uses the world of "THE Wrestling" to tell this story. A huge wrestling fan as a boy, Diaz uses that enthusiasm to explore the tale of a fine wrestler, Mace, whose job is to lose to Chad Deity. You've got to have a great loser to make the winner look great. Mace is by far the better wrestler but because he is Puerto Rican his job is to make Chad Deity remain the heroic champion America loves and enjoys.

The parallels between the wrestling word we know on TV and live theater are never really discussed but instead demonstrated for us by the production itself. Four huge projection screens, smoke, lights, music, videos of gorgeous women fawning over the champion, terrific and over-the-top costumes and two sections of audience seating that slide apart for the "elaborate entrances" all come together to make the story work. All of this in-your-face theatricality is used in its own way to let us know just how much this world has to teach us about our own stories.

Alex Hernandez plays Macedonio Guerra (Guerra means war). Mace, as he's called in the play, becomes our narrator and guide into this world. He's played the role before and thank goodness that he has because the show is essentially his one long monologue interspersed with other characters, of course, but that's still a huge amount of words and responsibility. His training is put to good use and he impresses with the way he uses his voice as well as his physical actions. The character is clear and energetic and his journey to tell "the perfect story" becomes our journey too. The struggle to be a Puerto Rican who can rise above the expected stereotype in a world that lives to sell stereotypes and the internal give-and-take that struggle requires are out there for us to see. He loves his job but sees how he's being used. Diaz says, "if you don't have the right look or style or last name, you're probably not going to be able to ascend to the highest of heights, no matter how good you get at what you do. That bothers me. That's why I write about it." Mr Hernandez, by personifying Mace, shows us what Mr. Diaz means. This is an actor we can relax and enjoy watching. He's got it under control.

The title character is played by Corey Jones and it's a role he revels in! He struts, he preens, he flashes his bling and just generally has a good time. In doing so, he is utterly convincing in the role. As we watch, there is no question in our minds that he is every inch the champion we are told he is, who's loving it all yet is smart enough not to buy into his own hype. Looking like you're confident in what you're doing is a huge part of being a successful actor and Mr. Jones has got it down pat.

Aly Mawji plays P.T., a basketball-playing East Indian who talks like a ghetto street thug and is introduced to Mace by Mace's "brother and my other brother." He soon is transformed into the terrorist character for THE Wrestling and quickly becomes a star with only one move - and a stare. Again, Mr. Mawji knows how to take a character, flesh it out and deliver it with flair in the wrestling arena. Like most of the other characters, he's got more layers than the one he's hired to project. He is great fun to watch and his costumes are a hoot.

Everett K. Olson, or TKO, as he's known in the story, is brought to believable life by Kieran Connolly, a member of the Brierley Resident Acting Company. He's the fully realized corporate lead man who knows what the public wants and does his job regardless of the personal fallout for his employees. It's a commanding performance. You never doubt he's the boss.

Finally, in the second act, there's Jamin Olivencia who also does the fight choreography for the show. As a professional wrestler/actor, he becomes in turn The Bad Guy, Billy Heartland from Austin complete with cowboy hat and Texas swagger, and then the American flag personified, Old Glory. He takes all the hard falls and knows how to sell them.

Scenic designer Takeshi Kata does a marvelous job turning the Wyly Theatre into a wrestling arena with the audience on four sides and an actual arena in the middle. THE Wrestling federation logos are plastered on the fronts of the balconies and around the arena itself. Lighting Designer Lap Chi Chu hangs a huge ring of lights above the arena itself and surrounds the audience with lights that flash and change and pick out the action and the characters at exactly the right moments.

The costumes by Clint Ramos are spot-on for the storybook world of THE Wrestling and it is a delight to watch each new costume make its elaborate entrance. The audience laughs or "oohs and ahs" appropriately. The costumes stress the stereotype, which is the point, and are perfectly suited to the moment, defining each character exactly.

The sound design of Mikhail Fiksel and the projection designs of Peter Nigrini round out the total excesses of this world we are experiencing in the best possible way. How the images for manipulation in our culture are created is demonstrated for us by these artists. We see it, we understand it for what it is, and yet we still get caught up in it. It's all part of the narration.

In wrestling, the fights are what you come to see, and even though you have to wait 'till the second act, you won't be disappointed. Christian Litke and Jamin Olivencia as Fight Director and Fight Choreographer respectively, come up with totally convincing moves that the actors appear to deliver flawlessly. Good triumphs over evil except in one wonderful exception when the bad guy beats up the Texas good guy, and it's so funny that the audience cheers! "No, no," we're told by Mace, "You gotta boo the bad guy!" And so of course we do!

Director Jaime Castaneda pulls all the elements together into a unified whole to tell not only Mace's story but, in the larger sense, the story of our dreams and expectations, our hopes and fears and the struggles so many face in finding their place of respect and fulfillment. The flash and confetti and lights and costumes all have to come together to not only seduce and entertain the audience, but then also to leave us with something more to think about when the final bell has rung and we're back in our own personal arena. Mr. Castaneda has managed to do that and do it well. The show is wildly entertaining and theatrical and still reminds us of the deeper truths being explored, all wrapped in the glitz and glamour of professional wrestling. While Mace may not ever feel he's told his "perfect story," at least in this production, part of it has been told and told well. We have become a community caught up in our universal story.
---
THE ELABORATE ENTRANCE OF CHAD DEITY
Dallas Theater Center
2400 Flora Street, Dallas, Texas 75201
Runs through November 11th

Tuesday - Thursday at 7:30pm, Friday - Saturday at 8:00pm, Saturday and Sunday at 2:00 pm

Tickets are $15.00 to $85.00, subject to change

For information go to www.dallastheatercenter.org or call (214) 880-0202.