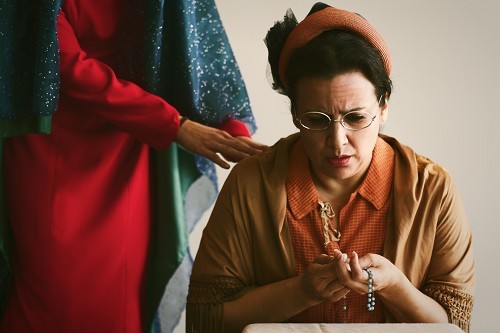 MILAGRITOS / LITTLE MIRACLES
Based on short stories from Sandra Cisneros,
Adapted for the stage by Marisela Barrera
Cara Mia Theatre Company
Directed by David Lozano
Assistant Director - Frida Espinosa-Miller
Original Music Score - S-Ankh Rasa
Scenic Design - Jessie Zarazaga
Lighting Design - Linda Blase
Costume Design - Kristin Moore
Choreography - Michelle Gibson


CAST:

Vanessa DeSilvio - Chayo
Frida Espinosa-Miller - Chayito
Rodney Garza
Ana Gonzalez
Cesar Hernandez
Priscilla Rice

MUSICIANS:

S-Ankh Rasa
Armando Monsivias
Mauricio Barrozo
---
Reviewed Performance: 12/1/2012
Reviewed by Rachel Elizabeth Khoriander, Associate Critic for John Garcia's THE COLUMN
Milagritos/Little Miracles is a stage adaptation of Sandra Cisneros's Woman Hollering Creek and Other Stories, impressively rendered by Marisela Barrera who was Cara Mia's Artistic Director from 1997-2002. I proudly admit to having been a fan of Sandra Cisneros's work for many years and I'll likewise admit that, when I arrived at the Latino Cultural Center in downtown Dallas, I wasn't sure what to expect from the evening's performance. This certainly isn't a failing of the venue itself; when I arrived, I meandered down a long brick hallway, past a courtyard, to retrieve my tickets from Will-Call which was set up in a small, round entryway with a beautifully-decorated ceiling. In addition, the theatre itself was very comfortable and appeared to showcase a fantastic view from every seat.

So what was I worried about? I was worried about the artistic prowess of the production designers. Sandra Cisneros is a writer of intensely lyrical prose. Her short stories contain not only flesh-and-blood characters and strong plots but are also written with words that drip with color and life. This level of artistry is exciting because it gives designers and directors a strong basis on which to build an interesting production, but it can also be problematic. While trying to embody the author's words, too much latitude could be taken and the end result could end up looking like a child's finger painting. The meaning could be there but could be largely overshadowed by a dizzying array of color and clumsy strokes.

Thankfully, this is not the case with Milagritos/Little Miracles as presented by Cara Mia. David Lozano, with his congregation of designers and actors, presents us with something magical but very human. Although the set itself is quite sparse (genius, but sparse) and although the only visible color can be seen in the well-chosen costuming and on a few props, I left with the feeling that the entire production had been overflowing with color and vibrancy. This is a feat I find to be quite impressive. But before I get to the end, let's start at the beginning.

Milagritos is the story of a young artist named Chayo and of the obstacles she faces as she transitions from childhood to womanhood. In Chayo's case, this transition is adorned with complications from her mix of Latino-American and Mexican family and friends. Throughout the play, Chayo struggles with the unique obstacles faced by being a woman, by being an artist, and particularly by being both of these things in a machismo-dominated culture. In an effort to define her future, she tries to find common ground between the woman she has become and her traditional Latino-American roots. Through her memories, and through her observation of her neighbors as they petition the saints for help, she comes to understand how she can be true to herself while simultaneously true to her roots.

This production of Milagritos strongly accentuates the symbolism and ceremony inherent in daily life. The play begins as the cast and musicians joyfully play and dance their way through the audience to the stage. Fittingly, young Chayo (Chayito) leads the procession, beckoning the other characters forward and into their places on stage. She then proceeds to look on and eventually joins in as the ensemble sings and dances ceremonially, at times intoning to the Virgin Mary in her many incarnations -- Our Lady of Guadalupe, Our Lady of the Rosary, Our Lady of Sorrows.

The music during this number and throughout the play is compelling and effective. Bouts of joyous bursts of song are interspersed with sudden moments of silence that underscore important moments in the show and add to the overall symbolism. Further, the musicians are ever-present as part of the scenery, which is appropriate for the importance placed upon music in these characters' lives. Unfortunately, the technical problems with sound substantially detract from the power of the music being played. Often, the volume of the music is simply too high, overpowering the actors' voices and often making it impossible to understand the lyrics. In addition, on the night I visited, multiple rounds of feedback from the speakers were very distracting. Finally, during one of Chayo's songs, the volume of the music decreased so significantly that it was jolting. Vanessa DeSilvio, as Chayo, has a beautiful voice and I was pleased to be able to hear it, but the sudden decrease and then increase in music volume led me to wonder why the music wasn't simply a bit lower in the first place or why they didn't mic the actors slightly during the songs.

Besides having a lovely singing voice, Vanessa DeSilvio is highly believable as Chayo. She embodies the woman who has largely grown into herself but who still struggles to make sense of how this self fits into her world. Near the beginning of the performance, during a monologue she performs after looking on as her child self, Chayito, interacts with her family, DeSilvio's comedic timing seems a bit off but this quickly resolves itself and is a tiny wrinkle in an otherwise excellent performance. Throughout the show she is continually convincing as an empowered, albeit confused, woman who strongly feels herself to be an outsider based on how she chooses to live her life--as a slightly irreverent artist with no room in her life for men besides those she "borrows" from other women. DeSilvio is brilliant at alternatively exhibiting Chayo's irreverent, playful side (particularly when she is acting as Our Lady of Guadalupe) and her guilt-ridden, "criminal" side that deviates from what her Catholic upbringing taught her was proper. She convincingly shows that both guilt and an unapologetic desire to be who one is born to be can coexist in one character.

Likewise, Frida Espinosa-Miller, as Chayito, brilliantly represents the role of the sprite-like, mercurial child from whom Chayo has emerged. The role of Chayito is carried through the play alongside the adult Chayo which allows us to see what little Chayito thinks of the adult she has become. It also allows for some beautifully choreographed scenes in which little Chayito acts as Chayo's muse, guiding her older self's paintbrush to bring color and joy into an otherwise confusing existence. In one particularly inspired moment, Chayo begins painting not only her canvas but also the air around her, and we feel both the sense of freedom that painting gives her and her strong desire to create her own world.

The rest of the cast is similarly impressive. There are a few moments where I'm not quite convinced that one or another has entirely shed a previous character, but there are also moments of sheer brilliance such as a vignette involving an "awful grandmother" and her grandsons (who think the church smells like the inside of an ear), a vignette about a girl looking for a "man" and the not-so-suave dancer with whom she is matched, and a particularly amusing vignette involving St. Sebastian. Another particularly well-done moment is when a man petitions Our Lady of Guadalupe to do what is best for his dying wife. This performance is heart-wrenching and powerfully depicts the flip side of the petitioners who ask for the smaller miracles like better skin or to be with their boyfriend forever.

Throughout the play, each scene is masterfully supported by a minimalistic, but moveable, set that allows the actors' world to shift, fully embodies the scenes being created, and encourages the actors to become stagehands since the movement of the set is woven into the fabric of the show. This is aided by an excellent lighting design that keeps the audience focused where it should be rather than on the actors-as-stagehands.

So what is left to say? Well, I could wax on about what this play means to me in relation to Cisneros's work for a good many pages, but I'll spare you. Instead, I encourage you to see the production for yourself and extract your own meaning from the many faceted layers that Cara Mia's Milagritos/Little Miracles has preserved from the short stories upon which it is based. I suspect that Cisneros, who attended opening night, is quite proud.
---
MILAGRITOS/LITTLE MIRACLES
Cara Mia Theatre Company
Latino Cultural Center, 2600 Live Oak Street, Dallas, TX 75204
Runs through December 15th.

Performances are Thursday - Saturday at 8:00pm.
Tickets are $12.00 - $30.00.

To celebrate Our Day of Our Lady of Guadalupe, the annual Mexican holiday, Cara Mia Theatre Company will host a party before its December 12th performance of Milagritos / Little Miracles at 6:30pm. The Latino Culinary Institute will provide food and drinks. Tixs for the