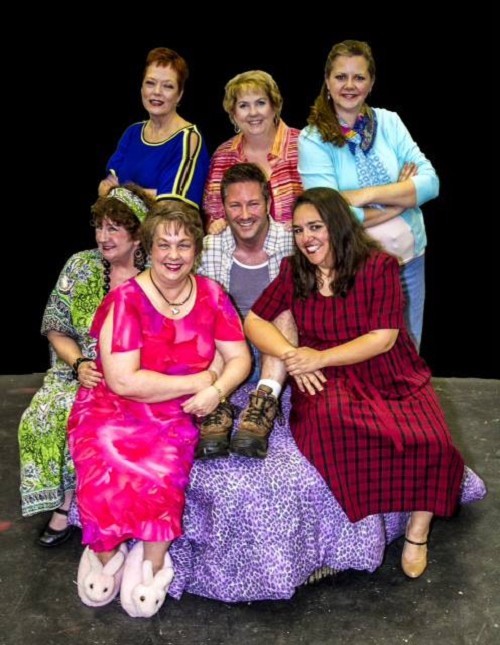 HALLELUJAH GIRLS
by Jones Hope Wooten
Richardson Theatre Centre
Director – Rachael Lindley
Lighting Design – Charles A. Alexander
Set Builder – Charles A. Alexander
Sound Design – Rachael Lindley
Costumes and Props – Cast and Crew

CAST:
Crystal Hart – Elaine Erback
Sugar Lee Thompkins – Janette Oswald
Carlene Travis – Gena Graham
Mavis Flowers – Barbara Brunette
Nita Mooney – Robyn Mead
Bunny Sutherland – Leigh Wyatt Moore
Porter Padgett – David Lambert
Bobby Dwayne Dillahunt – Eddy Herring
---
Reviewed Performance: 6/16/2013
Reviewed by Elaine Plybon, Associate Critic for John Garcia's THE COLUMN
What do you get when you combine an old church building, a group of women and a mysterious treasure? A fun mix of laughter, disbelief, and a heartwarming yet predictable story about a group of women who discover that "it's never too late to become the person you were meant to be." Hallelujah Girls at Richardson Theatre Centre is a play that pokes fun at itself while providing entertainment for its audience.

When Sugar Lee Thompkins announces to her friends that she has purchased the old church in Eden Falls, Georgia and intends to convert it into a day spa, her friends is skeptical but supportive. The action in the play follows short snapshots of time over the year that follows, introducing a former beau, a long-time rival and an underlying mystery to carry the plot along.

The venue is a small black box theater, with a stained glass window being the center point of the stage, reminding us of the former use of the building in which "Spa-Dee-Dah" is housed. Reaching away from the window are counters with beauty salon chairs and various lotions, sprays and whatever else will be needed by visitors to the spa.
Downstage right is a small telephone table (with telephone), down-stage center is a nail station, which is where we see Carlene Travis, long-time friend of Sugar Lee, the most, and down left is a round settee. A small table with telephone, a nail station and a round settee complete the design. The set was simple and functional, and did not detract from the performances.

Costumes became the responsibility of the actors and since the action takes place in present day, each most likely took pieces from their own closets to put together a set of togs befitting their characters. Of special note were the hilarious costumes worn by Crystal Hart, the often distracted and energetic receptionist and jingle-writer.

Hart celebrates every holiday, even holidays nobody has ever heard of, so Elaine Erback had a challenge on her hands to gather a variety of costumes for her character, from a Christmas elf to Cupid and everything in between. Erback did an excellent job choosing attire that truly enhanced her delivery of one-liners and goofy advertising jingles set to the tune of familiar Christmas carols.

Director Rachael Lindley assembled a cast that worked well together and created a believable circle of friends despite the somewhat contrived nature of the story itself. Lindley also designed the sound which appropriately included a Gone With the Wind ringtone for the romance novel aficionado, Nita Mooney.

A small cast gave the audience an opportunity to really examine the characters in depth and this ensemble clearly took their responsibility to develop those characters very seriously, defining each with clarity.

Barbara Brunette's comic delivery as the matron of the group, Mavis Flowers, was spot on and I looked forward to any scene that included this character. The script was full of good comedy and Brunette skillfully maximized the effect with comedic flair.

Elaine Erback, as Crystal Hart, was hilarious. Every time she graced the stage, Erback donned a new, fun costume, and her absent-minded meanderings were a delight.

David Lambert's portrayal of Porter Padgett was slow and deliberate. This befits the character who is a love interest for Carlene and who still lives with his mother.

Carlene, played by Gena Graham, is a woman who has loved and lost, many times, and Graham does a good job with her role, delivering a strong but vulnerable Carlene through the play.

One of my favorite performances was Robyn Mead in the role of Nita Mooney. The main reason this character figured so strongly in the production was because of Mead's efforts. Her rapid transitions as she lovingly spoke of her favorite romance novels while relating the trials of her life with a grown, irresponsible child were seamless and dramatic. From facial expressions to body language, and through her great timing, Mead was a believable and essential part of the glue that held this play together.

What love story is complete without a villain? Enter Leigh Wyatt Moore in the role of Bunny Sutherland. Bunny is a long-time rival of Thompkins and ruthless in her pursuit of creating misery for Sugar Lee. Moore portrayed Bunny in a smooth and calculating way, sashaying across the stage with confidence.

Former lovers, Sugar Lee and Bobby Dwayne were portrayed by Janette Oswald and Eddy Herring, respectively.

Oswald gave a strong performance and carried the action from its rough beginnings as the friends saw room for improvement in their lives to the transformations that occurred for each one. Underlying each line, the sadness and vulnerability that Oswald skillfully hid under the surface told a story in itself. Herring's portrayal of handyman and former fiancé to Sugar Lee was dynamic. There was good chemistry between Herring and Oswald and their times together onstage had both the ease expected of a pair with a past but the tension of unfinished business.

Overall, Hallelujah Girls is a light-hearted experience with good comedy albeit a very predictable script. There is no deep life meaning to be had, just good, clean fun. The audience clearly enjoyed the show, and I found it to be refreshing.
---
HALLELUJAH GIRLS
Richardson Theatre Centre
518 West Arapaho Road, Suite 113, Richardson, Texas 75080

Plays through June 30th

Shows are Thursdays at 7:30pm, Fridays-Saturdays at 8:00pm and Sunday matinees at 2:00pm. Tickets are $22.00 for evening performances and $20.00 for matinees.

For more info visit www.richardsontheatrecentre.net. Tickets may be purchased by calling the box office at 972-669-1130 or at the door, if available.