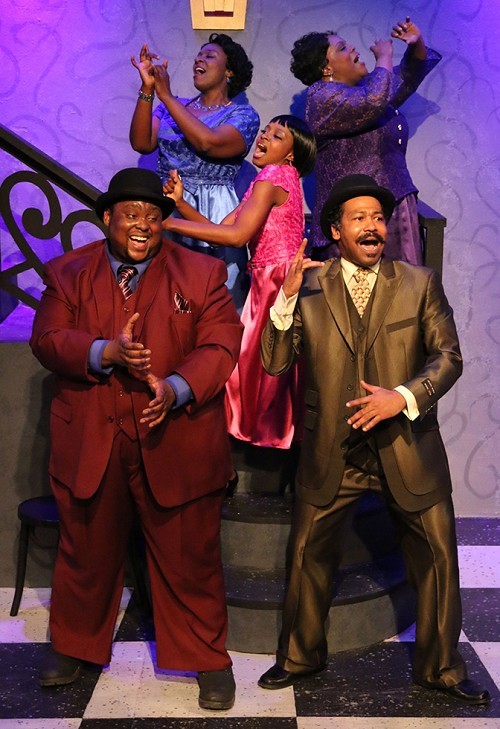 AIN'T MISBEHAVIN'
Conceived by Richard Maltby, Jr. and Murray Horowitz
Jubilee Theatre
Directed by Akin Babatunde
Music Director – Geno Young
Set Designer – Rodney Dobbs
Lighting Designer – Nikki Deshea Smith
Sound Designer – David Lanza
Costumer Designer – Barbara O'Donoghue
Choreographer – Michael Anthony Sylvester

CAST
Major Attaway
Brandon Burrell
Chimberly Carter Byrom
Patricia Hill
Ebony Marshall-Oliver
---
Reviewed Performance: 3/28/2014
Reviewed by Kristy Blackmon, Associate Critic for John Garcia's THE COLUMN
In 1978, Broadway audiences fell in love with a new musical revue, Ain't Misbehavin': The Fats Waller Musical Show. Over three decades later, Murray Horwitz and Richard Maltby Jr.'s celebration of black musicians associated with the Harlem Renaissance is still making joints jump in theaters across the country. The show, comprised mainly of songs by jazz pianist Thomas Wright "Fats" Waller, reflects the exuberance of the era. In turn mournful, raucous, suggestive and soulful, Ain't Misbehavin' celebrates jazz swing in all of its giddiness.

With a five-person cast and more than 31 songs, Ain't Misbehavin' demands unflagging energy from its performers. The cast at Jubilee Theatre maintains that energy and a strong connection with their audience by going out on stage and just having a blast. This show isn't reliant on elaborate sets, fancy costumes or a plot of any kind. A good band, an engaged audience and performers with great pipes and great comic presence are all that it requires to be a success.

Jubilee had all three elements on Friday night.

Director Akin Babatunde avoids the overly polished, plastic feel many productions of Ain't Misbehavin' fall victim to. This show deals with some less than pristine subject matter, which is what makes it so much fun. Poverty, race, sexuality, and drugs are all under examination, but with a sense of irreverence and silliness that keep the audience laughing throughout.

Babatunde presents us with a cast more than happy to shake and jiggle, slink and slither, or execute a dance step or two—whatever is necessary to entertain in the moment.

The cast represents a wide range of looks and talents. Chimberly Carter Byrom is definitely the dancer of the group, a fact that is the source of more than one joke during the show. She also plays the ingénue in songs like "Keepin' Out of Mischief Now" and the very funny "Yacht Club Swing".

Patricia Hill is the mama figure; she can barely sway in rhythm but can belt with the best of them. Hill's ability to switch from sassy in "That Ain't Right" to almost matronly in "When the Nylons Bloom Again" keeps the audience in stitches. Her duet with Marshall-Oliver, "Find Out What They Like", brought the house down.

Brandon Burrell is a master of nuance, able to switch between goofy and manic in numbers like "Jitterbug Waltz" and smooth and a little dangerous in the showstopper "Viper". Though he isn't afraid to show off his admirable singing chops, he also possesses that Rex Harrison-esque ability to sing-talk in rhythm, evidenced in numbers like "'T Ain't Nobody's Bizness".

Ebony Marshall-Oliver is the comedienne of the group, unafraid of masking her truly incredible voice behind awkward and ditzy characterizations, such as in "Cash for Your Trash" or the playful "Honeysuckle Rose". It makes her rendition of the soulful "Mean to Me" in the second act even more powerful.

Major Attaway, who bears more than a passing resemblance to Fats Waller, has a gorgeous, booming voice, powerful stage presence, and innate ability to connect with the audience. His rendition of signature, silly numbers like "Your Feet's Too Big" and "Fat and Greasy" are unforgettable.

The ensemble numbers are a little more hit and miss. The balance is off in more than one place, and certain performers tend to overwhelm the group in some numbers. However, the hauntingly beautiful and difficult group number, "Black and Blue", is near perfection, and high energy numbers like "Handful of Keys" works very well as the singers play off of one another.

All five actors showcase some truly admirable voices; however, they are definitely cast for their comic and singing abilities, not for any dancing talent. With the exception of Byrom, none of the players are able to do much beyond some simple toe taps and a few seconds of waltzing. Any time Choreographer Michael Anthony Sylvester threw more advanced moves their way, the result ranges from awkward to, in one instance, slightly alarming; I thought Burrell was going to swing Byrom into the staircase railing at one point.

The lighting by Nikki Desha Smith is brilliant; subtle when it needs to be and downright stunning in numbers like "Viper". Equally successful are the use of silhouettes as actors pose and sing while backlit behind white sheers. The projection of Fats Waller at the beginning and end of the show is a nice touch as well.
Music Director Geno Young and Sound Designer David Lanza strike a nice balance with the acoustics of Jubilee's small black box theater, the live band just offstage, and five powerful voices. There are no hiccups in the quality of sound during the entire performance.

The costumes by Barbara O'Donoghue are mostly a success. The men's sharp suits, especially Attaway's red three-piece in the second act, are beautiful in both acts. The women's costumes are less of a triumph, though still pleasing. The sequined tops & satin skirts in the first act aren't all that period appropriate and they come off as somewhat cheap in certain lighting. Their Act II dresses, with matching hats and fur jackets, are much more attractive.

The simple set by Rodney Dobbs is more functional than beautiful. Art Deco light fixtures are the most visually pleasing aspects of the set. A bistro table and chairs and a circular platform give the actors different levels to play with. Presumably, that is also the intention with the staircase running up the back wall. However, heavy-footed actors in character shoes running up and down a wooden, boxy set of stairs makes for some rather incredible clomping.

The cast of Jubilee Theater's Ain't Misbehavin' plays very well off one another, both vocally and comedically, and makes this production a rousing success. This is a high-energy show filled with toe-tapping and laughter from beginning to end. Jubilee has produced yet another highly enjoyable night of theatre.
---
AIN'T MISBEHAVIN'

Jubilee Theatre
506 Main Street , Fort Worth, Texas 76102

Runs through April 20th.

Thursday - Saturday at 8:00pm, and Saturday - Sunday at 3:00pm.Tickets are $18.00 on Thursday and matinees, and $25.00 Friday - Saturday.

For information and to purchase tickets, go to http://www.jubileetheatre.org/ or call their box office at 1-817-338-4411.