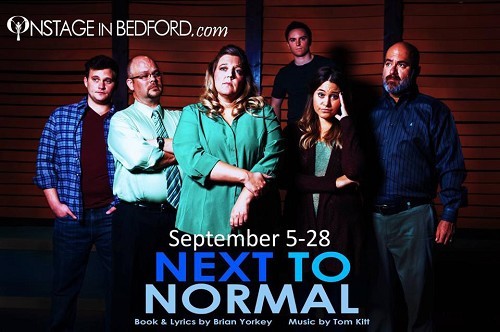 NEXT TO NORMAL
Book and Lyrics by Brian Yorkey
Music by Tom Kitt
ONSTAGE in Bedford
Director – Byron Holder
Stage Manager – Misty Baptiste
Lighting Designer – Nikki Deshea Smith
Costume Designer – Jessica Cothren

CAST
Henry – Dalton Hutto
Natalie – Shannon Garcia
Dr. Madden/Dr. Fine – Martin Antonio Guerra
Diana – Noelle Salter
Dan – Tripp Jackson
Gabe – Michael McMillan

BAND
Conductor/Keyboard – Byron Holder
Piano – Scott A. Eckert
Guitar – Enrique Olachea
Bass – Steve Cullen
Percussion – Randy Lindberg
---
Reviewed Performance: 9/5/2014
Reviewed by Larry Ukolowicz, Associate Critic for John Garcia's THE COLUMN
Next to Normal is a rock musical concerning a dark passage into one woman's struggle with bipolar disorder and the affect her struggle has on her whole family. ONSTAGE in Bedford should be commended for taking on this complex psychological masterpiece that dares to delve into a subject matter both frightening to the victims and to the families witnessing the effects of its horror.

The musical also addresses issues associated with the subject matter at hand, such as grieving a loss, drug abuse, psychiatry and the ethics involved in the medical field, and suicide. Next to Normal shows the underbelly of suburban life through the eyes of a woman both grasping at straws and gasping for air along the journey. This is a feel-everything musical and takes you to places other musicals rarely dare.

The musical went through many workshops and readings from 1998 and forward to reach its Broadway debut in 2009. It was nominated for eleven Tony Awards and won three, including Best Musical Score. It then went on to win the coveted Pulitzer Prize, the Pulitzer Board calling the show "a powerful rock musical that grapples with mental illness in a suburban family and expands the scope of subject matter for musicals."

Playwrights Brian Yorkey and Tom Kitt, do not portray the lead character, Diana as an exaggerated monster or psychotic character, which is, unfortunately, often depicted in popular modern culture. Instead, they show Diana as a sympathetic character facing struggles that are out of her control. This is similar to the way Jonathan Larson portrayed his compassionate characters Angel, Collins, Mimi and Roger in Rent. Diana, the way she is portrayed in Next to Normal, could have fit in very well with Larson's crew. The similarities and complexities are very familiar.

Part of Next to Normal's strength is the uncompromising way it looks at every character, every relationship, and every effect of Diana's bipolar disorder. It almost never offers a pat answer. This is full-contact theatre not for the faint of heart, but certainly for the soft of heart.

All the relationships in this musical are multi-layered and multi-complicated. Combine that with a score full of key changes, dissonant chords, and tricky rhythms, and you have a show that will take you to the height of comedic moments or to the depth of tear-filled emotion. Brian Yorkey has two characters singing exactly the same words but with exactly opposite meanings throughout the show which shows the complexities we know to be in everyone.

All the contradictions, the hard choices and confusions encountered in everyday life are put on the chopping block in the musical, which adds to Diana's disorder, and the audience begins to see inside her head for short periods of time, almost understanding the bizarre world and wishing the best for her and her family.

ONSTAGE in Bedford has six amazing singers/actors to take you into the Poe-esque world of bipolar disorder with force, ferociousness and a great deal of compassion. The cast of six couldn't be more convincing. Bring tissues! As the afflicted housewife Diana Goodman, Noelle Salter is a formidable presence with a voice that ran through me like a finely-sharpened dagger aimed at the heart. The face I'll remember for a long time belongs to Ms. Salter, who mixes the suburban mom's brittle vulnerability with bouts of steely will. Her eyes roll with skepticism when her doctor suggests hypnosis, and then dart nervously back and forth at the prospect of more pills. Sometimes they go eerily vacant. I found myself silently saying, "Come on, Diana, pull through it. You can do it." To put it bluntly, Ms. Salter exhausted me and I could do nothing but jump to my feet with "Brava" at curtain call. This is one of those stories where you wonder who has it the worst, the woman losing her mind or the guy who takes care of her? Tripp Jackson makes a solid case for the latter as Dan, the husband who is stretched to his limits; hopeful, stern, scared and at times completely worn out. I watched his face lose its smile and fall into despair, and all the while Mr. Jackson watches in amazement, questioning throughout with wide eyes of wonderment. How far can Diana go? How far can Dan go? Mr. Jackson never loses focus, never falters and always tries, no matter how difficult the journey, to understand. Mr. Jackson is solid in song and in character. It's a very lovely, moving performance.

Their teenage daughter Natalie, portrayed by Shannon Garcia, is the family's collateral damage. She is invisible to her parents despite her perfect grades, her Mozart recitals, and her free ride to Yale. Ms. Garcia gives a Natalie that is driven to succeed, despite her confused world of drugs, music, love and bewilderment, with clenched fists and nervous demeanor. Natalie's invisibility fades as she becomes a comfort to her father, lovingly and caringly played by Ms. Garcia as she holds on to Dan, never letting go, hoping the best for her family.

As ghostly son Gabe, Michael McMillan brings the needed intensity to the role. The pacing and acting could not be better in scenes where Gabe and Dan both engage in a tug of war in regard to Diana's course of mental treatment. Gabe wants to flush the drugs; Dan wants to keep experimenting until they get it right. Mr. McMillan has a wonderful tenor voice that portrays his frustrations that go along with mom's cure, and shows the pains of growing up with questioning eyes of sadness.

Rounding out the cast is Dalton Hutto as Natalie's would-be boyfriend, Henry. Mr. Hutto's perfect comic timing is the relief needed in the musical. Henry just won't quit pursuing her. The combination of Ms. Garcia's intensity and Mr. Hutto's come-what-may attitude is a delicious team effort of give-and-take. Mr. Hutto and Ms. Garcia are well-paired and play off each other with ease and comfort.

Martin Guerra, in the dual roles of Dr. Fine and Dr. Madden, is engaging. I felt that both doctors were just as schizophrenic and uncertain as Diana at times, wondering and wandering through treatments. Mr. Guerra, often showing facial expressions of the same bewilderment seen in Diana's face, mirroring her confusion, offers extended arms and softness of voice for comfort.

Director Byron Holder navigated this production with great finesse. Each character is defined and solid. Each note is filled with heart-felt emotion. It is Diana's hurricane force existence that is the catalyst for this show, determining the rhythm, the mayhem and the angst. Mr. Holder made certain that each character responded with just the right amount of emotion to keep it real and non-melodramatic. It is a roller coaster ride of humor, intensity and fright and Mr. Holder kept it flowing with great ease.

The multi-level set, constructed by Jim Scroggins, fits perfectly with the mindset of Diana; stairs leading to places of darkness, black curtained walls lending a shadowy, dark flavor, all surrounding a normal-looking living room and dining room. But as the story unfolds, this is far from a normal household, and this is where lights by Nikki Deshea Smith turn the living/dining room into a funhouse of sorts, using shadows, cold-blue spots and stark lights above the actors, distorting their faces like a funhouse mirror.

Costumes by Jessica Cothren depict a casual, suburban life, using jeans, t-shirts and skirts, all adding to the comfortable world in suburbia. But they also represent a deterrent, a façade, a lie. In an attempt to keep the outside world from questioning the inside madness of Diana's world, although their lives are far from comfortable, the clothes will not give them away.

Musical highlights of the evening come mostly from Noelle Salter with some of the most demanding songs ever written for the stage. From the quiet and haunting "I Dreamed a Dance" to the multi-octave "I Miss the Mountains", Ms. Salter delivers them all with great emotional depth and intensity. Coping with depression, Tripp Jackson sings, "He's Not Here," delivered with power, insight and great believability. Michael McMillan's rendition of "I'm Alive" is haunting and he sings with great determination to convince himself, despite his non-existence, that he is alive. I did not doubt him. Natalie and Henry have three reprises in "Hey #1, #2, and #3," taking them through their romance with each reprise. Shannon Garcia and Dalton Hutto are so perfectly matched in voice that it brings a smile to listen to them use the music to increase their growing attraction with each reprise. Dr. Madden's "Make up Your Mind"/"Catch Me I'm Falling", beautifully sung by Martin Guerra, had me questioning the entire medical profession, thus making the options for treatment rather disturbing. But the one song that moved me most was between Natalie and her mom as Diana tries to explain herself in the song "Maybe (Next to Normal)." It's the first time we see mother and daughter finally connecting and yes, a tear fell from my eye.

Bryon Holder, Conductor and the band were right on the money. I did not hear one flaw in their performance. My only criticism is that a few times, it was difficult to hear the actors sing. The band overpowered them. Is there a possibility for this show and future shows at ONSTAGE to include microphone headsets for the actors to alleviate the problem?

To put it simply, Next to Normal at ONSTAGE in Bedford is not to be missed. It shines an understanding light on the issue of mental illness, one that isn't only black and white but varies as broadly as a color spectrum. The production doesn't sugar coat nor makes promises about the horrors of an imperfect world - its message is one of resilience rather than victory.

Also, go and check out the theatre's brand new lobby. Well done.
---
NEXT TO NORMAL

ONSTAGE in Bedford
2819 Forest Ridge Drive
Bedford, TX 76021

Plays through September 28th

ONSTAGE gives this musical an R rating.

Fridays and Saturdays at 8:00 pm, Sundays at 3:00 pm

Ticket prices are $14.99; seniors, students/Bedford residents are $12.00.

For information and to order tickets, go to www.onstageinbedford.com or call the box office at 817-354-6444.