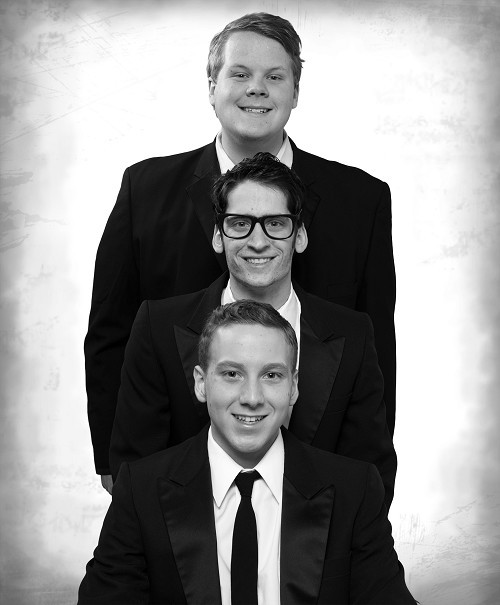 BUDDY - THE BUDDY HOLLY STORY
by Alan James
Artisan Center Theater
Directed by Bill Brooks
Music Director Richard Gwozdz
Costumer – Rebecca Roberts
Set/Light Design – Nate Davis
Stage Manager – Marina Fabian

CAST (The show is double cast. This list is from the reviewed performance.)

David Seil as Buddy Holly
Wil Garrett as Joe Maudlin
Tony Pruett as Jerry Allison
Thomas Goetz as Tommy Alsop
Bill Brooks as Hayrider Lead/Murray Deutcg
Jim Brunell as Hayrider Drums
4th Cricket as Hayrider Guitar
Meredith Stowe as Hayrider Fiddle
Derek Rock as Hipockets Duncan
Jamie Ecklund as Maria Elena/FBV
Clint White as Big Bopper
Kevin Acosta as Richie Valens
Stephen Fagan as Norman Petty
Katy Hill as Vi Petty/FBV
Pilar Ortiz as Aunt Santiago
Chris Seil as DECCA Producer
Kirk Corley as Apollo DJ/Clear Lake MC/MBV
Gwinevere Nelson as Apollo
Soloist/Performer A
Charles Bryant as Apollo Performer B
Heather Sturdevant as Shirley/Mary Lou Sokolov/FBV
Troy Pruett as Clear Lake Drums
Wil Garrett as Clear Lake Bass
4th Cricket as Clear Lake Guitar
---
Reviewed Performance: 1/6/2014
Reviewed by LK Fletcher, Associate Critic for John Garcia's THE COLUMN
The 50's were an incredibly iconic decade. We are fascinated with poodle skirts, sock hops, conical bras, cars with fins; drive in movies, Jell-o and Spam and of course, Rock and Roll. We know the names, the faces, and especially the music that changed our culture. Our kids know. Our grand kids know. We can't talk about the 50's and not mention rock and roll and we can't talk about rock and roll without telling The Buddy Holly Story.

Charles Hardin "Buddy" Holly, from Lubbock, Texas, changed the face of popular music, only to die tragically in a plane crash at the age of 22. Buddy – The Buddy Holly Story, playing at Artisan Center Theater, tells of the three years in which he became the world's top recording artist, with legendary hits including "Peggy Sue", "That'll Be the Day", "Oh Boy", "Not Fade Away", "True Love Ways", "Everyday", "Rave On", "Heartbeat" and "Raining in My Heart".

The challenge in doing a jukebox musical that showcases the live music of a superstar rock group is casting it. To find four teenage musicians to carry not only the music but the acting and physical casting is a big deal; to double it cast it with amateurs…. whew, not easy.

Director Bill Brooks did some fine casting and there was a lot of talent on stage at the Artisan. David Seil brought a great deal of energy to his portrayal of Buddy. Physically, his tall, lanky frame was a believable figure of Holly. His musical ability, which was certainly capable, was not reflective of Buddy Holly but was an outstanding community theater performance. Seil excelled in his physical comedy and his delightful comedic timing brought a lot of life to the limited dialogue in the script. The show is really a concert setting with limited dialogue and vignettes that narrate the meteoric events that were the fleeting but profound professional career of Buddy Holly.

The Artisan Center Theater, a theater in the round, built a projected proscenium stage into its west wall, creating a club style venue. The blocking and staging was very effective in this fast-paced show with its numerous musical numbers and many entrances and exits. The ensemble was cast in multiple roles which could be confusing at times. To discern a new character in a new wig might take a bit of study of the script or, as I did, you could just sit back and enjoy the show.

The musicianship and showmanship of Wil Garrett as Joe Maudlin, Tony Pruett as Jerry Allison, and Thomas Goetz as Tommy Alsop, making up Holly's band, The Crickets, was really exceptional. These are YOUNG men, the lead guitarist being fourteen, and thoroughly capable. The bass player was all over the grid - and the floor. The drummer did a great Phil Collins routine, playing a legit 50's groove and singing a killer backup. And the fourteen- year-old drummer? I am sure his parents didn't have to tell him to practice.

The music entertainers at the Apollo were showstoppers. The Apollo was an all-black venue in Harlem where Buddy and the crickets were booked. The misconception was that Holly sounded black and they booked him expecting to see something other than what they got. Singer Gwinevere Nelson did some serious rocking. Nelson brought down the house with a powerful belt and a fully charged version of "Shout". The musical magic of the night was the Big Bopper, played by the very talented Clint White. White is a veteran performer and it shows. Smooth and personable he oozed charm and personality to the delight of the audience. The bombshell of the evening was most definitively Latin superstar Richie Valens, played by the amazing Kevin Acosta who owned the stage. The audience, which included senior citizens, adults and kids alike, were all on their feet and singing along. (This is happening every night according to Producer Dee Ann Blair) It was Rock and Roll aerobics. I highly recommend it. Seil, likewise, ended strong, taking full command of the finale. The addition of the onstage band and backup singers really added depth and energy to the music and the other performers. Music Director and Keyboardist, Richard Gwozdz had an excellent stage band featuring musicians Ellen Kaner, Jason Ellison, Dutch Ode and Efren Molina.

The five hour whirlwind courtship of Buddy Holly and Maria Elena was charming and sweet. Buddy Holly meets Maria Elena and proposes after learning her name. Actress Jamie Ecklund had an authentic presence and chemistry as Maria Elena, although she did not have a consistent Puerto Rican accent. The chemistry between Ecklund and Seil was sweet and endearing. Aunt Santiago, as played by Pilar Ortiz, brought a strong protective and intuitive performance to her brief scene. Santiago, while nurturing, was also able to appreciate the impulsive and fleeting moments that often mark the milestones in our lives. There was some lovely work between Ortiz, Seil and Ecklund in their scene.

The set was minimal and very effective. Nate Davis, Tech & Set Designer created a false wall that opened and closed, creating a curtain effect, which created offered many options for scene and set changes. The lighting and sound from the show were confusing in their design. When a scene transitioned from script to a musical number there was no effects to indicate them. The lighting seldom changed to suggest that Buddy Holly was performing on a stage. It felt (and I was sitting in a corner so this may be skewed) as if more often than not, the house lights were always up.

Costumes, other than a few pairs of jeans that looked less than vintage, were well done. It was a little disconcerting to see The Crickets in faded denim jeans. Costumer Rebecca Roberts used a lot of flair and panache and she did a good job dressing to flatter. Especially noteworthy was the final scene of Act Two, which was an extended concert of the Surf Ballroom concert that happened the night the music
died. (The plane crashed in a blizzard after that concert with Buddy Holly, Richie Valens and the Big Bopper aboard) The red satin ensemble of Richie Valens, the Big Bopper's pleated, cuffed pants and long jacket were a great picture of how we identified these artists. The backup singers looked especially attractive in their satin dresses and full skirts. I think we are ready for a retro fashion movement of the 50's. It's a great look!

If you love Lucy and Father always knew best you might just want to make yourself a root beer float, sit on the davenport, and dial the Artisan on your rotary phone to nab a ticket. It's a keen show. Well done, Artisan Center Theater. Way to go, Daddy-O. Planning on attending? Info is below. Many shows are already sold out.
---
BUDDY-THE BUDDY HOLLY STORY
Artisan Center Theater
418 E Pipeline Rd
Hurst, TX 76053

Production runs until January 31st

Monday, Tuesday, Thursday, Friday and Saturday at 7:30 pm and Saturday at 3:00 pm.
Ticket prices range from $7 - $20.00 with discounts for students and seniors.

For more information and to purchase tickets, please visit www.artisanct.comor call the box office at 817-284-1200.