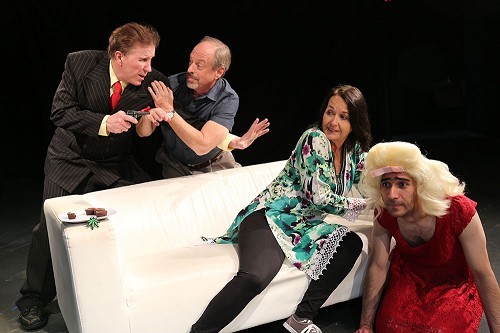 LOVE, LIES & THE DOCTOR'S DILEMMA
by Michael Parker and Susan Parker
Rover Dramawerks
Directed by Matt Stepan
Stage Manager – Darrell Martin
Set Design – Lanie Parr
Costume Design – Frances Seman
Sound Design – Ryan Brazil
Lighting Design – Kenneth Hall
Properties Design – Kristin M. Burgess

CAST
Joan Scheller – Suzy Dotson
Sandy – Martin Sinise
Vinny "The Enforcer" – David Noel
Olivia St. Claire – Cindy Kahn
Rachael – Jenna Caire
Chris – Dennis Ryazanov
---
Reviewed Performance: 1/12/2018
Reviewed by Rachel Elizabeth Khoriander, Associate Critic for John Garcia's THE COLUMN
Written by the husband-and-wife team of Michael and Susan Parker, Love, Lies & the Doctor's Dilemma is a new kind of play. As an English actor working in American theater in the 80s, Michael Parker noticed how difficult it was to translate the accents and humor found in English farce to the American stage, so he challenged himself to integrate the best of traditional British farce into a play that would be immediately available to an American audience—an American farce. His first was The Amorous Ambassador in 1988, and he and his wife, Susan, began co-authoring the plays in 2006. Love, Lies & the Doctor's Dilemma is their most recent offering.

The plot follows the antics of Joan Scheller and her live-in lover, Sandy, when, in an effort to hide their relationship from her overbearing sister-in-law, Joan decides to tell a white lie about Sandy's identity. However, after a peculiar neighbor and a mobster trailing Joan's son unexpectedly arrive, the lies start to pile up, lines get crossed, and naturally, hilarity ensues.

Suzy Dotson plays well-meaning Joan with warmth and cheer. Once Dotson sinks into her character, one can almost feel the satisfaction she gets every time Joan weaves one more strand into her tapestry of lies. As Joan's lies grow more outlandish, Dotson's body language grows ever more heedless and bemused, as if Joan knows her house of cards is about to collapse and is testing how far she can go before everything flutters to the ground. The result is a well-constructed escalation in tension that drives the plot forward wonderfully.

Joan's lie-entangled lover, Sandy, is played with a balanced mix of serenity and sprightliness by Martin Sinise. While initially astounded by Joan's falsehoods, Sinise's Sandy grows more resigned to and finally entertained by the increasing complexity of Joan's stories. Sinise is most engaging during his play-acting as a therapist, and in these moments, his banter with the other characters reveals great comic timing and an aptitude for sincerity. Sinise's Sandy is both entertaining and a fine hinge on which to pivot the more traditionally farcical characters.

David Noel plays Vinny "The Enforcer", the mobster who is trailing Joan's son, with dexterity. Vinny is a character who could easily be overblown, but Noel provides just enough resolve to make Vinny believable without making him a caricature—a feat not always easily accomplished in a farce. Instead, Noel's Vinny betrays an uncertainty and a certain softness both through his mannerisms and tone of voice. Noel particularly shines in his physicality, though—he carries himself a bit like a dancer (in fact, every so often he reminded me of one of the gamblers in "Guys and Dolls"), and when he is on the stage, he owns it.

Cindy Kahn plays Joan's domineering and effusive sister-in-law, Olivia St. Claire. Though Kahn seemed to flub a few lines the night I saw her, her enthusiasm and towering presence more than made up for it. Like Noel, Kahn adds depth to her character—her varied (and very funny) intonations of "poor Joan" may at first seem like bluster, but we soon realize that her Olivia is quite earnest in her desire to nurture. Also like Noel, Kahn owns her stage and is, quite simply, immensely fun to watch. I can't think of a better actress for this role.

Rachael, Joan's strange neighbor is played by Jenna Caire. Caire's Rachael is winsome and lovably offbeat, and I found myself hoping for her return every time she left the stage. Caire gives an example of perfectly controlled physicality—she seems to float on the stage and her every gesture seems uncontrived, yet perfectly calibrated for maximum appeal. Caire also exhibits great timing and vocal modulation. Rachael's fantastic malapropisms disarmingly roll off of Caire's tongue, and we can see why, despite Rachael's confirmed status as a disaster zone, one would find her endearing.

Dennis Ryazanov plays Joan's son, Chris, with fervor and affability. His Chris seems to fit perfectly with Dotson's Joan and with Caire's Rachael. Amusingly, thinking back on his part the day after watching the show, I mostly remembered a guileless smile and his movement—Ryazanov spends an inordinate amount of time running, hiding, and dancing throughout the evening. He also nails the exasperated smirks of a son forced to placate his mother's kooky whims. And without providing any spoilers, let's just say he's got the perfect legs for his part.

All costumes for the characters are fitting. Olivia's larger-than-life personality and retired movie star background are well-represented by vibrant reds, elegant blacks, sweeping fabrics, and upscale cuts. Vinny wears standard gangster garb—a bold tie with a double-breasted pinstripe suit with pockets big enough for his gun. Joan is dressed comfortably, yet fashionably, in black leggings and a bohemian tunic, while Sandy wears khakis and a button-down shirt. Chris is similarly attired in casual pants and a button-down, while Rachael wears a zany dress that is both cute and eccentric enough to match her personality. A short red dress and some bright yellow raincoats also make appearances designed for maximum laughs.

The set screams Texas. Though the colors are more reminiscent of the canyons of New Mexico—a turquoise generally found in jewelry and a sandy, clay-like brown that reminds my childhood brain of the burnt sienna crayon I once found in a Crayola box—there is no doubt that we are in the Lone Star state; the big metal stars that hang on almost every wall make sure of that. The set's layout is well-designed with multiple doors, a greenhouse visible beyond one of them, and the use of a theater aisle as a hallway to hidden bedrooms. On stage, we see a bar cart, sofa and chair for our therapist sessions, and a simple coffee table. Adornments are generally scarce (though some paintings flank the walls to either side of the central door), since the colors and wall designs draw central focus.

Sound and lighting throughout the show are strong. Sound effects are properly timed, and lighting effects lend to the show's humor. In addition, some well-considered use of a few 70s and 80s tunes adds to the frivolity.

And ultimately, Love, Lies & the Doctor's Dilemma is just that—whimsy. There are no deeper messages or hidden meanings here—just solid, light-hearted fun with a cast with rare chemistry and a director with vision. On the weekend, often that's just what the doctor ordered.
---
LOVE, LIES & THE DOCTOR'S DILEMMA

Rover Dramawerks
221 W. Parker Road, Suite 580
Plano, TX 75023

Runs through January 27th

Thursdays, Fridays, and Saturdays at 8:00 pm, with matinees Saturdays at 3:00 pm.

Ticket prices are $22.00 for Friday and Saturday nights, and $16.00 for Thursdays and matinees. Student, Senior, and Group discounts are available. No late seating.

For information and to purchase tickets, visit www.roverdramawerks.com, or call the box office at 972-849-0358.