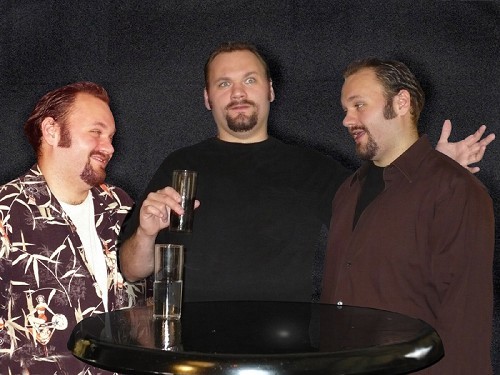 ZERO
By Danny and Robert O'Connor
Octaviar Productions
Prop and Scenic Design: Mary Jane O?Connor
Stage Manager: Dujuan Pritchett
Graphic Design: Giovanni Troncoso
Choreography: Thom Sigsby and Josh Zagoren


CAST: Danny O'Connor as all the characters.
---
Reviewed Performance: 1/17/2013
Reviewed by Chris Jackson, Associate Critic for John Garcia's THE COLUMN
I generally have mixed feelings when I hear "One-Man Show". You know, someone driven by a huge ego who hires a hall and puts on a show - "all about ME !!!." That's not to say there haven't been some great single-talent shows ? Hal Holbrook as Mark Twain and Julie Harris as Emily Dickenson come to mind along with others - but those weren't ostensibly about them personally and probably were more driven by business than ego, and put on by savvy producers who saw an opportunity for a star to pull in some revenue without having to pay all those other people who clutter up the stage in supporting roles.

Fortunately, this show is not that dreaded kind of presentation and indeed could very well be performed by six men instead of only one. ZERO by Danny and Robert O'Connor first hit local stages in 2006 and garnered some very impressive reviews and then went on to Chicago and New York where again it got good press. And in this review, it's going to get more. Instead of being an obvious ego trip for Mr.

O'Connor, the show is an evening with six very distinct personalities, each fully developed and performed with fine attention to detail which is, I think, what sets this show apart.

It may be autobiographical to some extent, but it doesn't present itself as a "look at me" kind of show. It's a story we get caught up in and want to follow. It's a play, not a long monologue. If you're a man, you'll either recognize yourself or someone you know or at least have met. You may not always like what you see and you may wince in recognition, but you'll be held by each individual story and how they play out. If you're a woman, you'll get some insight into the influence you have in the lives of the men you know.

There is a seventh character, Mindy McPhee, who doesn't appear but is the catalyst that somehow has continued to drive the lives of these men since high school and is the common thread in the tapestry of their lives. I find I know exactly what she looks like and how she moves and speaks and behaves from the reactions of each character to the part they played - and continue to play - in her life.

Three of the characters form the basis of the story. There's Lenny, the one who appears to be most nearly like Mr. O'Connor himself since he's an actor; Sam, the loud, thinks-he's-a-ladies-man, kind of guy; and Alex, the soldier back from Iraq. We spend the most time with these three who form the heart and soul of the story, learning who they are by the way they interact and Mr. O'Connor's skill means we always know which of the three is speaking. Each characterization is so real and so complete that I kept having to remind myself that there was only one man onstage. Each one is distinct physically, vocally and internally.

The monologue by Alex, the soldier, is absolutely riveting and especially moving. I only could assume that Mr. O'Connor's brother Robert, a veteran of Iraq, who helped to create the script, either wrote or inspired this piece. The play dedicated to the memory of Robert, whose picture in the lobby, and all opening night proceeds going to the Wounded Warrior Project seem fitting tributes.

The character of Malthazar, the performance artist, we see in only one deliriously funny and spot-on piece that explains all we need (or want) to know about him. We get only two solo scenes with Gabe, the fat guy in school who now has slimmed down, and two with Texas-accented James who cancelled his wedding two months ahead of time. In each instance there is so much pain and vulnerability under the surface bravado that we end up aching for them. These are strong character pieces that could exist and stand on their own as fully realized portraits of men of their generation.

Mr. O'Connor is a talented and energetic performer with an infectious personality on stage that commands attention. With a silly-putty-like face and eyes that can be glazed, hurt, outraged or surprised - sometimes all at once - he is never less than watchable. Each moment is so well written and so beautifully acted that each man we meet has a complete life. Though occasionally some of the men depicted may use words or phrases that seem a little "out of character", It doesn't hurt the show. The jokes fly fast and furious and the heart underneath is always visible.

Scenically, the show is simple but effective. Upstage, at the top of the show, we see a bed with set dressings that obviously say this belongs to a woman: the color, the pillows, the bra and purse hanging from the headboard, the rug, etc, all tell us this is a "girly" room.

Even with a lone man in the bed! Behind the bed is a toilet and a counter with a sink. Downstage left we see a table and a padded rocker, very masculine, while downstage right is a small table and a chair. Upstage, there is a small table with a "boom box" that pays off hysterically later. At intermission, with a simple rearrangement of the furniture, some removal of set dressing and a few additions, new locations are minimally but clearly indicated. A few light changes from time to time, a change of shirt and effective sound bites and music round out the production values. It's all about the acting, and the rest is there to support, not take focus.

When I asked why no director is listed in the program, I was told that the original director could not be present, but I'm assuming that most, if not all, of the original staging was retained. It works. On our way home, my wife asked if men really talk that way when they're alone, and I had to say "Well sure. Some do." The dialogue, salted with obscenities and jokes - "She has more issues than Playboy" or "I may have an accent, but that doesn't make me an a**hole" - certainly rings true to me. Maybe not all men talk that way when they're together, but I'll be willing to bet most do!

One character says, "High school lasts forever" and I think that's a theme to be contemplated. Can we ever fully escape the way we saw ourselves back then? Can we escape the hurts and learn to live beyond rather than continuing to live through the triumphs? Can we ever fully let go of that seventeen-year-old person we were and embrace an unknown future? Seems to me that redemption, dare I even say salvation, lies in that direction.

While the characters on stage may struggle with being a Zero, Mr. O'Connor is certainly not one of them, and I look forward to seeing him in upcoming shows. It will be interesting to see how he interacts with other actors on stage!

He and his Octaviar Productions are to be praised for bringing this show back to Dallas, and I will be eagerly watching for more productions by this promising company.
---
ZERO
Octaviar Productions
The Studio Theatre at Addison Theatre Center
15950 Addison Road, Addison, TX 75001

Runs through February 9th
Tickets are $20.00. Thursday, Friday, and Saturday Nights.
All shows are at 8:00. This show is intended for open-minded and mature audiences.

For info and to purchase tickets, call (214) 789-5382
Or go to www.octaviarproductions.com