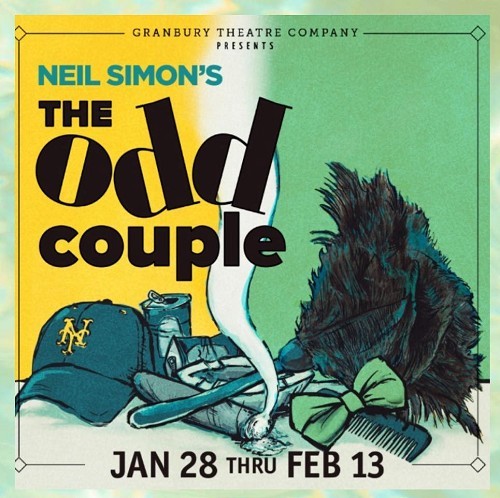 THE ODD COUPLE
By: Neil Simon
Granbury Theatre Company
Director-Freddy Martinez Jr.
Assistant Director—Robert Twaddell
Scenic Designer—William Byrum
Costume Designer—Devon Kleine
Props Mistress—Maddie Almond
Light Designer—Whitney Shearon
Sound Designer—Trey Johnson

CAST
Felix—Jonah Hardt
Oscar—Jesse Bowron
Roy—Nolan Moralez
Murray—William Byrum
Vinnie—Dan Powderly
Speed—Matt Victory
Gwendolyn—Juliette Wood
Cecily—Eme Looney
---
Reviewed Performance: 1/29/2022
Reviewed by Genevieve Croft , Associate Critic for John Garcia's THE COLUMN
One of my favorite theatrical venues in the Dallas/Fort Worth metroplex is the historic Granbury Opera House on the square in Granbury, Texas. Not only do I enjoy "day tripping" to Granbury, (there are lots of fun boutiques and restaurants) but, I love the historic ambiance of the theater. Erected in 1886, and turned performance space in 1891, the Granbury Opera House is a beautifully ornate theater that allows audiences to travel back in time. From musicals to plays, and musical tribute performances- I am certain the stage has many stories to tell. The story of the moment is Neil Simon's "The Odd Couple."

"The Odd Couple" is classic American theatre at its finest. Audiences have seen The Odd Couple in many different incarnations throughout the years. From the 1968 film (based on the stage play) starring Jack Lemmon and Walter Matthau, to an adapted 1970's sitcom starring Jack Klugman and Tony Randall, which ran for five seasons on ABC and even a "female" stage version adapted by Simon in 1985 featuring a pair of gal roommates Florence and Olive. Moving into the 21st century, there was even a short-lived modern sitcom adaptation in 2015 starring Matthew Perry and Thomas Lennon as the mismatched pair of roommates. To cover all bases, and for you television experts, I will even make mention of the "The New Odd Couple," the extremely short-lived sitcom in the early 80's starring Ron Glass and Demond Wilson. (Many have since forgotten about it, but I wanted to be absolutely thorough!) Whatever the medium, the comedic formula that Simon created still works, and continues to be successful over 50 years later.

One of Neil Simons' finest, "The Odd Couple" has entertained audiences since 1965, and still continues to be a perennial (and personal) favorite among theatre companies and audiences large and small. The witty dialogue and comedy stylings of Simon, plus, the wonderfully successful formula of opposites and clashing personalities, paired with "order and disorder," makes for memorable characters and guaranteed laughs at the theatre. Once you have found the formula for perfect comedy-you go with it.

The story starts out in the middle of a poker game in the messy and recently divorced sportswriter Oscar Madison's New York City apartment. Their weekly Friday night poker game is different this week, as friend, Felix Unger, is missing. Poker buddies Vinnie, Roy, Murray, and Speed attempt to draw conclusions on Felix's whereabouts, when Oscar receives a call from Felix's wife, informing him that she has thrown him out. Felix, despondent and depressed, wanders through the city streets contemplating suicide. He ends up at Oscar's apartment and is offered a (presumably temporary) place to stay. From Felix's tendencies at being overly neat, fussy, and finicky to Oscar's sloppy. messy habits and overall disheveled apartment, and even an attempt at a double date with Gwendolyn and Cecily Pigeon. There is moment after hilarious moment that unfolds between Oscar and Felix in this Neil Simon classic.

Director Freddy Martinez Jr. (coming straight from his most recent role of 'Couch Potato' in "The Quarantine Chronicles"—insert laughter here) successfully brought together this talented and tight ensemble cast. I was instantly transformed to the mid 1960's, and to the apartment of Oscar Madison. Audiences can always count on the talents of the production's director and design team at Granbury Theatre Company to deliver in the overall production concept. It is evident that they spend a great deal of time and attention to the meticulous details that create the comprehensive world within the play. As an audience member, I enjoy observing every little detail that is arranged on the stage. By the way, "The Quarantine Chronicles" was a humorous note in Martinez' own biography in the playbill. It is evident that he has a fantastic sense of humor-the most important quality for any comedic theatrical director.

It was if I was watching an episode of "The Odd Couple" being filmed in front of a live television studio audience, a practice that seems to be disappearing more and more due to modern-day streaming service sitcoms with canned laughter. In fact, I think that a "reboot" of one "Odd Couple" episode in front of a live studio audience (as they have done with "All in the Family," and "Good Times") would be a fantastic idea. But I digress. Additionally, the use of the theme song from "The Odd Couple," to start out the show was a nice touch. I left the theatre humming the instantly recognizable and iconic theme song by Neal Hefti. An interesting tidbit of trivia…did you know the theme song has lyrics? Look them up. That's definitely "Jeopardy" material, or useful pub trivia, at least. William Byrum worked both in front and behind the curtain, serving as the scenic designer on the production team, but also playing the role of Murray. Details from the scenic design was fantastic! Byrum was really able to capture the time period of the mid 1960's. From the minute details (such as 1960's spaghetti western film poster, "The Good, The Bad, and the Ugly" and a delightfully tacky wall clock from the National Biscuit Company, which led me to believe Oscar won it in a sweepstakes contest) . Sets were designed and set up perfectly for space such as this one at the Granbury Opera House. Byrum aptly designs the large 'eight room' Manhattan apartment of Oscar Madison and fills it with many gems of the time period, quintessential items in a bachelor pad, all while offering functionality for the production. Look for understated details that are worth noting. The vintage food item containers (Coke, and Utz Potato Sticks) strewn about the apartment and an impressive oven that emits a burning smoke from an over cooked London Broil.

Lighting Designer Whitney Shearon provides appropriate lighting for each scene and mood. The lighting was lively and complimented each scene in the production. In a play such as this, there is little that can be done to impress audiences with lighting, but the lighting and the set design complimented each other for the needs, moods, and purposes of this production. Costumes were designed by Devon Kleine. Kleine designed costumes that were not only very appropriate to the time period but were colorful and lively. I am speaking mostly of the mid 1960's style of Gwendolyn and Cecily Pigeon, straight out of Manchester, England. In a male heavy show such as this one, the two female characters' wardrobes will definitely stand out, as the only feminine touch in the production. The costumes of the male actors were perfect for the time period, and for the needs of each character.

Pacing was excellent in this matinee performance. In any play written by Neil Simon, dialogue is extremely important. There is often so much witty banter that flies back and forth between the characters in the story. If a Simon script isn't performed at top-speed, the jokes and rejoinders, and cracks and pratfalls will fall flat. The chemistry and the delivery between the ensemble as well between Felix and Oscar were a strong attribute on the stage on Saturday afternoon. Delivery and pacing were spot on.

Jonah Hardt as Felix Unger and Jesse Bowron as Oscar Madison show exceptional allure on stage, especially when showing the uncertainty that both feel after the failure of their respective marriages. The disorganization which represents Oscar's life is put back together with Felix's controlled behavior. The sympathy Felix feels for his ex-wife about how he is impossible to live with leads to some emotional yet funny exchanges between Oscar and Felix. Hardt and Bowron play nicely off of each other, and provide some memorable, touching, and humorous moments on stage. (Of course, it can't all be humor, all the time.)

The supporting cast of Dan Powdery (Vinnie), William Byrum (Murray), and Nolan Moralez (Roy) as the poker buddies show a wide variety of emotion to accentuate the positive traits Felix and Oscar show. Byrum in the role of Murray, does a wonderful job as the cop who provided the political incorrectness that every group of friends enjoys. All members of the ensemble work well together and provide the much-needed foils to the opposites of Felix and Oscar.

A pleasant surprise was seeing Matt Victory in the role of Speed, one of the poker players and standouts in the ensemble. Victory was extremely enjoyable to watch. His animated facial expressions and nervous, over-the-top reactions provided the much-needed element of humor apart from Felix and Oscar. Victory's performances are always delivered seamlessly, and with ease. I enjoy his natural talents on stage. For a smaller supporting role, such as Speed, Victory's performance is memorable, and is very pleasing to watch.

Gwendolyn Pigeon (Juliette Wood) and Cecily Pigeon (Eme Looney) add much enjoyment to the stage as the upstairs neighbors. Throughout the time spent with Felix, both ladies find appreciation for his kind and sensitive side while maintaining humor and grace. Felix's initial oblivion to the flirtation presented by Gwendolyn and Cecily is one reason this production delivers, even when produced over 50 years later.

GTC's production of The Odd Couple is a must see! Neil Simon is the classic American playwright-and one that everyone should see at one time or another. Out of all Simon's comedic play offerings, The Odd Couple is, by far, one of Simon's most popular and most well-known scripts. The content is still as relevant today as it was 50 years ago. The Odd Couple at Granbury Theatre Company is an entertaining production of a warm, affectionate, funny play that still has things to say about male friendship.
---
Granbury Theatre Company
Broadway on the Brazos

133 E. Pearl Street
Granbury, Texas 76049

Plays through Feb. 13.
Fridays at 7:30 pm, Saturdays at 2:00 pm and 7:30 pm, Sundays at 2:00 pm

Floor $35 - Balcony $30
Discounts available for seniors (aged 65+), active-duty military/veterans, and children/students.
Group discounts available through Box Office at (817) 579-0952.
To purchase tickets, visit http://www.granburytheatrecompany.org