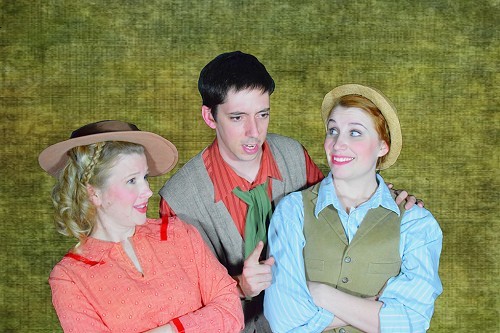 AS YOU LIKE IT
By William Shakespeare
Stolen Shakespeare Guild
Directed by -- Lauren and Jason Morgan
Choreography – Sarah Zabinksi
Stage Manager – Timothy Betts
Costume Design – Lauren Morgan
Set Design – Jason and Lauren Morgan
Lighting Design – Bryan Douglas with Hunter Douglas

CAST:
Julie Nelson Duac as Rosalind
Nathan Dibben as Orlando
Lauren Morgan as Celia
Michael Rudd as Oliver
Cindy Matthews as Duke Frederick
Seth Johnston as Duke Senior
Bryan Douglas as Jaques
Grayson Howe as Silvius
Sarah Zabinski as Phoebe
Amelia Reinwald as Audrey
Delmar H. Dolbier as Adam
Jessica Dahl-Colaw as Le Beau
Anna-Marie Boyd as Amiens
Alex Moore as First Lord
Jason Morgan as Corin
G Mike West as Sir Oliver Mar-Text, a vicar
Christian Schmoker as Touchstone
Zane Allen Whitney, Jr. as Charles the Wrestler, and William
---
Reviewed Performance: 2/14/2014
Reviewed by Elaine Plybon, Associate Critic for John Garcia's THE COLUMN
"All the world's a stage" and As You Like It utilizes that stage and captivates its audience for an enjoyable romp through many familiar components of Shakespearian comedy with the opening production of the Stolen Shakespeare Festival.

As You Like It is a timeless classic which has been an audience pleaser since its debut sometime in the early 1600s. It is set in a somewhat fictitious "Forest of Arden" and involves several character types familiar to fans of Shakespeare, including a court jester and two fair maidens, along with familiar motifs such as love and injustice. The play follows Rosalind and Celia as they pretend to be a man and a poor woman, respectively, after being banished from their home by angry Duke Frederick. Enter young Orlando who has been denied his birthright by his elder brother, Oliver, and the remainder of the play is a mixture of fools in love and injustice being reversed. Remembering that the original cast would have included only males, it is very easy to see how difficult the portrayal of Rosalind must have been, with a man playing a woman pretending to be a man.

When I entered the black box theater, I noticed the impressive set, designed by Jason and Lauren Morgan. Complete with columns, logs with fungus, and a makeshift shelter, it cleverly served to represent the forest and the courtyard of a home, depending on the scene. The finer details included lanterns strung from the trees and an accompanying soundtrack with crickets, faraway geese, and other country noises.

One of the intricate details of the direction by Jason and Lauren Morgan was that the set was alive – literally. Prior to the play and during the intermission, actors lounged on the set, whiling away their time in character. Many audience members seemed oblivious to this detail but it was a nice touch.

According to the playbill, the play was "re-imagined in the 1930s". The evidence of this was mainly in the costuming by Lauren Morgan. All cast members were dressed in 1930s era outfits, including tailored, below-the-knee dresses, fashionable hats, and tattered suit coats for the outcast men. I appreciated the meticulous attention Morgan gave to the costume design; every character was believably and appropriately attired throughout the play.

Choreography by Sarah Zabinski was in keeping with the high quality of this production. In one scene, when Orlando is involved in a wrestling match, the choreography design was superb. Nathan Dibben (Orlando) and Zane Allen Whitney, Jr. (Charles) moved smoothly through the struggle and the sparring was captivating.
Lighting design by Bryan Douglas, with Hunter Douglas,suggested a constant dusk throughout the set, with no fluctuations for varying times of day. The faces of male hat-wearing actors were usually obscured by the shadows resulting from the lighting above the set.

Shakespearean prose can be difficult to bring into more current times, but the actors in this production smoothly delivered their lines and entertained the audience throughout. As I watched the play, I was appreciative once more of the timeless, underlying plots of Shakespeare's comedic love stories, and this cast worked those subplots perfectly together.

Julie Nelson Duac aptly portrayed Rosalind. Duac's facial expressions and body language included a subtle sense of joie de vivre. Duac was believable as the strong, though demure young maiden who finds herself in love with Orlando at first sight. In her portrayal of a woman pretending to be a man, Duac's disguise was easily seen through. However, this is as the bard intended. The interactions between "Ganymede" (Rosalind in disguise) and the brothers, Oliver and Orlando, added hilarious moments to the action.

I was especially impressed with Nathan Dibben's portrayal of Orlando. With each faraway look, Dibben's visage exposed love and turmoil in Orlando's search for Rosalind. The role calls for a diversity of talent and Dibben was spot on with every task asked of him. Whether wrestling or pining away, Dibben successfully portrayed a thoughtful character with whom the audience could easily sympathize.

Lauren Morgan, in the role of Celia, was appropriately demure in fawning over Duac's Rosalind. Celia is driven by love for her friend, but is also an intelligent planner who constantly evaluates situations and decides ways to overcome adversity. From her movements to the inflection in her delivery, Morgan's performance was just the right mix of confidence and reserve.

Oliver, played by Michael Rudd, was infrequently seen, but his calculating and often uncaring attitude toward his younger brother came across strongly in Rudd's performance. One of the cast members who especially fit into the 1930s feel, Rudd's smooth gait and hint of mischief behind a suave persona evoked a gangster aura.

Cindy Matthews was cast as Duke Frederick, which is intended to be a male role. This production made the switch to female for Frederick, which Matthews delivered with a strong, assertive, and even angry tone. Matthews' stern looks and stiff stance drove home the decisive nature of the role.

Seth Johnston, in the role of Duke Senior, provided a wistful, melancholy tone to this character, who we first see in the forest, attired in hobo-like clothing, and finally in the royal attire to which he is entitled. Throughout the play, Johnston moved deftly through the reflective nature of this character, as the father of Rosalind.

Grayson Howe, as Silvius, stole the show with his puppy-dog attraction for Phoebe. Attired in overalls and running all over the set crying for Phoebe whenever he catches a glimpse of her, Howe's facial expressions and frantic tone provided many of the comic moments that generated guffaws from the audience.

Touchstone, the court jester, was expertly played by Christian Schmoker. While in court, Schmoker only hinted at Touchstone's profession as a jester, mosty through body movements. In the forest, however, Schmoker's stance, intonation, and raised eyebrows fit the haughty and clever nature of a displaced member of the court encountering common folk.

As You Like It is considered to be a musical comedy because of the songs sung by Amiens, played by Anna-Marie Boyd, in the forest. Boyd's crystal voice was appropriate to the songs and provided a calming atmosphere.

This play reminds its audience of the nature of love and how foolish those in love can be. There are some things that never change, and the motifs contained in this play were nicely portrayed by the cast and crew. The production by Stolen Shakespeare Guild was well done and succeeded in making an evening of Shakespeare fly by on the wings of laughter and abandon.
---
AS YOU LIKE IT

Stolen Shakespeare Guild
Fort Worth Community Arts Center, Hardy and Betty Sanders Theatre, 1300 Gendy Street, Fort Worth, Texas

Plays through March 1st

In repertory with All's Well That Ends Well, As You Like It plays Friday and Saturday at 8:00 pm (Feb. 22nd, 23rd, 28th, March 1st), and Sunday at 2:00 pm (Feb. 23rd).

Tickets are $15.00 for all performances. For more info & tix: http://www.stolenshakespeareguild.org/ or calling 866-811-4111.