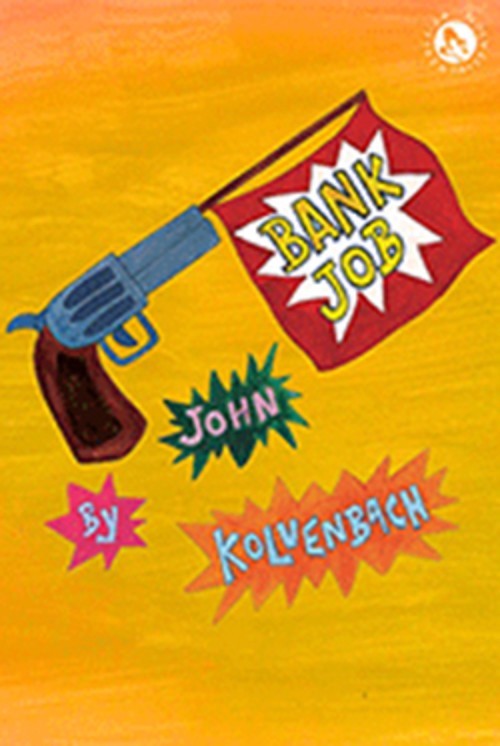 BANK JOB - World Premiere
Amphibian Stage Productions
Director – Jessica Bauman
Assistant Director – Scott Zenreich
Production Stage Manager – Linsey Retcofsky
Scenic Designer – Bob Lavallee
Scenic Artist – Megan Beddingfield
Costume Designer – Kathleen Culebro
Lighting Designer – Adam Chamberlin
Sound Designer – David Lanza
Props Designer – Megan Beddingfield

CAST:
Leicester Landon as Russell
Alexandra Lawrence as Jill
Michael Muller as Francis
William Earl Ray as Dale
Marshall York as Tracey
---
Reviewed Performance: 2/14/2014
Reviewed by LK Fletcher, Associate Critic for John Garcia's THE COLUMN
The answer is: 15 minutes per day for hygiene and 15 minutes per day for facilities, or 30 minutes per day total on average. Step that up and it is about 210 minutes per week or 10920 minutes per year, which equals 182 hours or 7.58 days. So, if a person lives to be 75 years old then it is about 819000 minutes or 13650 weeks, which is 568.75 days or a year and a half. The question: How long does the average person spend in the bathroom? However, if you are in the audience for Bank Job at Amphibian Stage Productions, then you have to add another 90 minutes to your calculations.

Bank Job, the world premiere by critically acclaimed playwright John Kolvenbach is in the can. Literally. When brothers Tracey and Russell attempt a bank robbery, they find themselves locked in the bank's executive bathroom, and everything that can go wrong does. The audience is immediately drawn into the story for an engaging one-act. The comedy simmers with the addition of a young blonde bank teller, an unsuspecting cop, and the brothers' father who manipulated the event. "Bank Job is a quirky comedy about the holes we dig ourselves into and the people we trust to help us out."

Amphibian's mission is to seek to "produce innovative and engaging works of theatre that challenge the way we see the world around us." They are aggressive in their approach to program new and eclectic works, gathering unique talent and attracting a diverse and growing audience. With an extensive group of supporters and professional affiliations, it is evident that the founding team and Artistic Director Kathleen Anderson Culebro are "all in". The opportunity to premier Kolvenbach's latest work is evident of this.

Kolvenbach is the author of Goldfish, Mrs. Whitney, Love Song, on an average day, Gizmo Love, Fabuloso and Marriage Play (or Half 'n Half 'n Half). His works have been produced internationally and are critically acclaimed. There have been over fifty productions in the U.S. alone. on an average day premiered at the Comedy Theatre in the West End in 2002 with Woody Harrelson and Kyle MacLachlan. Fabuloso was staged in San Juan and Zurich, and translated into Spanish and Swiss German, respectively. Kolvenbach's first screenplay, Clear Winter Noon was selected for the Black List in 2008.

Amphibian's theater is sparkling and austere. It is a minimalist canvas with ample options for set dressing, both in the lobby and on the stage. When I arrived for the production I was charmed, and who wouldn't be, to find cash all over the floor and suspended from the tall ceiling. Bistro tables featured white gossamer cloths embossed with golden coins, large silver piggy banks and chocolate coins in gold foil. The attention to detail and charm was evident.

The open stage did indeed look like an executive bathroom, with a urinal, three stalls, and a large counter with two sinks, mirrors and large window on top. The only thing that was off in this working model of an executive men's washroom was the pair of shapely legs in pumps in stall number one. The legs never moved.

Scenic Designer Bob Lavallee and Scenic Artist Megan Beddingfield,. along with Stage Carpenter Clint Weaver, constructed a fully functional (and sturdy!) set that met the demands of two harried, would-be criminals and the other occupants. The five member cast was all over every inch of the set, from floor to ceiling, and it worked well …very well. If it was a poker hand, I would say it was a royal flush.

The technical aspects of the show were tight, clean and effective. Runaway convicts, police radios, gunfire and more were effective and believable, thanks to Sound Designer David Lanza is integrated delightfully throughout the show. It is playful and stylistic of Mancini's Pink Panther scores and captures the essence of the story.

Technical Director Michael Stephens and Production Stage Manager Linsey Retcofsky facilitated a smooth, effortless effect to the production. The lighting for a show set in an executive background with no scene changes was complimentary to the affect of realism the script merited. The show while having the appearance of minimalism with its' small cast, fixed, simple set engaged excellence at every level. The emphasis on detail is very much a fixture in Amphibian productions. Costume Designer Kathleen Culebro, who is also Artist Director, provided well dressed criminals, cops and damsels in distress. Jumpsuits and street clothes were more than adequate for the well-heeled robber. The floral print dress for the bank teller, the cop's uniform all capably carried the story. Property Designer Megan Beddingfield managed to acquire some fabulous self-adhesive mustaches as well as all the minutia needed for a bank heist.

Of course, technical emphasis aside, if you want to capture the audience's attention in the first few minutes of a production, hide the bank teller in the first stall and have two attractive young men do a Martha Graham interpretive dance, disrobing down to their boxers before you start the dialogue, which is exactly what Director Jessica Bauman did.

Bauman has an impressive pedigree and her arrival from NYC to Fort Worth to put together Bank Job yielded positive dividends. The show sparkled, with quick banter, clever characters, and a pace that encompassed gives and takes through some delightful twists and turns, keeping me very much engaged and responsive throughout the entire play. The audience continually responded laughing throughout the production.

Marshall York plays Tracey, the high strung, insecure OB GYN who started the antics when Plan A to rob the bank fails. An unwilling bank robber, Tracey spews his ongoing diatribes, angst and need for affirmation against his winsome and hapless younger brother Russell, played by Leicester Landon.

York's angular physique, fast paced, squeaky delivery and physical intensity are pure angst. He cycles well through emotional burden of an over achiever who wants to succeed at everything but takes little joy in anything, especially robbing a bank. York is a driving force in the pace of the production and does it admirably. Both York and London have an exhausting run on stage, through dialogue, drama, guns and romance, and a backstory that works. York backed off just enough so that I could empathize with his plight, his life and the family he cannot renounce.

Leicester Landon as Russell is a bumbling, ne'er do well, and Landon is as charming as he is handsome. Landon is never maudlin, but remains hopelessly optimistic, keeping his character an impressive straight man. Landon plays his intellectually limited character with integrity and intelligence. He has a brilliant dead pan and delivers one liners like champagne on a silver tray. He effectively captures the nuance of a multi dimensional character. Who, if we think in terms of multiple intelligences, has a well developed emotional and social intelligence that Landon embraces in his role on stage.

One of the sparkling lines in the show is, "We have all been through some rapid and passionate shit." That is indeed the story of the two brothers who take each successive failure in the bank job to unwrap their past failures. The comic elements of Russell are artfully served by Landon over and over again. At each mishap Russell justifies, "I panicked and things just fell out of my mouth."

Alexandra Lawrence, as Jill the bank teller, was delightful. She brought a just-left-of-center charm to her character. Able to simply be present and listen while onstage, she did beautiful ensemble work and sparkled as a comedian. Lawrence has a wonderfully expressive face, she makes her character appear to be totally transparent. Her naiveté was neither forced nor predictable, but fresh and fun. She was a contender. Her character had a joie-de-vivre that was infectious. Her effective delight in being the a part of all the excitement of the robbery is charming. Lawrence is ebullient about the drama in the executive washroom."You could go a whole life without being tied up and then twice, in one day!"

Patter, one-liners, and an expansive world view are the domain of the cop that enters the restroom searching for bank robbers. His succession, from law officer to victim to accomplice, was a feast for William Earl Ray, who served them all with flair and élan as Dale. Ray's character is instant philosopher, preacher and problem solver Dale tells it like it is. Ray takes command and exudes a capable, blue collar authority with a articulate, clear speaking voice and a strong physical presence. His ability to listen, mimic and respond to each character as if for the first time are exceptional ensemble work. Ray is seriously charismatic and believable as Dale and he delivers wisdom well. "Don't make an example of us so future generations can read about us and make an example of us in church".

The father, Francis, played by Michael Muller, makes no apologies for being a crook. Francis believes he can rectify his shortcomings as a father and Muller is delightful. Muller plays likable well. His fast-paced stutter, easy smile and shuffling step work well. Muller is engaging as a dreamer, we follow him across the stage and we dream and scheme with him. His vulnerability and bravado are both authentic and likable as the father who loves his family and loves the con - although not always in that order.

Bank Job is pay dirt. It is entertaining and intriguing, predictable and fresh. Amphibian Stage Productions' world premiere is charming theater….even if it is in the toilet. Life is short and you will probably spend 568.75 days in the bathroom. So go ahead, take another 90 minutes to see Bank Job. Bottoms up!
---
BANK JOB – World Premiere

Amphibian Stage Productions, 120 S. Main Street, Fort Worth, TX 76104

Production runs until March 2nd

Thursday - Saturday at 8:00 pm, and Sunday at 2:00 pm.
Tickets are $30.00, seniors (60 +) $25.00, students $15.00

For more info and to purchase tickets, please visit www.amphibianproductions.org
Or call their box office at 817.923.3012.