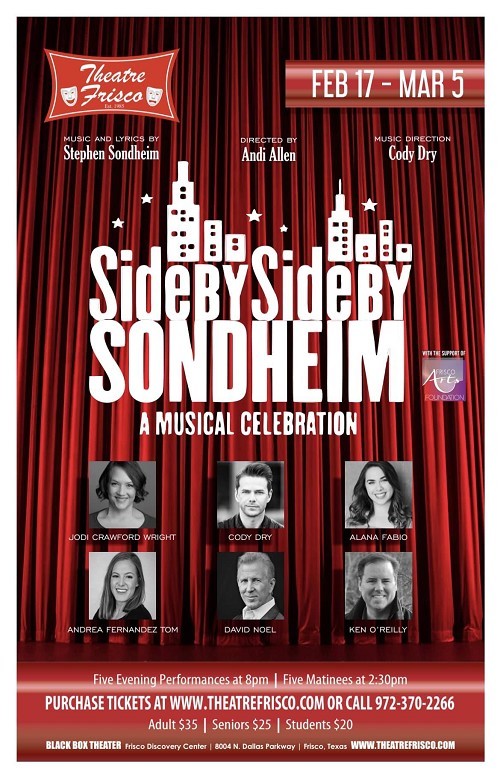 SIDE BY SIDE BY SONDHEIM
Theatre Frisco
PRODUCTION
Producer - Howard Korn
Director/Sound Design - Andi Allen
Music Director- Cody Dry
Stage Manager - Kathleen Cindulla
Assistant Stage Manager - Elena Kate Tirado
Costume Design - Dallas Costume Shoppe
Set Design - Rodney Dobbs
Set Construction - Alex Rain
Lighting Design - Meghan Settle
Property Design - Elise Knox

CAST
Man 1- David Noel
Man 2- Ken O'Reilly
Woman 1: Alana Fabio
Woman 2: Andrea Fernandez Tom
Woman 3: Jodi Crawford Wright

MUSICIANS
Keyboard I - Cody Dry
Keyboard II - Joey O'Reilly
---
Reviewed Performance: 2/17/2023
Reviewed by Scott Lee Clayton, Associate Critic for John Garcia's THE COLUMN
Normally you get a wonderful synopsis of a musical, but in this case Theatre Frisco takes us in for an intimate evening and conversation about the life and works of Stephen Sondheim which covers a lot of his earlier works such as Gypsy, Follies, A Funny Thing That Happened On The Way To The Forum, Pacific Overtures, Evening Primrose, and many others. Andi Allen does a fantastic job bringing a lot of these songs to life and some renditions were completely turned on its head from an acting standpoint which really wowed me with some of her interpretations in many of the numbers such as You Must Meet My Wife from A Little Night Music, Pretty Lady from Pacific Overtures, and many others that are sure to be a treat for the evening. The one thing I appreciated is the backstory from a section of songs from lesser-known numbers. Music director Cody Dry leads us into a very intimate conversation about how these works came to be and the history behind some these lesser-known musicals, with a very comical sense of humor in some areas.

The one thing about this show is that each cast member was shown to their strengths and is highlighted throughout. The beautiful lyric tenor voice of Ken O'Reilly surely shines in many numbers such as Being Alive from Company, a lovely Anyone Can Whistle from the titular title accompanied by his son Joey O'Reilly, and Could I Leave You from Follies. Another highlight has to be Jodi Crawford Wright and her comedic prowess in Ah Paree!, Send In The Clowns, I Never Do Anything Twice and most importantly her showstopper performance of The Boy From, in which music director Cody Dry exclaims he thinks he met the boy. Alana Fabio shines in An-other Hundred People, Losing My Mind, Broadway Baby, and a lovely duet with Andrea Fernandez Tom in A Boy Like That/I Have A Love. Speaking of Andrea, she and David Noel have some wonderful moments in songs such as Barcelona, Little Things, and We're Gonna Be Al-right. David's comedic prowess is sure to be a sight in many of the numbers such as Beautiful Girls, You Gotta Get A Gimmick and countless others. Finally, the one thing that stands out about this fantastic work, is the ensemble work of all the actors in many of the numbers such as A Conversation Piece, Side By Side By Side, Comedy Tonight, Everybody Says Don't and the finale has all the audience singing along in Side By Side By Side, which proves that this surely is not a show with a lead as all of these actors are a lead in their own right in this review.

Andi Allen directs this review with care and precision as while her own interpretations of some of these songs are turned on their head figuratively, she does a great job staying true to the typical Sondheim standards that we as audience members know to love, while music director Cody Dry brings some of Sondheim's haunting melodies out beautifully on the keys being backed by Joey O'Reilly on second keys. This whole show comes together very nicely with The Dallas Costume Shoppe's costumes, Rodney Dobbs' set design, Meghan Settles' light design, and property design by Elise Knox, which fully envelops us into an intimate and immersive evening of a backstage theatre as if the proverbial 4th wall is completely broken. Theatre Frisco's Side By Side By Sondheim is one not to be missed as it provides for an intimate evening and conversation about Sondheim's earlier works.
---
Theatre Frisco
Dates: Through March 5th, 2023
Frisco Discovery Center, 8004 Dallas Parkway, Frisco, Texas 75034
For more information and tickets go to www.theatrefrisco.com or by calling 972-370-2266 during normal business hours.