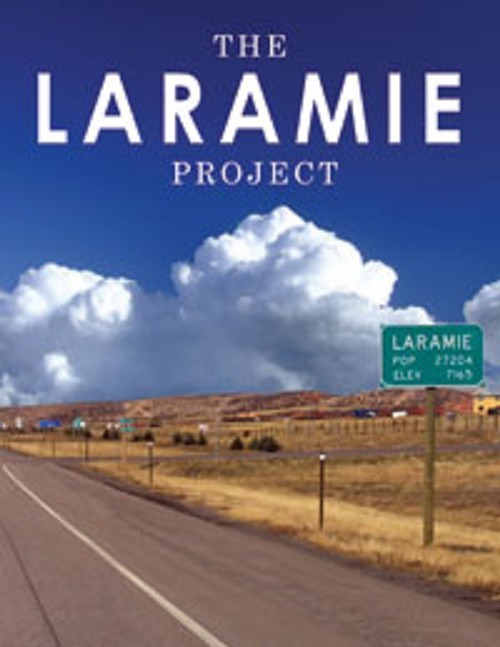 THE LARAMIE PROJECT
by Moses Kaufman and members of the Tectonic Theater Project
DVA Productions, Inc.
Directed by Sheran Goodspeed Keyton
Set Design by David Ruffin
Light Design by Nikki Deshea
Costume Design by Sheran Keyton
Sound Design by Joe Rogers


CAST

The Narrator--------David Ruffin
Faye Austin-------Ensemble
Malcolm Beaty-------Ensemble
J.R. Bradford--------Ensemble
Jennifer Bridgewater--------Ensemble
Tyler Cochran-------Ensemble
Emily Hardy-------Ensemble
Jolly Kiehn-------Ensemble
Phil Nixon--------Ensemble
Aaron Petite-------Ensemble
Michele Rene-------Ensemble
---
Reviewed Performance: 3/2/2012
Reviewed by Chris Jackson, Associate Critic for John Garcia's THE COLUMN
For a parent, the worst event imaginable is the death of a child. My wife and I lost our only child, our daughter, almost eleven years ago. She was thirty-four years old and left behind a daughter and stepson. She died after what should have been a routine surgery. It was sudden, unexpected and horrible. You learn to live with the loss but you never forget the pain and you never stop missing the child.

The parents of Matthew Shepard lost their son in October of 1998 when, on the 6th of that month, he was beaten and left to die tied to a fence on the outskirts of Laramie, Wyoming. Eighteen hours later he was accidentally discovered by a bike rider and died six days later. Sudden, unexpected and horrible, the torture and death of this 21 year-old gay man became an historical moment in American history. For a while he was the child, the friend, the acquaintance we had all lost. His death set off a string of events that changed not only the people involved but also the involvement by many Americans in a problem that rarely had been discussed so openly. He has not been forgotten and the pain and loss suffered by his parents and friends still moves each audience that hears and sees his story.

Laramie, Wyoming, a town of about 26,687 when the incident occurred, was a community that prided itself on being a quiet place of friendly people who knew each other and lived a "picture-perfect" life in the beautiful Wyoming countryside. The tragedy that took place there made all of America question the potential for violence in even the most ordinary of places. The image of Matthew Shepard out there alone, cold, and fighting for his life was unimaginable, and it scared us; it made us angry. As a character says, "It offends us."

About a month after Matthew's murder, members of the Tectonic Theater Project traveled to Laramie to interview the townspeople. They returned five times. The Laramie Project is the result of those visits and it has been seen by more than thirty million people around the country. DVA Productions is presenting the show "to promote tolerance and oppose hatred toward any group".

Opening night, as we in the audience gathered in the Pantagleize Theater's intimate space to view this story, we were introduced to Councilman Joel Burns who not long ago movingly spoke publicly of his own experiences. He welcomed us to the show and briefly shared his story. It was a moving and fitting beginning to an emotional and thought-provoking evening of theater.

On a simple but effective and attractive set by David Ruffin, the ensemble delivered one emotional punch after another. We heard from the people of the town in their own words as they spoke of their reactions to the events, and also heard quotes from court records. Casual acquaintances, friends, relatives and the murderers themselves gave their versions of the event and how it affected them. The doctor in the emergency room who was on duty when Shepard was brought in, the director of the hospital who gave the press their updates, the bartender in the establishment where Matthew met his attackers, the theater major who's mother was okay with him portraying a murderer in Macbeth but not a homosexual in Angels in America; all of these and others gave us their stories and each one built the mosaic of emotions and events that led up to and followed the attack.

The actors who comprised the ensemble were uniformly strong and believable in their portrayals. The program didn't list the characters they portrayed, and indeed each enacted several, so it was difficult to make sure you had the right actor's name for the right character even with their pictures in the program.
So, if I got it right, Tyler Cochran provided several moments of needed humor as did Jennifer Bridgewater. Faye Austin was moving as the biker who discovered Matthew and equally effective was Malcolm Beaty who, near the end, spoke the words of Matthew's father in his address to one of the murderers, chillingly portrayed by J.R. Bradford. Phil Nixon impressed as the sheriff, a Catholic priest and several others. Michele Rene, as the police officer who responded to the location, described in vivid detail the blood and trails of tears down Matthew's face. While these stood out, every cast member had their moments to shine and rose to the occasion admirably. Each created a striking character.

The director, Sheran Goodspeed Keyton, kept the action flowing and the pace crisp with precise costume pieces for each of the many characters. Moments were taken when they were earned, and the show built nicely. The desk that became a bar and a pulpit by clever manipulation was especially creative, and the shelves on the walls holding needed props and costumes worked efficiently as did some of the projections, while others did not. The sound cues by Donell Vinson, especially of the cameras clicking, and the lighting effects by Nikki Deshea of flash bulbs going off were striking. A few line and light flubs were evident but not distracting and were probably the result of opening night excitement.

While having lost a child made my wife and me respond viscerally to the loss of Matthew, our daughter was not the victim of a hate crime. A senseless accident is not the same as a senseless murder, but we felt that anyone attending this play could relate to the sorrow and suffering caused by this act of violence toward a loved one. Indeed, the results of his torture and pain resulted in what was called "hope" by the end of the play. Hope that we all have learned something of value from his death.

Online I discovered these program notes from the director of another production: "The Laramie Project is not about Matthew Shepard or homosexuality nor is it really about Laramie. This show is about hate of 'the other', whoever that may be ? an often blind and visceral hate and how that hate affects individuals and communities".

This is a story still relevant and powerful. One that should be told often as a reminder of what can happen to ordinary people in ordinary places when hatred runs unchecked, and indeed condoned, by some. DVA is to be commended for presenting this fine production and continuing to raise awareness of bullying and hatred of any perceived as "other".

As the priest says of the murderers, "You must be our teachers. What did we as a society do to teach you that?"
---
THE LARAMIE PROJECT
DVA Productions, Inc., Pantagleize Theater, 1115 Rio Grande Ave.
Fort Worth, TX 745102

Performances are Friday, March 9 at 8:00pm, Saturday, March 10
at 3:00 and 8:00 pm, and Sunday, March 11th at 3:00 pm.

Tickets range from $15.00 for matinees and $20.00 for evening. Season tickets
and group rates are available.

For info and to purchase tickets, go to www.dvaproductions.org
or call the box office at 817-313-3052.