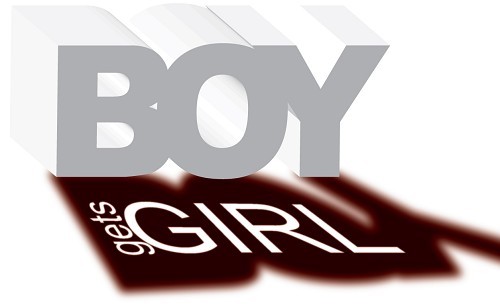 BOY GETS GIRL
By Rebecca Gilman
Rover Dramawerks
Directed by Rebecca McDonald
Stage Manager - Sarah Barnes
Set Design - Cameron Hefty
Lighting Design - Cameron Hefty
Costume Design - Ryan Matthieu Smith
Lighting Design - Cameron Hefty
Sound Design - Rebecca McDonald


CAST:

Theresa Bedell - Kim Winnubst
Tony - Ross James Miller
Howard Siegel - Mark C. Guerra
Mercer Stevens - Walt Threlkeld
Harriet - Jade Reyes
Madeleine Beck - Jennifer Stoneking
Les Kennkat - Ben Westfried
---
Reviewed Performance: 3/7/2013
Reviewed by Rachel Elizabeth Khoriander, Associate Critic for John Garcia's THE COLUMN
It is extraordinarily difficult to discuss Rebecca Gilman's Boy Gets Girl without wanting to focus on the work itself. The script has garnered a wide range of commentary from across the theatrical spectrum. Some critics, both theatrical and literary, have accused it of being trivial and heavy-handed, while others insist that there is a level of accessibility and depth to the script that is seldom encountered in theater. Everyone, however, seems to agree that the play engenders intense discussion.

In my personal opinion, Gilman's work is of immense merit, not just because of the ideas it expresses, but because it is so highly dependent on its directors and actors. This "dance" is almost entirely reliant on the willingness and ability of its "dancers" to penetrate the many layers that constitute its core.

Luckily, at Drama Roverwerks, the "dancers" are more than willing and able.

When it was written in 2000, Boy Gets Girl was certainly a topical piece and, I would argue, is almost more topical today. Its plot traces the relationship between Theresa Bedell, a no-nonsense reporter for an NYC cultural magazine, and Tony, a man with whom she is sent on a blind date by a mutual acquaintance.

While Tony initially appears to be a possible if improbable match, by the end of the second date Theresa has decided that he's not for her and excuses herself, in what she thinks is an altruistic manner, by blaming her focus on her work rather than on her feelings about Tony himself. What follows begins as the typical plot to a romantic comedy and ends as something more akin to a nightmare. Along the way, Theresa and her coworkers confront the touchy subjects of gender stereotypes, relationships between men and women, and the rationales behind the manner in which men and women behave.

Given its subject matter, it would be easy to assume that a production of Boy Gets Girl might be replete with cardboard archetypal characters and used as a vehicle for a rant against the Neanderthaloid tendencies of men. Although it's clear that is not the playwright's intent, no doubt certain performances of the play have done just that.

Rover Dramawerks, however, presents a much broader interpretation with characters who, while at face-value are fairly demonstrative of their "type", are more complex when confronted with circumstances that force them into both introspection and a closer relationship with one another.

Kim Winnubst gives a believable performance as Theresa Bedell, a career-driven woman who takes great pride in her strength, independence, and intellectualism. While some may not find Theresa to be a particularly likeable character, Winnubst portrays her slow unraveling in an understandable and heart-rending manner, and is particularly gifted at expressing emotion through body language. A scene in which Theresa shifts from an angry command of her space to fear is memorable and demonstrative of Winnubst's talents in this arena. Similarly, her delivery of lines intensifies the power of the script. In fact, a few of her lines have been bouncing around in my mind ever since I saw her performance.

Similarly, Ross James Miller physically expresses Tony's somewhat socially awkward and impaired interpretive abilities. He delivers his lines with feeling (but not much enunciation) and, during his initial interactions with Theresa, comes across as a quirkily likeable and understandably hurt young man. His timing is excellent, and the audience discernibly sympathizes with him, which makes his subsequent offstage degeneration into violence even more alarming.

The cast is rounded out by a handful of characters with whom Theresa interacts regularly - coworkers at various corporate levels, a filmmaker who is the subject of one of her articles, and the police detective assigned to her case.

Mark C. Guerra plays Howard Siegel, Theresa's well-meaning yet somewhat boorish, editor and boss. Guerra's Howard is a somewhat jovial everyman. He toes the company line, cushions discomfort with humor, is a slob at home, and seems to shy away from too much introspection. Guerra is excellent at delivering lines nonchalantly while allowing his posture to betray his inner feelings. When Howard essentially is verbally clubbed with the implications surrounding Tony's treatment of Theresa and what bearing it may have on his own behavior, Guerra's shock is understated, yet clear.

Director Rebecca McDonald and Guerra recognize this moment as the catalyst for Howard's shift into self-reflection, and Guerra deftly expresses this internal shift throughout the remainder of the play.

Walt Threlkeld as Mercer Stevens, Theresa's coworker and fellow writer, is convincing as another type of everyman - happily married, intellectually curious, and thinking of himself as a "good guy" in his relations with women. McDonald has Threlkeld emphasize Mercer's attempts at dominance through some of his behavior, such as by sitting in Theresa's office at her desk when she is absent and not moving when she returns, but Threlkeld makes it clear that Mercer's behavior is not consciously intentional. Threlkeld is particularly adept at communicating the difficulty Mercer faces in trying to help a woman who is understandably growing progressively more threatened by men, and there are moments in Threlkeld's performance where one can physically feel Mercer's pain as he struggles to find a way to translate his words and actions into something Theresa will understand.

Jade Reyes plays Harriet, the stereotypical assistant hired for her physical attributes and little else. Reyes' Harriet is wide-eyed and naive rather than intentionally scheming to get by on her looks, and while Harriet admits to enjoying all the attention paid her, Reyes shows that Harriet is sincerely unaware of the mode of attention she is receiving around the office. In addition, Reyes's characterization makes it clear that most of Harriet's mistakes originate from a sense of compassion and an inability to empathize. She thinks the things that make her happy are the things that make every woman happy.

Jennifer Stoneking is Madeleine Beck, the police detective assigned to Theresa's case. This role is a particularly difficult one to play as so much of the dialogue is informational and can come across as preachy. To be sure, there are moments during Madeleine's scenes where one feels as if one is watching an after-school special.

This is mainly a weakness of the script and not a reflection of Stoneking's performance, which clearly shows her struggle to maintain objectivity while offering some semblance of support to a victim. Madeleine's scenes could easily be played like an infomercial segment at the end of a G.I. Joe cartoon, but while Stoneking sometimes seems to struggle to find the right tone in which to convey the facts that Madeleine has to present, her performance overall is very human and quite in keeping with the peculiarities concerning working cases that are so difficult to bring to resolution.

Finally, there is Ben Westfried as Les Kennkat, the pornographic filmmaker who Theresa is assigned to interview for an article.

Westfried's Kennkat is anything but stereotypical. He looks and dresses the part of the "dirty old man", leaving the audience in stitches with his ability to put Theresa in her place, and his insistence on the artistic vision behind his cinematographic masterpieces.

Still, beneath that shallow facade lies a great deal of substance, and Wesfried effortlessly conveys Kennkat's earnestness. Westfried's Kennkat is accessible and charming and unapologetically human, and leaves the audience with no question as to why Theresa should strike up a rather unlikely friendship with him.

Besides good performances, Rover Dramawerks's Boy Gets Girl boasts a congruous costume design, an interesting score, and a clever set design created by Costume Designer Ryan Matthieu Smith, Director Rebecca McDonald, and Set Designer Cameron Hefty.

While the costuming induces questions about the time period in which the play is meant to occur (many of the fashions seem indicative of the 1980s or early 90s), the personal styles of each character are quite fitting. In addition, the change in the characters' personal styles as events unfold tells a story in itself.

Musical offerings before and throughout the show and during intermission are incisive, topical, tension-building, and run the gamut from Death Cab for Cutie to She Wants Revenge.

More interestingly, the lyrics give numerous clues on the perspective of woman as man-eater and man as predator, as well as the internal and external conflicts begot accordingly.

The set consists of a brick urban city wall with sections that open and close to allow for quick scene changes, and panels that slide apart to allow Theresa's bedroom to extrude. Except for one sticky panel that slows a few scene changes, this design functions well. One jarring moment comes after the lights dim between scenes, when stagehands invade Theresa's apartment to change the set. This is likely unintentional and more a result of good set change cues, but their invasion certainly reinforces the point of the previous scene.

Lighting is unobtrusive and reflective of each scene's tone, and scene locations are effective in telling about the characters that inhabit them.

Though using the same background, there are distinct differences between Theresa's office and Les Kennkat's residence. Theresa's apartment is fairly utilitarian and tidy, with filled, centrally-located bookcases and a particularly interesting choice of artwork above her bed. The varied nuances potentially derived from the piece signify the overall theme of the play.

In general, Boy Gets Girl is a thought-provoking piece, and Rover Dramawerks' production provokes even more discussion than would the script alone. The heft of the subject matter can cause the play to seem a little longer than its 2 and a half hours, but the crew keeps set changes short and sweet, and there's enough substance and suspense to fully engross the audience. Many important questions are asked and explored, but it is left up to the audience to answer them.
---
BOY GETS GIRL
Rover Dramawerks
Cox Building Playhouse, 1517 H Avenue, Plano, Texas 75074
Runs through March 23rd.

Performances are Thursday, Friday, and Saturday at 8:0 pm.
Friday performances are followed by Graphic Novelties!,
presenting The Killing Joke at 10:30 pm. Admission is
included when seeing Boy Gets Girl the same evening.

Tickets are $16.00/$14.00 for students/ seniors (60 and better)
on Thursday, and $20.00/$18.00 Fridays/Saturdays

For information, go to www.ro