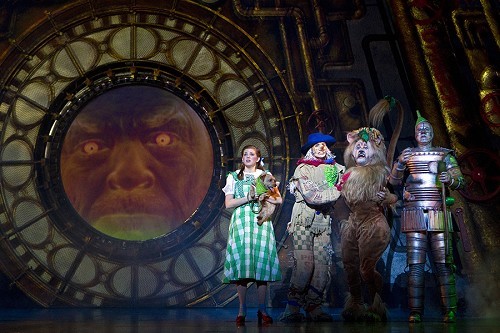 THE WIZARD OF OZ
Original story by L. Frank Baum
Book adapted by Andrew Lloyd Webber and Jeremy Sams from the screenplay
Music by Harold Arlen
Lyrics by E.Y. Harburg
Additional music by Andrew Lloyd Webber
Additional lyrics by Tim Rice
Dallas Summer Musicals
Directed by Jeremy Sams
Set and Costume Design by Robert Jones
Choreography by Arlene Phillips
Lighting Design by Hugh Vanstone
Sound Design by Mick Potter
Video/Projection Design by Jon Driscoll
Orchestrations by David Cullen
Musical Supervision by Graham Hurman
Animals Provided by William Berloni

CAST
Dorothy – Danielle Wade
Professor Marvel/The Wizard – Jay Brazeau
Miss Gulch/Wicked Witch of the West – Jacquelyn Piro Donovan
Hickory/Tin Man – Mike Jackson
Zeke/Lion – Lee MacDougall
Hunk/Scarecrow – Jamie McKnight
Glinda – Robin Evan Willis
Uncle Henry – Larry Herbert
Auntie Em – Chelsey Duplak
Toto – Nigel
Ensemble – Jordan Bell, Chelsey Duplak, John Edwards, Larry Herbert, Jason Huska, Julia Juhas, Zak Kearns, Anthony McPherson, Stewart Adam McKensy, Julia McLellan, Briana Palmer, Alana Randall, Adam Sergison, Amanda Struthmann, Devon Tullock Jesse Weafer, Alyson Workman
---
Reviewed Performance: 3/19/2014
Reviewed by Chris Jackson, Associate Critic for John Garcia's THE COLUMN
"Bringing the wonders of the world to those who need wonder in their world!"
-Professor Marvel

Why adapt an iconic 1939 movie like The Wizard of Oz into a stage musical? If the huge crowd at The Music Hall, composed of lots of children including one little girl dressed as Dorothy complete with toy Toto and sparkly red shoes, is any indication, we have our answer. Money is always a good answer too, although Andrew Lloyd Webber has hundreds of millions already from his many, many huge musical hits. L. Frank Baum himself turned his 1900 novel into a musical extravaganza in 1902 when it played in Chicago, was a success the following year on Broadway, and then toured for nine more years. There have, of course, been many other adaptations, two previous ones also using songs from the film, the 1945 St. Louis Municipal Opera and the 1987 production by the Royal Shakespeare Company. Both were successful.

The current musical adaptation came about when Webber decided the film version had never worked well on stage. "The film has one or two holes where in the theatre you need a song. For example, there's nothing for either of the two witches to sing…Tim and I are doing quite a specific thing, because we know what's missing." Well, it takes ego to get where Webber is, so why not?! Webber and Rice wrote several additional songs for their stage version, including one teenage angst song for Dorothy, "Nobody Understands Me," a patter song for the showman/Wizard, and "Red Shoe Blues" for the Wicked Witch of the West.

Webber and Rice's production opened after previews in the West End on March 1st, 2011 and closed on September 2nd2012. The role of Dorothy was cast through a reality television show, "Over the Rainbow", and a similar Canadian reality show. A Toronto production began in December 2012 and closed in August 2013, followed by a North American tour.

The Canadian tour is the one that has opened here in Dallas, and a more spectacular production of the familiar tale could hardly be imagined. Everyone knows the story of course and has probably seen the movie multiple times and can quote favorite lines. "Somewhere Over the Rainbow" has long been a standard, and the yellow brick road and the ruby slippers are familiar elements of the story . . . not to mention Toto! Wicked is still running in New York and Broadway tours of the show regularly sell out across the country. (I hate to admit that I still haven't seen a production!) "Defying Gravity" is on its way to becoming as iconic as "Over the Rainbow" and indeed was featured on Glee's 100thepisode. In short, seeing the show is like settling into a comfortable pair of shoes or that old raggedy T-shirt that you just can't bare to get rid of; it's visual and aural mac-and-cheese.

There's nothing homemade about this production, however. Video, projections, steam, smoke, a well-trained dog, dozens and dozens of dazzling costumes, eye-popping scenery and lighting effects, and above all, the really quite wonderful singing and dancing of all the old familiar tunes along with a few not so familiar and not-likely-to-be- remembered ones by Webber and Rice.

In the lead role of Dorothy is the Canadian winner of the mega talent search, Danielle Wade. She says the director told her "You're not playing Judy Garland, you're playing Dorothy." That's probably the best approach to take when trying to tackle such a role. As a result, her Dorothy is not quite the wide-eyed innocent that Garland was and she shows a center that is steelier than Garland's in the role. Her voice is a lovely, well-trained instrument put to good use in this musical. The farewell to the famous trio of Scarecrow, Tin Man and Lion showed some real acting chops. She has a strong stage presence, and if this wasn't the youngest, most innocent Dorothy you might imagine, it worked in context. Toto, played by Nigel the dog, is exceedingly well trained and cute as he can be!

Jay Brazeau plays both Professor Marvel and The Wizard and he takes command with an old vaudevillian's confidence and swagger. No stranger to the stage, he sails through his role, giving it every vocal and physical trick in the book and, like the characters he plays, pulls the con off without a hitch.

Mike Jackson, Lee MacDougall and Jamie McKnight play the farmhands and the Tin Man, Lion and Scarecrow respectively. They make a great trio, each distinct both physically and vocally, and yet play off each other and Dorothy in a terrific demonstration of ensemble acting. The Scarecrow is loose and floppy, the Tin Man robotic, and Lion is, as he says, "a dandy lion" who identifies himself as "a friend of Dorothy." They move well, sing well, and are on top of each scene with skill and confidence.

The Wicked Witch of the West is portrayed by Jacquelyn Piro Donovan and she takes the part, chews it and the scenery up for all it's worth, and spits it all out with great gusto and showmanship. If the big potential showstopper, "Red Shoe Blues", doesn't quite stop the show, it's more the fault of the number than the performance. Aided by her makeup, wigs and costumes, she makes a frightening and yet fun character. A drag queen gone gonzo!

The lovely Robin Evan Willis (does everyone in this show go by three names?) is Glinda, the Good Witch who makes her first entrance as an "homage" (or rip-off) of the big moment in Wicked, in huge costume and descending from the stage flies. Willis sings well, especially the new "Already Home", moves gracefully, and portrays Glinda exactly as you would expect, so it works well in this production.

The Ensemble is strong, making rapid-fire costume and wig changes, dancing their hearts out, singing up a storm, and filling the stage with energy and enthusiasm. They have several big ensemble production numbers choreographed imaginatively by Arlene Phillips, each distinct to locale and emotional moment being presented. They perform with huge energy, filling the auditorium with delight.

Sets and costumes by Robert Jones are beyond spectacular, are truly imaginative and just right for each character and moment. The opening scenes in Kansas are done in sepia tones with tans, browns and khaki, and the Technicolor moment of Dorothy's arrival in Oz, although almost overpowered by a huge neon rainbow, is a beautiful and fun theatrical moment. The appearance of Glinda and the Munchkins is all done in shades of blue, seemingly inspired by Dresden china. The Emerald City is indeed EMERALD! The big number with its citizens is a visual feast. The Wicked Witch's balcony/castle/perch and the attendants costumes are all in black, and the flying monkeys are really frightening. The press kit credits Swarovski crystals so that should give some idea of Glinda's costume, her staff, hairdo and the other sparkly costumes, wigs, etc sprinkled liberally among the ensemble. Along with video and projection design by Jon Driscoll and the constantly changing and eye-catching lighting effects by Hugh Vanstone, the overall visual feast of this production is truly a sight to be appreciated. The twister effects that transport Dorothy to Oz are, like, totally awesome dude!

Pulling all of it together is the fine direction by Jeremy Sams and his imaginative and straight-forward staging of the large ensemble to strong effect, keeping focus and interest where it needs to be. The musical is big and loud, with lots of it played full out front to the audience, especially by the broader characters, but to Mr. Sams' credit, the smaller, quieter moments don't get lost. The production has a consistent, distinctive style and is fast-paced and energetic. In all, The Wizard of Oz will capture your heart and imagination and you will be as rapt as the many children (or the child in all of us) in the audience. And don't worry; there are jokes and double entendres for adults as well! It's an evening of pure theatrical excess and entertainment and it works exactly as it's planned to do. You will believe you have landed in Oz, and isn't that truly what it's all about? Mr. Webber has indeed brought "The wonders of the world to those who need wonder in their world!"
---
THE WIZARD OF OZ
Dallas Summer Musicals

Music Hall at Fair Park
909 1st Avenue
Dallas, TX 75210

Runs through March 30th, 2014

**Recommended for age 6 and up. Ticket prices range from $25.25 to $96.75, which includes the service fee. Tuesday through Sunday at 7:30 pm and Saturday-Sunday at 1:30 pm Additional performance on Thursday, March 27th at 1:30 pm.

For information and to purchase tickets, please go to http://www.dallassummermusical.org/ You may also go online to http://www.ticketmaster.com/ or Charge-By-Phone at 1-800-982-ARTS (2787). You can also go in person to The Box Office at 542 Preston Royal Shopping Center, Dallas, TX 75230 or at Ticketmaster locations throughout the metroplex.