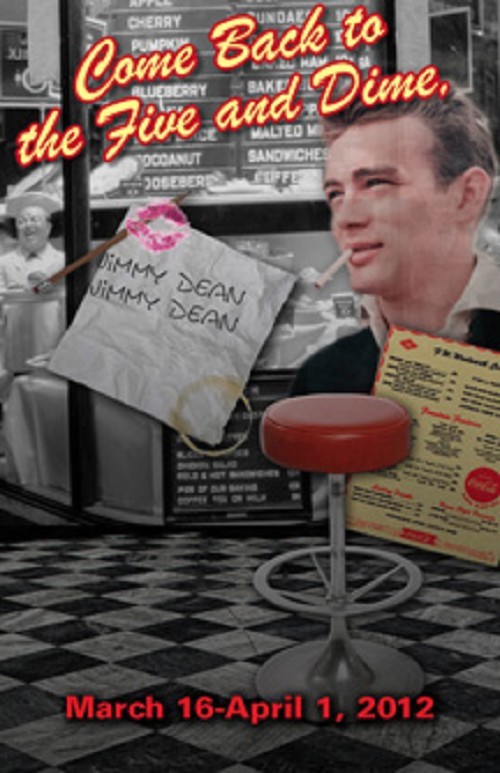 COME BACK TO THE FIVE & DIME JIMMY DEAN, JIMMY DEAN
by Ed Graczyk
Runway Theatre
Director: Fritx Ketchun
Stage Managers: Kimberly Hudson, Monica Meadows
Set Design: Ellen Mizener
Lighting Designers: Scott Davis, Bear Hamilton
Costumers: Fritz Ketchum, Erin Maher
Sound Designer: Bear Hamilton
Construction Crew: Kimberly Hudson, David Ketchum, Fritz Ketchum, Alex Krus,
Erin Maher, Jeff Mizener, Scott Nixon, Dane Tuttle


CAST

Sissy: Caitlin Mills
Young Sissy: Kate Avery
Mona: Kim Borge
Young Mona: Jordan West
Joe: Wyatt Tackel
Joanne: Lori Wilson
Edna Louise: Erin Maher
Juanita: Kim Campbell
Stella May: Heather Shore
---
Reviewed Performance: 3/23/2012
Reviewed by Ashlea Palladino, Associate Critic for John Garcia's THE COLUMN
Do you remember when joining a fan club was a huge deal? Not only did you have to send away for the fan club materials (back when that meant using the U.S. Postal Service and not the Internet), but then you had to spend desperate, miserable weeks waiting by the mail box for that 8 x 10 glossy of your favorite star. My first fan club was Ronnie Milsap's, though I suspect I would've joined James Deans' fan club had I been born just a couple of decades sooner.

Come Back to the Five and Dime, Jimmy Dean, Jimmy Dean told the story of a group of girls who were more than just fans of the screen idol ? they were disciples. They had meetings about him, they prayed to him, and they were so on the level they had?jackets! The story flashed back and forth between the night Dean died in 1955 and the same date twenty years later, and all took place in the local five-and-dime in McCarthy, Texas.

The entire set, by Ellen Mizener, was a wondrous work that took the audience straight back to any small town corner store. The green vinyl flooring actually took me back to my elementary school cafeteria, but the hideously perfect floor set a marvelous foundation for the rest of the set. Complete with a soda fountain and tables with red Formica tops, padded vinyl chairs and bar stools, cafe curtains, an old screen door, and a boatload of Wonder bread and Orange Crush, Ms. Mizener's attention to detail was very apparent and appreciated.

Fritz Ketchum assembled a beautiful cast and she, along with Erin Maher, costumed these lovelies in character-appropriate get ups (though some costumes revealed slightly more than I was prepared to see that Friday night). Ms. Ketchum did a respectable job directing her cast with this dialogue-heavy piece, but some of her decisions seemed less than pointed. The scenes with the younger girls were specifically hard to follow ? one audience member was overheard saying, "Why does that Mona have the same hair do as the other Mona?"

Ms. Ketchum infused the scenes and changes between the current time and twenty years ago with some lighting differences designed by Scott Davis and Bear Hamilton, and some sound effects designed by Bear Hamilton, but both could've been used more effectively to assuage any confusion. Instead, the sound effects created additional confusion, especially when an airplane took off from D/FW International and passed directly over the theater ? at least I hope that wasn't a canned effect of a plane flying that closely over the five-and-dime in rural West Texas. While the fly-overs were no one's fault, it was an unfortunate addition to what was happening on stage.

While all of the actors were capable and easy to watch on stage, it was hard to suspend disbelief with their present-day ages. If the younger girls were supposed to be college age and the James Dean Disciple Reunion was twenty years after that, then the women cast in this show were way too young-looking. A ten-year reunion would've been believable but a twenty-year reunion jumped the shark a little bit.

That said, a few of the performances were more than noteworthy. The standout performance of the show belonged to Caitlin Mills as Sissy, the role played by Cher in the 1982 Robert Altman film. From the moment she burst onto the stage with a flame of red hair that matched her fiery attitude, it was clear this character would leave an impression. Ms. Mills showed us Sissy's slight braggadocio, as well as a potty mouth that just wouldn't quit, but in Act 2 she revealed a softer side that was perfectly paced and absolutely believable.

While she didn't have near enough stage time, Erin Maher's portrayal of Edna Louise was another favorite. Her performance as the slightly dim-witted mother of more than half a dozen revealed the best timing of the production. Ms. Maher let the audience take in her every word instead of rushing to get to the next line or expression.

Similarly, Jordan Hampton West's performance as Young Mona was fun to watch. Her emotive choices closely matched the story, and while she didn't have as many lines as her older counterpart, she displayed a lovely range.

Jimmy Dean is definitely an ensemble piece, but in this case some of the players are slightly outmatched either by confusing blocking and direction, or due to their overly youthful appearance. The story itself is well-written, and Runway Theatre does an admirable job fleshing out what lies beneath.
---
COME BACK TO THE FIVE AND DIME, JIMMY DEAN, JIMMY DEAN
Runway Theatre, 217 N. Dooley Street, Grapevine, TX 76051
817-488-4842

Runs through April 1st
Fridays and Saturdays at 8:00 pm
Sundays at 3:00 pm

Tickets range from $12-$15 and may be purchased online at www.runwaytheatre.com or by calling 817-488-4842.