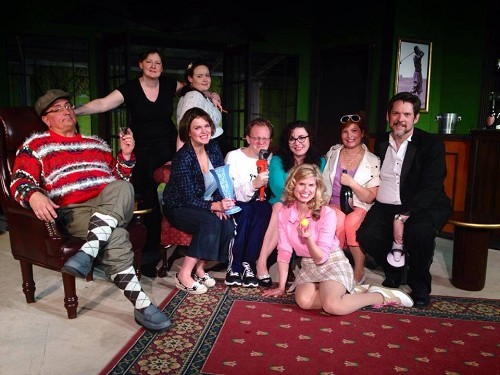 THE FOX ON THE FAIRWAY
by Ken Ludwig
ONSTAGE in Bedford
Directed by Ashley H. White
Stage Manager – Jessica Stevens
Lighting Design – Michael B. Winters
Scenic Design – Charlotte Newman and Jim Scroggins
Properties Design – Jessica Stevens
Costume Design – Lindsey Humphries
Sound Design – Alex Krus

CAST
Justin Hicks – Keith LaCour
Louise Heinbedder – Shannon Walsh
Henry Bingham – Mike Hathaway
Pamela Peabody – Brandi Andrade
Dickie Bell – David Willie
Muriel Bingham – Angela Butson
---
Reviewed Performance: 4/4/2014
Reviewed by Eric A. Maskell, Associate Critic for John Garcia's THE COLUMN
FANTASTIC. The Fox on the Fairway at ONSTAGE in Bedford was absolutely fantastic. From the first line to the last, the play was a riotous, non-stop laugh fest. The characters were quirky and the play was fast-paced and engrossing.

The play centers around two rival country clubs, the Quail Valley Country Club run by Henry Bingham, chucka chucka chucka, and Crouching Squirrel Country Club run by Dickie Bell. After several years losing their annual tournament, Bingham hatches a winning plan by putting a golf champ ringer on his team. He then goads Bell into a massive wager that includes Bingham's wife's antique shop. Unbeknownst to Bingham, however, is that his ringer has already secretly switched sides and now plays for Crouching Squirrel. Faced with losing the bet, losing the money and possibly losing his job, the antics heat up as Bingham franticly attempts to find a winner replacement.

The set design by Charlotte Newman and Jim Scroggins was awe inspiring. The entirety of the play took place in The Tap Room of Quail Valley Country Club. It's as if they lifted a room straight from a country club; the look and feel was phenomenal. The props in the room added to the overall feel of the set, with golf clubs on the walls, framed pictures and a fully stocked bar with champagne and bourbon. The room's several entrances and exits allowed for the farcical rampage-running that accompanied the scenes. There was also a mural on the back wall, through French doors, giving the appearance of a golf fairway.

Costume design by Lindsey Humphries was wonderful. She used normal tuxedoes and evening gowns during the formal evening celebration and some standard golf togs, but the stand out costumes were the ugly sweaters Humphries incorporated into Bell's wardrobe. They were hilarious and fit perfectly into the play as practically a character on their own.

A good test of any comedy is the actors' ability to deliver lines quickly and precisely. In this cast there was not one weak link. Everybody was firing on all cylinders, and even when the actors were not part of the primary dialogue, their actions and expressions were appropriate and outrageous.

Mike Hathaway was superb in his portrayal of Henry Bingham. His performance was like a slowly-building symphony of destruction. As each new problem arose, Hathaway's performance got more and more animated, finally peaking with his confession of love. It was inspiring to watch Hathaway masterfully juggle several issues with different levels of agitation and discomfort. His tone brilliantly switched from compassion to utter disbelief as he fielded each comedic problem in his quest to win the tournament.

Shannon Walsh, as Louise Heinbedder, was delightful to watch. Walsh had a quirky excitement about her fiancé Justin Hicks that was believable. Her gasps and squeals were enjoyable as she reveled in the thought of getting married. Walsh was a perfect combination of pretty and polite. She had the "girl next door" attitude down perfectly and her performance was remarkable. Walsh's sweet demeanor and likable charm held the possibility she could be a simple girl with a secret.

David Willie did an excellent job as Dickie Bell, director of Crouching Squirrel Country Club. Willie had some good chemistry between him and Hathaway but the majority of his appeal came from his physical comedy. Willie's mannerisms and speech made him a likable antagonist.

Keith LaCour's acting was not only well done but his reaction time to events was above par. LaCour ran the gamut from joyful employee to drunkard. He had a boyish charm about him and a gleeful naiveté that set him apart from the older actors. His facial expressions, combined with his energetic performance, were a joy to experience.

Brandi Andrade gave a wonderful performance as Pamela Peabody. Her character is a bit reserved at the outset, and was performed well by Andrade and then as the events relaxed, Andrade did the same. The drunken scene between Peabody and Bingham lingered a bit too long but, for the most part, you could feel a metamorphosis in Peabody's character as the play progressed. The manners and emotions Andrade was able to convey really brought Peabody to heart.

Angela Butson portrayed Muriel Bingham well; however, at times her shrill voice was rather piercing. It sounded as though Butson had a cold or possibly was losing her voice so that when she was screaming at her husband or at Dickie Bell it was difficult to understand her words. The manner in which she carried herself, as the overbearing wife of Bingham, was also too reserved and became difficult to imagine she was in charge or could inspire the fear that Henry Bingham displayed.

As with most comedic farces, The Fox on the Fairway has its share of twists and turns that will keep even the most jaded audience member interested. One of the highlights of the play, & one of the most memorable, was at the end during their ode to "The William Tell Overture" that was simply amazing. ONSTAGE in Bedford did an outstanding job keeping the audience laughing until the very end.
---
THE FOX ON THE FAIRWAY
ONSTAGE in Bedford
Trinity Arts Theater, 2819 Forest Ridge Drive. Bedford, TX 76021
Plays through April 20th. Rated PG

Friday– Saturday at 8:00 pm and Sunday at 3:00 pm.

Tickets are $14.99 and $12.00 for seniors, students and Bedford residents

For reservations and more information, call their box office at 1-817-354-6444 or go to http://www.onstageinbedford.com/