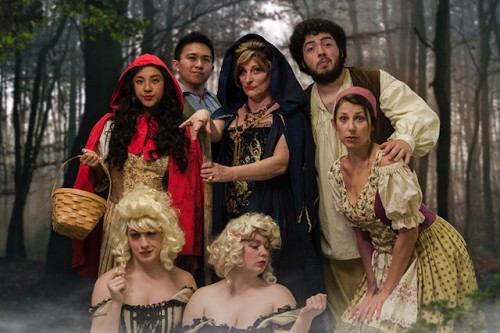 INTO THE WOODS
Music and Lyrics by Stephen Sondheim
Book by James Lapine
The Stage Door
Directed by Dan and Mary Ann Morrow
Music Direction by Kathy French
Set Design by Mary Ann Morrow
Lighting Design by Mary Ann Morrow
Props by Nancy Giorgio
Costumes by Mary Ann Morrow

CAST:
Narrator/Mysterious Man/Baker's Father --- David Benedict
Cinderella --- Alison Wheaton
Jack --- Michael Gumba
Baker --- Andrew Nicolas
Baker's Wife --- Stephanie Ormston
Cinderella's Stepmother --- Melody Jones Pokladnik
Florinda --- Rori Coyle
Lucinda --- Caitlin Morrow
Jack's Mother --- Francine Simpson
Little Red Riding Hood --- Thi Le
Witch --- Mary Ann Morrow
Cow/Snow White --- Amy McLean
Voice of Cinderella's Mother/Rapunzel --- Abby Sherrill
Big Bad Wolf/Cinderella's Prince --- Dustin Smith
Rapunzel's Prince --- Edward Houser
Granny/Giant (voice) --- Kristen Davoodi
Steward --- Jordan Pokladnik
Milky White/Snow White --- Amy McLean
Sleeping Beauty --- Ava Stewart
---
Reviewed Performance: 4/13/2018
Reviewed by Chris Jackson, Associate Critic for John Garcia's THE COLUMN
"So into the woods you go again, You have to every now and then. Into the woods, no telling when, Be ready for the journey."

Perhaps among Sondheim's most well-known and popular musicals, Into the Woods benefits from familiar stories told with a twist, and the added bonus of finding out what comes after, "And they lived happily ever after." Stage Door Theatre, a new undertaking less than a year old, has put together an ambitious production filled with hard-working and dedicated performers and support personnel.

Into the Woods premiered on Broadway on November 5, 1987, running for 756 performances after its debut in San Diego at the Old Globe Theatre in 1986. Tony Awards followed for Best Score, Best book, and Best Actress in a Musical for Joanna Gleason despite competing with The Phantom of the Opera. 1988 saw a national tour, 1990 a West End production, 1997 a tenth anniversary concert, 2002 a Broadway revival, 2010 a London revival, and in 2012, a production as part of New York City's outdoor Shakespeare in the Park series. The Disney film adaptation was released in 2014 and received three Academy Award nominations and three Golden Globe award nominations.

Stage Door Theatre is to be congratulated for undertaking a show of this complexity composed of a cast with a wide range of experience. Into the Woods, while it may be based on familiar and easily remembered fairy tales, is far from an easy production to produce. Difficult musically and with a rich and layered text, it presents problems for the most accomplished theater companies. Stage Door has put together a great example of what community theater can and should be. Everyone in the cast works diligently on their characters, attacking the musical numbers with confidence and total commitment thanks to strong music direction from Kathy French. The result is a production well worth experiencing.

Leading the cast is nineteen-year-old Andrew Nicolas as The Baker. A college freshman, Mr. Nicolas hopes to major in theater, and if his performance in this role is any indication, he has made the right choice. As a singing actor, he is emotionally in touch with his character in a way that involves and moves the audience, a performance that grows as the evening progresses. His final duet with his father, "No More," is especially poignant. Playing The Baker's Wife is Stephanie Ormston who also turns in a strong, emotionally charged performance and impresses vocally as well. Her delightful solo, "Moments in the Woods," after her fling with Cinderella's Prince, is funny and insightful at the same time.

Thi Le is Little Red Riding Hood, and is delightfully precocious and her strong stage presence grabs the audience right away. "I Know Things Now" gets a rousing performance from her and a knowing response from the viewers. Jack's Mother is played by Francine Simpson who impresses in her final scene with her defense of her son and her sassy attitude. Michael Gumba is Jack, and his "Giants in the Sky" and scenes with Little Red are well done and engaging.

Alison Wheaton is Cinderella and probably has the most impressive singing voice in the cast. She handles the vocals very well, and plays through a strong story arc with clarity and conviction. She has fun with "On the Steps of the Palace and, her performances, especially in "No One is Alone" and the "Finale," are passionately delivered and moving.

Edward Houser and Dustin Smith play Rapunzel's and Cinderella's Princes respectively. Mr. Smith also plays The Wolf. They both certainly look dashing, are believable as brothers and have a great time with their respective roles. Despite some overly indicated lyrics and lines, the audience thoroughly enjoys their performances and especially "Agony" and its reprise in the second act.

David Benedict dons several hats, or should I say cloaks, as the Narrator/Mysterious Man/Jack's Father. Melody Jones Pokladnik is Cinderella's Stepmother, Rori Coyle and Caitlin Morrow play her daughters Florinda and Lucinda, and Amy McLean is Jack's cow, Milky White. Also singing well is Abby Sherrill as Rapunzel and the voice of Cinderella's Mother. Jordan Pokladnik as the Steward and a very funny Kristen Davoodi as Granny, and also the voice of The Giant, all give strong supporting performances.

Mary Ann Morrow is The Witch as well as co-directing the show with her husband Dan, designing the set and lighting and coordinating the costumes. She has a great time playing The Witch and has some good strong moments, especially in the second act, with the "Witch's Lament," and "The Last Midnight." Direction of the show plays out with focus where it should be and most movement appearing organically motivated. The set works well in the three-quarter presentation set-up, with several levels and a ramp, decorated with trees, vines and flowers. Projections on the back screen add to the atmosphere. There were some awkward lighting moments with cues missed on opening night, especially the Witch's big reveal, but presumably, these will be worked out as the run progresses. Costumes were serviceable and generally attractive and suited the characters. The show was performed to a recorded orchestral accompaniment without microphones which occasionally presented some volume problems, though it generally worked well.

Sondheim and Lapine explore multiple themes in the show, mainly how "No one is alone." How all of our actions have consequences and how we all need and depend on each other. We may go into the woods alone, but sometimes we need a group working together to find our way out. "Not responsible for him." "Yes we are!" Also explored are the continuing consequences of our lives: "I thought you were dead." "Not completely. Are we ever?" "No one leaves for good." And of course, wishes. Cinderella's first and last words are, "I wish!" At the end we hear: "Careful the wish you make, Wishes are children. Careful the path they take, Wishes come true, Not free." Parents and children, decisions and consequences, and the lasting legacy of a life, and the choices we make that live long after we're gone.

For me, the best thing about the show was the reaction from a large part of the audience who had evidently never seen Into the Woods before. Their delight in the wit and the skillful intertwining of the stories was evident in their laughter and spontaneous reactions, and they were involved in the second act's exploring of what happens after "Happily ever after." What a wonderful thing this new theater group is doing by exposing their patrons to quality musical theater! Sure there are some uneven spots and awkward moments, but the commitment of the players and the reactions of the enthralled audience more than make up for those and speak again to the strength of good community theater, serving people who love theater and love to perform, and those people who love to watch them in their endeavors.

Take a trip Into the Woods with Stage Door Theatre. Let them guide you through fun and folly, easy choices and hard ones, and you'll find your way out wiser and happier for the experience.

"You move just a finger, Say the slightest word, Something's bound to linger, Be heard. No one acts alone. Careful. No one is alone." "People make mistakes, … Thinking they're alone. Honor their mistakes – Everybody makes—" "Just remember: Someone is on your side, Someone else is not. … While we're seeing our side – Maybe we forgot: they are not alone. No one is alone. …Things will come out right now. We can make it so."

All quotes from Into the Woods, lyrics by Stephen Sondheim, book by James Lapine.
---
The Stage Door Theatre Company
2637 Summit Ave. #305
Plano, TX, 75074

Final Performance on April 22, 2018

All tickets $15.00

For information and tickets go to www.thestagedoorplano.com