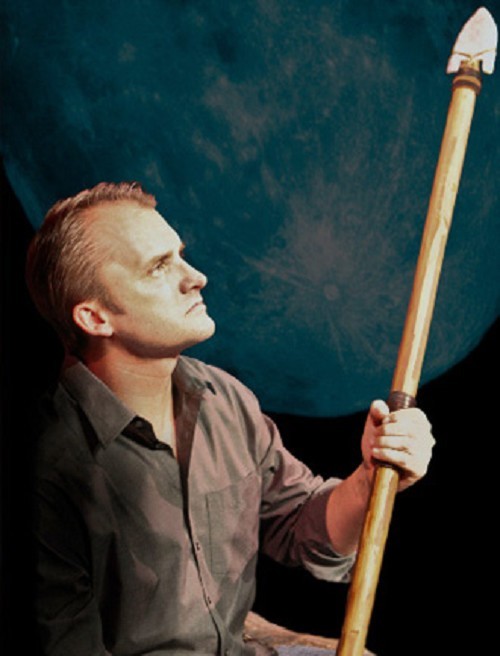 DEFENDING THE CAVEMAN
by Rob Becker
Contemporary Theatre of Dallas
Production Supervisor - Jason Rolf Lindhorst

CAST: John Venable
---
Reviewed Performance: 4/14/2012
Reviewed by Cheryl Cory, Associate Critic for John Garcia's THE COLUMN
I first became familiar with Defending the Caveman, written and originally performed by Rob Becker, in the 90's when a group of male co-workers planned a "guy's night out" to attend this play.

The next day I was entertained by listening to their renditions of Rob Becker's theories of men and women's differences.

According to Rob's exclamation of women's endless blabbering, I could use all 7,000 of my daily word allotment on this review.

Defending the Caveman's one man show is the longest running solo play in Broadway history. Was it a stand-up comedy routine or was it a play? I wasn't sure. The way my co-workers described it, I was expecting more of a comedy routine, which I had waited and longed to partake in for nearly 18 years.

Saturday's performance began about twenty minutes late. I absolutely love attending the Contemporary Theatre of Dallas, but this night was a bit different than other evenings I'd experienced. No one seemed to notice they were late or at least addressed this delay to their patrons.

As we waited patiently for the performance to start, I noticed the Saturday night audience was comprised of several of these "guy's night out" groups.

The play's title caught my 23 year-old son's eye as well so I took him with me to this viewing. Unfortunately, the play fell very short of our expectations.

We see John Venable rush towards the back of the stage and the play begins with a video screen sliding down from the ceiling, center stage, flashing quickly through scenes and helping to set the premise.

That men, as viewed through women's eyes, are a**holes, a**holes, a**holes. As the video ends, John Venable enters to quickly take over the show. If he introduces himself, I missed it.

The "Caveman" is married and speaks respectfully & adoringly of his wife yet he's confused by the behaviors of this foreign creature he's chosen to wed. Parts of the play feel like a stand-up comedy routine which takes exceptional skills to pull off, not only in having the right material but also being able to hit the timing just right. Unfortunately, for me, both of these elements were lacking.

John Venable was at his best when he strayed from the script. During one of the discussions about a certain trait women possess, a lady in the audience stood and started to walk towards the ladies' room. Without missing a beat, Caveman Venable commented that she must be REALLY offended.

The stage was simple but effective with a "his" mural on one side and a "hers" hanging on the other. The Caveman explains the bison, spear and other symbols displayed and how they are applicable to the theory of "He vs. She".

An oxymoron "Flintstone pre-historic television" takes on the role of one of the play's other main characters. In one scene in particular, it becomes the object of Caveman's loving embrace. Set design struck a home run in creating this piece.

While lighting plays a key part in transitioning from one scene to the next, for this show it was an off night. Like one of those old Kung Fu movies where the voice doesn't match the mouth movements, things were not in sync. It felt awkward and forced for most of the play. However in the quieter chair moments where Caveman sat down & discussed deeper thoughts with the audience, the spotlight on John enhanced these scenes by creating a stronger focus to pay special attention.

Timing can be a comedian's best friend or worst nightmare. For me, it was off. The element of surprise completely missed the mark. For the group of men beside me, their genuine laughter consistently filled the night, offering sounds of encouragement to the performer & helping to keep me awake.

Venable's attempt to use a Snookie reference to bring in more current elements fell flat.

A comedian's worst nightmare ensues when the line receives silent disapproval or creates questioning expressions from the intended audience. There was no intermission with Defending the Caveman, making it a comedic marathon of sorts. A severe decline in Venable's energy level was noticeable throughout the middle portion of the show.

John Venable started out strong and brought it home at the end with a heartfelt, touching, believable explanation of father-son interactions told from the comfy Caveman's armchair. He was so superb in this ending scene that despite some low points, the audience is left with a feel-good high.
---
DEFENDING THE CAVEMAN
Contemporary Theatre of Dallas
5601 Sears Street, Dallas, TX 75206
Run extended through April 29th

Defending the Caveman is recommended for adult audiences.

Regular performances Wednesday through Saturday at 8:00pm, Sundays at 2:00 pm

Tickets on the main floor are $27.00-$32.00. Balcony tickets are $22.00-$27.00.

For tickets, call 214.828.0094 or go online to www.contemporarytheatreofdallas.com