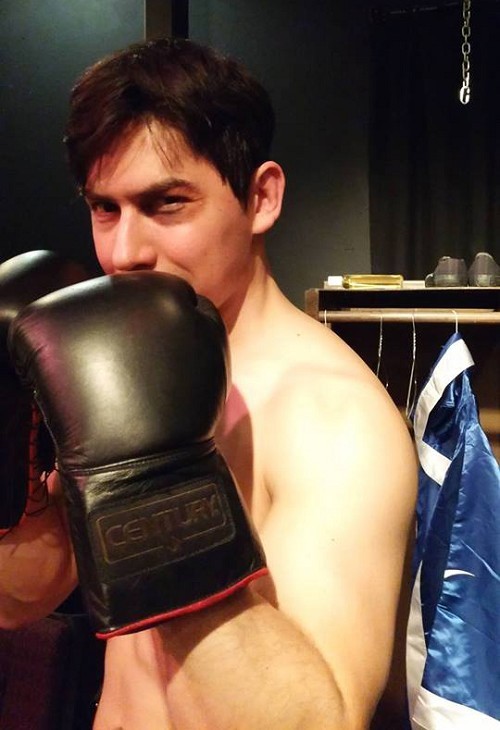 HEAVEN CAN WAIT
Written by Harry Segall
(Basis for the 1941 motion picture, HERE COMES MR. JORDAN)
Plaza Theatre Company
Director – Jodie and Soni Barrus
Set Designer – JaceSon P. Barrus
Lighting Designer – Cameron Barrus
Sound Designer – G. Aaron Siler
Costume Designer – Tina Barrus

CAST (for reviewed performance)
Joe Pendleton – Matt Victory
Mr. Jordan – Jay Cornils
Messenger 7013 – Robert Shores
Julia Farnsworth – Elizabeth Conly
Tony Abbot– David Goza
Bette Logan– Joanna Philips
Max Levene–Michael Lain
Mrs. Ames– Jennifer Meachem
Police Inspector Williams– Bentleigh Nesbit
Plainclothesman– Cody Vernon
Lefty– Rodney Hudson
Nurse– Amy Skinner
Susie, Maid– Stormy Witter
Ann, Maid– Barbara Rose
The Doctor—C. Pamela Valle
Trainer—JJ Sharp
1st Escort—Rodney Hudson
2nd Escort—C. Pamela Valle
Passengers—Meagan Skinner, Ruth Ann Warwick, JJ Sharp, Cody Vernon, Barbara Rose, Stormy Witter
Ming Toy—Jock

---
Reviewed Performance: 4/30/2016
Reviewed by Genevieve Croft , Associate Critic for John Garcia's THE COLUMN
Most audiences who hear the name Heaven Can Wait will think of the 1978 Warren Beatty film about athlete Joe Pendleton-a football player who has the hopes to lead his team to win the Super Bowl, but ends up traveling to Heaven early when an over-anxious guardian angel takes Joe to on the afterlife (after an assumed fatal accident) early on his first assignment. However, Heaven Can Wait has a bit of an older history. Written in 1938, the stage play written by Harry Segall has been the inspiration for several incarnations- the aforementioned 1978 film, a 2001 adaptation called Down to Earth, starring Chris Rock (this time about a comedian who meets his demise too early) and probably the most familiar version, a 1941 film called Here Comes Mr. Jordan starring Robert Montgomery and Claude Rains. It seems in Hollywood when writers have a successful formula, they take it, adapt and rewrite. We have seen it time and time again.

Set in 1938, Heaven Can Wait follows the story of boxer and amateur pilot Joe Pendleton. As Joe flies his small aircraft, his plane crashes. His soul is "rescued" by Messenger 7013, an eager guardian angel who assumed that Joe could not have survived. Joe's manager, Max Levene has his body cremated. In the afterlife, the records show his death was a mistake- he was supposed to live until 1998. The angel's superior, Mr. Jordan, confirms this, but since Joe's body does not exist anymore, Joe will have to take over a newly dead corpse. For Joe Pendleton, Heaven will have to wait while he assumes the body of Farnsworth, a recently deceased banker.

Set Designer JaceSon Barrus nicely transformed Plaza Theatre's "in the round" space into the multiple locations including the living room of the Farnsworth home, the flying field where Joe first meets Mr. Jordan, and the dressing room of the stadium after the impressive boxing match, in the penultimate scene of the play. I was impressed with the simplicity in his set design, and also the versatility of each location. There were several playing areas that provided effective stage pictures of life in the late 1930's, without sacrificing details on an arena stage. Often times, I feel that the arena stage may be the most difficult for a set designer-because they have to incorporate and play to each area of the audience and to maximize the space for staging. Mr. Barrus was successful in providing just enough for the suggestion of each set. The furniture in the Farnsworth house was exquisite and it was enjoyable to see the "gates of Heaven" imagined with the conventional staircase, and clouds of mist, as each soul ascended up into the afterlife. It was an excellent depiction, and a fantastic way to use a raised doorway that is an actual permanent part of the architecture of theater.

Lighting was designed by Cameron Barrus. (Theatrical talent certainly runs in the family!) There are few things a lighting designer can implement in such a straightforward play to represent day and night. However, I felt the mood was established and consistent throughout the course of the play. There were some lovely silhouettes and moments that were established and highlighted throughout the course of the story. There was almost a magical feel created with lighting during the course of the play. The most powerful lighting moment was in the end of the play, and the audience is left with the picture of an illuminated saxophone-one of the most recognizable item in Joe Pendleton's life. Created in an amber tone, it was almost as if a Heavenly spirit had chosen to irradiate that one significant item and give it great meaning-for the audience to think about as the story was coming to an end. What a powerful moment!

Assisting the lighting and set, G. Aaron Siler also delivered with his marvelous selection of music throughout the play. I especially appreciated his vast selection of songs. I believe music can make or break a play, allowing the audience to experience the setting, mood and theme of a production. It was nice to hear the quintessential sounds of the Glenn Miller Orchestra ("A String of Pearls" and "In the Mood") in the pre-show and intermission music. There were also a few gems that were used as scene transition/underscoring music ("When the Saints Go Marching In" and "Cheek to Cheek" with the lyric "Heaven, I'm in Heaven…." Both of these songs were excellent choices, especially when Heaven and the afterlife are major themes of the play. I was greatly satisfied by the library of songs Mr. Siler chose to transport audiences back to the late 1930's. As for sound, the actors overcame some issues with the mics early on and were able to adapt quickly to some apparent audio issues.

Tina Barrus designed costumes that were not only period appropriate but had a fine attention to detail. The 1930's was such a fun time for fashion. Each costume was visually appealing and certainly complimented the characters portrayed. I love fashion from that era-very feminine for the ladies (gloves and hats were a must-have!) and very classy for the men. I also enjoyed seeing the little details on each character- including women's nylon stockings with the seam down the back. What a pleasant and realistic touch. It is always nice to see the small details of wardrobe that really enhance the production.

Matt Victory was outstanding in the role of Joe Pendleton. Through facial expressions, voice, and a youthful appearance, Victory convincingly portrayed the young boxer and recently deceased pilot posing as Farnsworth and KO Murdock (according to Mr. Jordan, the "body is just something that is worn like an overcoat.") For me, Mr. Victory (isn't that just a fantastic name for an actor?) was the epitome of what I would expect from actor playing a boxer and aspiring pilot from the time period. He was athletic, dynamic and gave the audience a strong performance-with physical and vocal delivery. Mr. Victory allowed the audience to feel the wide range of emotions that Joe Pendleton was experiencing throughout the course of the story-and when the audience is taken on the emotional journey with the protagonist, the actor has put forth everything that they can to connect the audience to their story.

Another standout performance was Jay Cornils' in the role of Mr. Jordan. Mr. Jordan was convincing as the Superior Angel of Heaven. Mr. Cornils displayed earnest chemistry between Joe, and was a very gentle and soft character. I would compare Mr. Cornils' performance of Mr. Jordan very reminiscent of Clarence in "It's A Wonderful Life"- innocent, virtuous and celestial. Not only did Cornils' come across as the ultimate caring Heavenly figure, but also provided quite a bit of humor and a dose of realism in a mythical world-a world where on Joe and others who inhabit Heaven can see him.

Michael Lain was wonderful in the role of Max Levene, Joe's manager. Mr. Lain provided quite a bit of the comedy throughout the course of the story. Lain had impeccable comic timing, and his facial expressions were spot on. He had excellent delivery, and a commanding on-stage presence. I would compare his performance to that of a young Jackie Gleason-loud, over-exaggerated, and humorous.

Overall, the ensemble displayed some excellent chemistry together. The cast worked well together. Every actor brought an element of importance to his or her character. Heaven Can Wait is definitely worth seeing. The care for detail is evident in all aspects of the production, and makes for a wonderful experience at the theater. If you are looking for an opportunity take a short day trip to Cleburne, and to see play reminiscent of the films of the 1930's, I encourage you to see Heaven Can Wait at Plaza Theatre Company. Time is limited- don't "wait!"
---
HEAVEN CAN WAIT
Plaza Theatre Company,111 S. Main Street, Cleburne, Texas 76033
Plays through May 21.

Thursday-Friday at 7:30pm, Saturday at 3:00pm and 7:30pm. Tickets are $15.00 and $14.00 for seniors 65+, Students (high school/college) are $14.00, and children (12 and under) are $13.00. For information and to purchase tickets, visit www.plaza-theatre.com or call their box office at 817-202-0600.