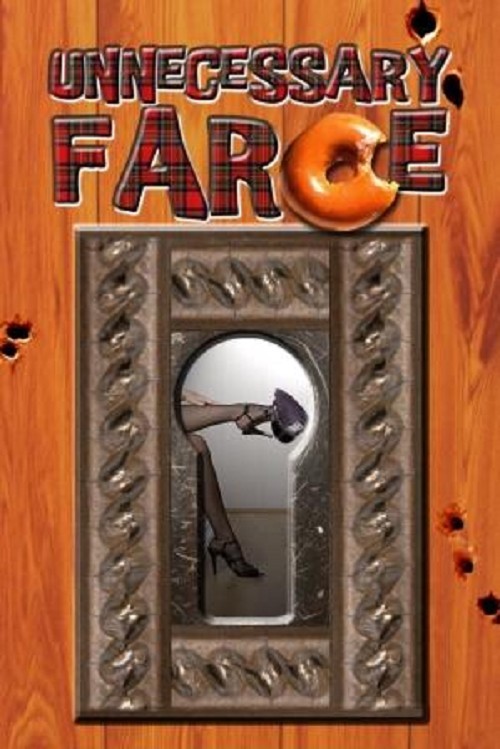 UNNECESSARY FARCE
By Paul Slade Smith
ONSTAGE in Bedford
Director- Ashley H. White
Set Designer- Robert Dennard
Set Dresser- Abby Kipp
Costume Designer- Danielle St. John
Lighting Designer- Michael Ramey

CAST

Eric Sheridan- Chris Jordan
Billie Dwyer- Stephanie Seidler
Karen Brown- Hayley Ewerz
Mayor Meekly- Joe Savarese
Agent Frank- Shane Beeson
Todd- Scott Nixon
Mary Meekly- Deborah Dennard

---
Reviewed Performance: 5/11/2012
Reviewed by Kayla Barrett, Associate Critic for John Garcia's THE COLUMN
When I think of farce, I think of improbable scenarios, absurd word play, mistaken identities, and fast-paced plots. ONSTAGE in Bedford's Unnecessary Farce brings all these things plus an abundance of door slamming, pants-down situations, and broadly stylized nonsensical performances. Two cops, three crooks, and eight doors contribute to the humorous who's who confusion in this play. Set in a cheap motel room, an embezzling mayor meets his beautiful accountant while two undercover cops attempt to video the meeting next door.

Right away, I'm impressed by Robert Dennard's set design. The set is instantly recognized as two identical adjacent motel rooms. Walls are painted to appear as wallpaper with bold olive and silver vertical stripes. Details go as far as the matching entry doors with brass security latches and emergency exit routes posted beneath the peepholes.

Set dresser Abby Kipp makes the beds with white linens, satin olive duvets and rust colored padded headboards. Complimenting the headboards are eye-catching square paintings of rust and gold palm leaves. The set is made to resemble antique-style decor in a modern day. The color choices and dressings such as the palm paintings, night tables with vintage pink corded telephones and sconce lighting make me think vintage Miami.

The set is highly functional and includes lighted closets with rods and wooden clothes hangers, plenty of places to hide and a hallway with an arrow-shaped "stairs" sign outside the rooms. The lighting design by Michael Ramey is subtle and natural. He makes use of the wall sconces and creates smooth scene transitions to pull attention to the play's focal point.

The actors all build wonderfully diverse and detailed characters. The four recurrent characters in this play can be described as goofy, quirky, nerdy and brawny. Chris Jordan plays Officer Eric Sheridan as a goofy but charming parody of a young cop. His performance reminds me of Chandler from Friends. He pretends to be Karen's tough boyfriend to hide his true identity. Jordan amuses with physical comedy and makes the audience laugh when he vocally imitates the bagpipe.

Stephanie Seidler performs as Eric's trusty partner, Billie Dwyer. Seidler exemplifies a young female cop who didn't do so well on her academy exams. She is quirky, ditzy, awkward and asthmatic! What she doesn't have in qualifications she makes up for in exuberance. Seidler uses her lanky figure to her comedic advantage in this highly physical farce. At one point she delivers a lengthy monologue at a hysterically impressive pace that prompts the audience to laugh and applaud.

Hayley Ewerz is funny as the mousey accountant Karen Brown. She is studious and nerdy and unexpectedly randy! Ewerz often throws herself onto love-interest Eric in crazy make-out frenzies. She is dynamic; at times she nervously shifts her eyes with timid uncertainty then retreats to frantically distracting men with her physique. She helps carry the play along with her persistent effort in covering up ludicrous blunders.

Scott Nixon plays the brawny Scottish clan member Todd. Nixon's Scottish accent is impressive and he makes us laugh when his cell phone delivers a loud bagpipe ringtone. He creates comedic tension as the evil but funny bad guy whose trademark is getting so riled up that his Scottish accent can hardly be understood. He delivers several quick and lengthy lines with great energy.

Shane Beeson as Agent Frank engages in a humorous standoff, armed with a handgun against Eric who draws his finger. Joe Savarese plays an unassuming Mayor Meekly. Both Beeson and Savarese parody their given government occupations with exaggeration. Deborah Dennard is a cute Mrs. Meekly who surprises us with her performance as a criminal granny. Dennard reveals her vocal talent and character building experience with her wildly entertaining performance. There's just something about an unsuspecting older lady toting a handgun and shouting an expletive that makes me giggle!

The costume designs by Danielle St. John are realistic and fitting to each character. Costumes are all well-fitted and sharp. St. John gives Billie shoulder length shaggy brown hair, a blue police uniform and geeky argyle socks. Karen is dressed in a professional beige skirt and jacket set with ruffled accents and geometric sleeveless blouse. Her studious but sexy look is completed with glasses and her hair pulled into a low bun. She dresses Mayor Meekly in a brown suit, blue bowtie and a white rose in the buttonhole of his jacket. Todd wears a dashing suit and cool aviator glasses. The Scottish garb that he later wears is ridiculously absurd.

Characters in this play are often caught in the middle of preposterous scenarios with their pants down - literally. The show is filled with zany one-liners, slapstick physical comedy, sexual humor, door slamming and underwear, lots and lots of underwear. Actors make many comedic expressions and pull off synchronized lines laid out by the script in perfect timing. There are bouts of physical comedy, incessant wailing and general outrageousness. Vocal expressions from Scott Nixon and Chris Jordan are stand-out.

Director Ashley H. White does a great job of staging the actors to create laugh-out-loud moments. She uses her extensive experience staging combat scenes to create a wacky four-way handgun standoff. White choreographs her scenes beautifully and her collaboration with designers and actors is well planned.

I have only one criticism: the doors! The hotel room entrances were often left open at impractical times.

Occasionally, when a character is undercover or is engaged in an embarrassing underwear scene, the front door is completely forgotten. The realistic set makes one anticipate hallway traffic, making an open door distracting.

Aside from keeping track of all the doors, this show is superlative! The audience really takes to this wildly entertaining albeit unnecessary farce.
---
UNNECESSARY FARCE
ONSTAGE in Bedford
2819 Forest Ridge Drive, Bedford, Texas 76021
Runs through May 27th

Fridays and Saturdays at 8:00 pm and Sundays at 3:00 pm
Tickets are $12.00 - $15.00

For information or tickets go to www.onstageinbedford.com
Tixs can also be purchased at the box office at 817.354.6444 thirty minutes prior to curtain.