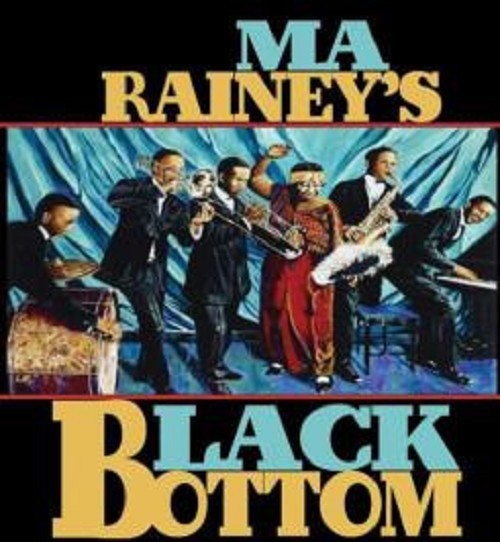 MA RAINEY'S BLACK BOTTOM
by August Wilson
Jubilee Theatre
Directed by Tre Garrett
Assistant Director – Amir Ali
Set Design – Michael Pettigrew
Lighting Design – Nikki Deshea Smith
Sound Design – David Lanza
Costume Design – Barbara O'Donoghue
Stage Manager – Megan Beddingfield


CAST
Ma Rainey – Valerie Houston
Levee – Adam A. Anderson
Cutler – Selmore Haines III
Toledo – Dennis Raveneau
Slow Drag – Jerrold Trice
Irvin – Eric Wilder
Sturdyvant – Gary E. Payne
Dussie Mae – Kenneisha Thompson
Sylvester – Jordan Cooper
Policeman – Tyler Cochran
Sylvester (Understudy) – Anthony Chambers
---
Reviewed Performance: 5/24/2014
Reviewed by Amber Gipson, Associate Critic for John Garcia's THE COLUMN
"…Sometimes life is hard, complicated and rough. Sometimes life is like the blues. When we find ourselves in the black bottom of life, sometimes singing the blues and acknowledging the truth helps us to begin to pick ourselves up and move forward." So writes Director Tre Garrett in his notes about Ma Rainey's Black Bottom, now playing at Jubilee Theatre. Sometimes it works.

The award-winning play by August Wilson tells a story of black musicians in the 1920's on the cusp of a jazz revolution that would sweep the country and deflate blues for decades. But at this moment in America, blues was king, especially in Chicago. The play displays common themes of black musicians working in a recording industry run by whites amidst blatant racial discrimination. Ma Rainey's Black Bottom was the 1920's edition of Wilson's Pulitzer winning Pittsburg Cycle, ten plays about black culture in the 20th century, and the only one set in Chicago. It was the name of an iconic song by the real Ma Rainey and the real depths of life.

This play tells a story of a young trumpeter, Levee, who longs to move from the blues to the new jazz form. His dream is resisted by Ma Rainey's band members and Ma Rainey herself. It is the conflict that drives the story of tragic dreams amidst a driving urge to get Ma Rainey on record.

Garrett had the services of excellent designers to set this play in motion. Michael Pettigrew created a two-sided set showing the recording studio and the practice hall simultaneously, so the story could easily jump back and forth between scenes and action in the two different rooms. Nikki Deshea Smith lit the set to illuminate the active parts where action was happening and to create mood lighting to enhance the music and the arguments played out there. David Lanza created a sound mix that included period music, especially songs of Ma Rainey. When the band played songs in rehearsal or while recording, we could imagine the music was being played by the band and those musicians did a great job of mimicking the movements on their instruments.

The 20's Chicago setting afforded a vast array of costume choices for Barbara O'Donoghue, who clothed the poor, low-down musicians, the lavishly adorned Ma Rainey and her entourage, and everyone in period pieces. She picked men's suits of all types, including Levee's all-black pinstripe gangster suit. We saw many styles of stylish shoes, from Toledo's old combat boots to Levee's black and white wingtip shoes to Ma Rainey's elaborate high heels. She was heavily adorned in reddish silks to fit her status as the brightly colored Mother of the Blues. Ma's girl, Dussie Mae, wore a short, tight-fitting all-yellow silk dress that emphasized she was Ma's groupie, but also enflamed the passions of certain band members.

Ma Rainey was played by Valerie Houston, from Memphis, where she performed this role. She was an inspired casting choice who channeled the spirit of her namesake perfectly. Brash and full of herself, owing to Rainey's economic power over the studio, Houston commanded the stage showing there was no doubt Ma Rainey was in charge of her world. Ma's story was about the power play she had with her white manager, Irvin, the studio's producer, and Levee, her radical young trumpeter. But Ma held ironclad power over all and Houston radiated this power and confidence in every line. Ma also recorded songs. It was Rainey's songs, but Houston sang them and when she let go she lifted the rafters and did Ma Rainey, Bessie Smith and others of the time proud. Houston's musical power emanated from deep inside and spread her alto voice across the audience like a slow rumble. It was the kind of music you feel rather than hear.

Rainey's manager, Irvin, stood between a studio head, Sturdyvant, and Rainey. Irvin and Sturdyvant represented white racism in the music industry, but also recognized Ma Rainey's economic power over them. I didn't get a palpable sense that either portrayal was violently racist, though they were clearly uncomfortable. I've seen producers and artist management act exactly the way these characters did to everyone they met, regardless of race or culture; but in this story these characters were the targets of much of the band's vitriol about whites.

Eric Wilder, as Irvin, jumped between appeasing both the powerful studio head and the even more powerful Ma Rainey, cajoling and begging both to reason. Wilder showed frequent frustration in body and voice letting us know that Irvin was struggling with this impossible task. Giving way to Rainey's outlandish demands had to balance with convincing the studio he "had it under control." In the end it was a thankless job and Wilder's occasional tirades against Sturdyvant eventually spread out to everyone.

Gary E. Payne, as Sturdyvant, was a cynical, demanding studio head who was constantly rebuffed by Ma Rainey's diva antics, problems in his studio, and Irvin's apparent incompetence to control his client. Payne was yelling at someone most of the time. Sturdyvant clearly was over his head against Rainey and eventually everyone, but Levee. Payne was in a constant state of agitation, demand, and capitulation, but it seemed to me he was more like a demanding executive type. There was, however, a moment when Sturdyvant exploited Levee and Payne delivered these lines in a cold, subtle way that was racist. It was chilling and drove the final tragedy.

The band consisted of four musicians. Cutler was the trombone player and Ma Rainey's boss. Toledo was an old-timer and the piano player. Slow Drag was a new bassist from the Deep South, and Levee was the new trumpet player, a hotheaded kid who wanted to blow off Ma Rainey's blues and explore what would become Jazz. It was during the band's practice sessions that their stories spiraled into arguments about philosophy and their cultural struggles. These touched on racism, religion, politics, African culture, youth and elders, jazz and blues, American family dynamics, and sexual openness, playing out Wilson's many themes. The discussions were sometimes teary, often funny, and always intense.

Selmore Haines III played Cutler as an old-time session musician who knew his place in his world and did not want to fight about anything. Haines acted reserved, almost withdrawn, picking up his horn and pulling back when conflict occurred. His aloofness showed Cutler as a man who liked things smooth and peaceful. But he got into it with Levee frequently, so we saw Haines usually calm and smooth, but explosively angry at times.

Toledo was the philosopher of the group, the wise old man who read, and it was his life lessons that drove Levee to greatest anger. Dennis Raveneau, as Toledo, showed us through Toledo's stories a simmering anger about the unfair treatment of blacks, then and historically, while also pulling himself back to reduce the conflict. We could imagine in Raveneau's balancing act that Toledo might have enjoyed a good scrap with Levee, but lacked energy to press his anger. He came off as someone trying to teach his life lessons.

Slow Drag, the bassist, brought a southern country perspective to the group. Jerrold Trice played Slow as a smooth-talker, more youthful than Cutler and Toledo so he understood Levee's worldliness. Slow was smooth, but also a bit nervous, and Trice used nervous movements and vocal inflections to reveal someone a bit fearful of the unseen, superstitious. Slow Drag also sang about his life of rambling and Trice's very smooth baritone voice and energetic delivery made this a nice lift over the frequent intensity.

Levee had a dream. The question of this play was whether he could reach it or be dragged to the black bottom. Adam A. Anderson entered the story like gangbusters, his face and body language portraying vigor and excitement about Levee's future, especially his new music. Anderson played him as strong and self-assured and because of his excitement we began to buy-in to Levee's dream. As Levee got knocked down by resistance, though, Anderson would shrink physically and emotionally a little. Through stance and quavering voice we witnessed Levee sinking into the blues and finally into misery and shame over his own plight. Anderson was playing a tragic hero, flawed but hopeful. We saw Levee dealing with his deepest demons, fighting desperately to dispel them, but watching them latch on at every turn. In time this escalated to full-blown crisis and we saw Anderson explode with a violence no one expected.

Dussie Mae was played by Kenneisha Thompson as a cross between a naïve groupie living with Ma Rainey and a sly trickster looking for someone going somewhere, someone like Levee. When Dussie Mae found a few moments alone with Levee, Thompson slipped into a sultry and sensuous connection with Anderson as she unleashed her raw sexuality which raised hope for a future between Dussie Mae and Levee. It was short-lived.

Sylvester was Ma Rainey's young relative, played by Jordan Cooper. A little slow with a lot stuttering, Sylvester was relentlessly ridiculed by the band. He exhibited a quiet inner power we could see as Cooper visually faced down each ridicule with a quiet powerful stare. The way he stood hunched over in the beginning and held his hat said he felt like a fish out of water. Cooper managed to pull off a credible stutter for Sylvester, who was supposed to do an opening speech on Ma Rainey's signature song. As he slowly overcame that stutter to create a speech, we saw him stand tall and proud and, when he realized the potential of being famous with Rainey, he became downright upstanding and sure of himself.

Finally, Tyler Cochran played a small but important role as a police officer trying to arrest Ma Rainey when she first entered. His story about Rainey and Sylvester attacking a cab driver set the tone for Rainey's reign of terror. Cochran looked like a Chicago cop in a 20's gangster movie, with wide-eyed stare at his accused criminal and a tough-on-crime refrain. Yet the policeman was open to bribes and this allowed the story to move on.

Ma Rainey's Black Bottom is a tragic play. A couple nearby said, "I thought this was a musical! And a comedy!" It was musical with great 20's-era blues music. It was funny at times, even laugh-out-loud funny. But it was tragic in that the dream was shattered by discrimination from outside and divisiveness from within this community. Wilson's plays show that black communities have their issues and sometimes the problems within are as difficult as the ones from outside. Garrett writes, "We are not a monolithic people, and our beliefs, values and expressions are as varied as any other culture in America." Perhaps showing stories like Ma Rainey's Black Bottom is a good way to fight racial prejudices.

I applaud Tre Garrett and Jubilee Theatre for bringing this outstanding work to Fort Worth. It may play in other places, but it has gravitas there. Some people think the racism of the 20's is gone. Recent history shows it's not. Even now we see dreams shattered for many and this seems to incite tendencies to blaming other cultures. That creates more racism. August Wilson hoped his writing would change reality. It has for some, but not for most. And it's good we keep this in mind.
---
MA RAINEY'S BLACK BOTTOM
Jubilee Theatre
506 Main Street
Fort Worth, TX. 76102

Plays through June 8th

Thursday through Saturday at 8:00 pm, and Saturday and Sunday at 3:00 pm.

Ticket prices Thursday evening and the Saturday - Sunday matinees are $18.00.
Friday and Saturday evening tickets are $25.00.

Get tickets and information at www.jubileetheatre.org or call 817-338-4411.