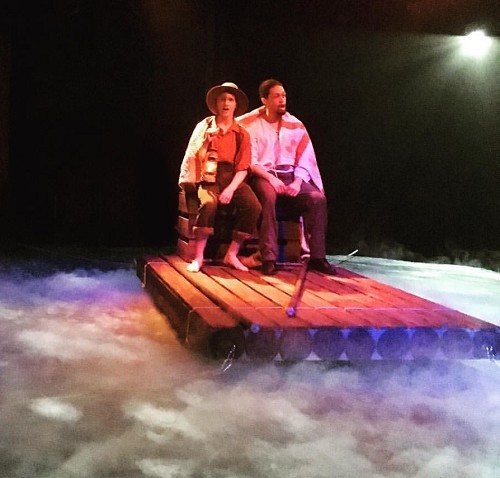 BIG RIVER
The Adventures of Huckleberry Finn
(Adapted from the novel by Mark Twain)
Music and Lyrics by: Roger Miller
Book by: William Hauptman
Plaza Theatre Company
Director – JaceSon P. Barrus
Music Director—Cheri Dee Mega
Set Designer – JaceSon P. Barrus
Lighting Designer – Cameron Barrus
Sound Designer – G. Aaron Siler
Costume Designer – Tina Barrus

CAST (for reviewed performance)
Huckleberry Finn– David Midkiff
Jim– Domanick Hubbard
Widow Douglas/Sally Phelps– Soni Barrus
Miss Watson/Joanna Wilkes/Tart– Emily Warwick
Tom Sawyer– Nathan Salter
The King– Jay Lewis
The Duke–Jake Kelly Harris
Pap Finn/Sheriff Bell/Director– JaceSon P. Barrus
Strange Woman– JoAnn Gracey
Judge Thatcher/Silas Phelps/Harvey Wilkes– Jodie Barrus
Mary Jane Wilkes– Bonnie Gentry
Susan Wilkes/Tart– Tabitha Barrus
Ben Rogers/Young Fool/Hank—Dakota James
Jo Harper– Pearce Colwell
Mark Twain/Doctor—Mark Midkiff
Alice/Tart—McKenna Meachem
Counselor Robinson/Lafe/Man on Skiff—Noah Alan Foster
Dick/Andy/Hired Hand/Man on Skiff—Harrison Cawood
Simon/Hired Hand—Ethan Barrus
Luke/Hired Hand—Nolan Moralez
Will—Hayden Cawood

---
Reviewed Performance: 6/3/2016
Reviewed by Genevieve Croft , Associate Critic for John Garcia's THE COLUMN
Most audiences who hear the name The Adventures of Huckleberry Finn will more than likely think of the old and "boring" novel by Mark Twain that they were forced to read in their high school English class. When I first heard of this show, I probably did the same. However after researching this play, I was surprised to find out that this was a musical, and it had music written by the "King of Country Music" Roger Miller ("King of the Road") in his first and only endeavor into the musical theatre world. I decided that I wouldn't judge a book by its cover (as I did in high school), and I would go in with a completely fresh and open mind.

Set in the pre-Civil War era, Big River follows the story of young vagabond, Huckleberry Finn and his adventures immediately following The Adventures of Tom Sawyer, by Mark Twain. Huckleberry (or Huck as he is known to his friends), has been adopted by the Widow Douglas, and her spinster sister, Miss Watson in an attempt to civilize him, and raise him to read, write, in hopes that he will go to "Heaven," as a good servant of society. Enter Jim, the Widow Douglas' runaway slave, who quickly forms a father-like relationship with Huck, as they both journey down the Mississippi River towards freedom and what they hope will be their salvation.

Set Designer JaceSon Barrus nicely transformed Plaza Theatre's "in the round" space into the multiple locations of the story of Huck Finn. As it has been quite some time since I read The Adventures of Huckleberry Finn, I had forgotten how many different locations that exist within the story. Barrus was able successfully carry off each location without sacrificing details on an arena stage. Often times, I feel that the arena stage may be the most difficult for a set designer-because they have to incorporate and play to each area of the audience and to maximize the space for staging. Mr. Barrus was successful in providing just enough for the suggestion of each set. Locations and furniture moved through each scene seamlessly, as the story progressed from beginning to end. One of the most awe-inspiring moments for me (and probably the most quintessential image of the story) was the raft that Huck and Jim floated on down the Mississippi River. The raft was a huge piece of scenery that would "float" throughout the river on stage-it was moved and manipulated by huge ropes and discreetly by members of the ensemble in the darkness-it was almost as if the raft was actually floating down the river on its own. One of the most powerful moments of the play was looking down at the floor, and seeing low-lying fog slowly fill the image of the "river," as Huck and Jim began their journey.

Tina Barrus designed costumes that were not only period appropriate but had a fine attention to detail. The pre-Civil war period is one of my favorite era's for fashion. Each costume was visually appealing and certainly complimented the characters portrayed. I love fashion from that era-very feminine for the ladies (hats, gloves, and lots of layers of taffeta and petticoats). I also enjoyed seeing the little details on each character especially for those actors and actresses who appeared in multiple roles. I never felt that I was "cheated" on costuming. Each character demonstrated their own character's personality, and this was evident throughout each member of the large ensemble cast. It is always nice to see the small details of wardrobe that really enhance the production and make each character stand out, no matter how big or small the role may be.

David Midkiff was outstanding in the role of Huck Finn. Through facial expressions, honesty in his portrayal, and a powerful voice, Midkiff convincingly portrayed the young vagabond child, Huck Finn. Mr. Midkiff gave the audience a strong performance-with physical and vocal delivery. He allowed the audience to feel the wide range of emotions and when the audience is taken on the emotional journey with the protagonist, the actor has put forth everything that they can to connect the audience to their story. It is apparent that Mr. Midkiff has a great deal of talent, and as he matures, and expands his acting resume, he will certainly become a well-rounded actor.

Another standout performance was Domanick Hubbard in the role of Jim. Mr. Hubbard displayed earnest chemistry between Huck, and was a very gentle and soft character. Mr. Hubbard had a powerful vocal delivery, and really delivered with his singing, as well. Standout numbers of Mr. Hubbard included "Free At Last," and "Muddy Waters." "Muddy Waters" really brought down the house, with its energy, and enthusiasm. It reminded me of an old-fashioned gospel and spiritual song- very uplifting, and powerful. It was also nice to see Huck with a genuine father figure with Jim- and this was evident in their on-stage chemistry and delivery together.

JaceSon P. Barrus was wonderful in the role of Pap, Huck's alcoholic and abusive father. Mr. Barrus provided a bit of comedy and sadness throughout the course of the story. Barrus had an impeccable Southern dialect, and really took charge of the stage, with his commanding presence and vocal delivery. I would compare Mr. Barrus' performance with that of a younger John Goodman. After doing some research on Big River, I found out that it actually was John Goodman who portrayed Pap. I love little coincidences like that.

Overall, the ensemble displayed some excellent chemistry together. The cast worked well together. Every actor brought an element of importance to his or her character-no matter how big or small. Big River is definitely worth seeing. The care for detail is evident in all aspects of the production, and makes for a wonderful experience at the theater. It is everything that one might expect from a historical musical-a bit of history, a bit of creative license, and of course, re-imagined musical dialogue enhancing the story. If you hated reading The Adventures of Huckleberry Finn in high school, and are probably "rolling your eyes" at the thought of a musical version of Huck Finn-give it a chance, you may never realize how powerful and how symbolic a story like this can really be…it certainly changed my opinion of this great American novel. It is appropriate for all ages, and would be a great experience for anyone wishing to be entertained at the theater.
---
BIG RIVER
Plaza Theatre Company
111 S. Main Street
Cleburne, Texas 76033
Plays through June 25

Thursday-Friday at 7:30pm, Saturday at 3:00pm and 7:30pm. Tickets are $15.00 and $14.00 for seniors 65+, Students (high school/college) are $14.00, and children (12 and under) are $13.00. For information and to purchase tickets, visit www.plaza-theatre.com or call their box office at 817-202-0600.