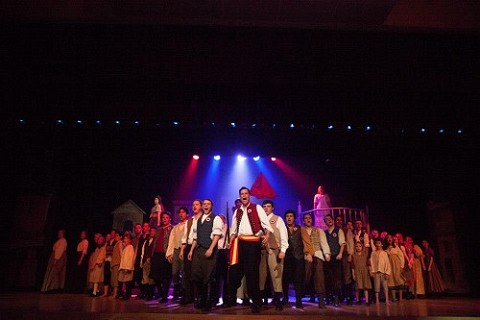 Les Misérables
By Alain Boublil and Claude-Michel Schonberg,
Based on a novel by Victor Hugo
Music by Claude-Michel Schonberg
Lyrics by Herbert Kretzmer
Original French Text by Alain Boublil and Jean-March Natel
Additional material by James Fenton
Adapted and originally directed by Trevor Nunn and John Caird
Orchestrations by John Cameron

Greater Cleburne Carnegie Players
Director: Kate Hicks
Musical Director: Richard Helmcamp
Choreographer: Keli Price
Producer & Rehearsal Pianist: Hazel R. Bell
Stage Manager: Shauna Lewis
Properties: Martha Twadell
Costumer: Becki Esche
Costumer's Assistants: Maggie Garza, Marcie Allison
Fight Choreographer: Aaron Let
Set Construction & Design: Parker Barrus & Jay Lewis
Scenic Artist: Mayre Stewart
Sound Design: Mik Brown
Lighting Design: Cameron Barrus
Spotlight: Claudia Gaarz, Michelle Brown
Technical Advisor: Jeff Wright
Stage Crew: Eric Gaarz, Mallory Sellers, Christi Baker
House Management: Devin Moralez
Opening Night Reception: Frances Watson, Becky Watson
Photographer: Bob Beck


Cast
Principals
Jean Valjean: John Tripp
Javert: Joel Lagrone
Fantine: Hannah Midkiff
Cosette: Haley Nettleton
Eponine: Tabitha Barrus
Marius: Robert Twaddell
Enjolras: Josh Roberts
Thenardier: Jay Lewis
Mme Thenardier: Camille Shaw
Gabroche: Luke Barber
Little Cosette: Ellie Barber

Minor Principals
Bishop of Digne: Chance Eubanks
The Foreman: Jay Cornils
Bamatabois: Michael Victory
Factory Girl: Rachel Daniels
Fauchelevant: Bob Beck
Army Officer: B. Weslee Vance
Little Eponine: Carly Black

Thenardier's Gang
Montparnesse: Jay Cornils
Babet: Chance Eubanks
Brujon: Caleb Pieterse
Claquesous: Gary Pinkerton

Men's Student Chorus
Combeferre: Iain Nix
Feuilly: Kevin Belt
Courfeyrac: Michael Sorter
Joly: Caleb Pieterse
Grantaire: Matt Victory
Lesgles: Jason Reed
Jean Prouvaire: Jason Phillip Cole
Nathan Hull, Levi King, Cole Lucas, Nolan Moralez, Nathan Salter, Gabriel Tarron, Sam Tarron

Ladies Student Chorus
Marcie Allison, Emily Clark, Emma Colwell, Madison Heaps, Abigail Johnson, Tabitha Johnson, Katherine Lacombe, Noelle Mitchell, Kayden Moore, Meagan Sellers, Hannah Stewart, Hannah Tarron

Adult's Chorus
Jena Bennett, Rick Briscoe, Jessica Chick, Corlis Cornils, Jamie Dugger, Jennifer Moore, Mayre Stewart, Gwendolyn Swinehart, Donna Tarron, Stormy Witter

Children's Chorus
Julie Hall, Alex Ivey, Erin Ivey, Maddyn Moore, Gideon Tarron, Corbin Vincent, Timothy Wright

Orchestra
Violin: Stephanie Corrigan
Viola: Katherine Trammel
Cello: Nathan Berry
Bass: Addilee Horton
Flute: Debra Midkiff
Clarinet: Melanie Looper
Oboe: Kendyl Curlee
French Horn 1: Jeff Rowland
French Horn 2: Nikki Febringer
Trumpet: Jason Jones
Trombone: Randy Jones
Percussion 1: Courtney Swaim
Percussion 2: Lucky Hallman
Percussion 2: Israel Renta
Keyboard 1: Hazel Bell
Keyboard 2: Molly Ann Tripp

---
Reviewed Performance 6/20/2015
Reviewed by Shelley Padilla, Associate Critic for John Garcia's THE COLUMN
The theatre was large and well equipped with up-to-date lighting and sound not often found in a public high school. There was also an orchestra pit which was full of musicians and a generous stage apron reaching beyond the opening curtain. In addition, the first four rows of seats were left empty to allow for elements of production. But none of these factors caused the audience to feel removed from the drama or sincerity of the Greater Cleburne Carnegie Players' presentation of Les Miserables. On the contrary, the cast of 48 actors directed by Kate Hicks, supported by a production staff of 19, and an orchestra of 17 directed by Dick Helmcamp, filled the space and bridged the gap between modern life and the streets of Paris France in 1832.

John Tripp plays the lead character of Jean Valjean with distinction. His presence on stage is commanding and his former experience as a professional opera singer is clearly evident in the range and quality of his voice. He is a captivating performer and one of the many reasons this Les Miz is immensely enjoyable. Performances given by Haley Nettleton as Cosette and Robert Twaddell as Marius are similarly captivating. Both of these young actors possess gifts to be envied, singing in perfect harmony with each in their duets and innocence accented by clarity and articulation in their solos.

Other leads and supporting roles are also worth mentioning for a variety of reasons. For example, Hannah Midkiff played an incredibly vulnerable Fantine, despite having broken her collar bone in the previous matinee performance. She captured our hearts and stunned the audience to silence in her rendition of I Dreamed a Dream. And the role of Valjean cannot exist without antagonist Javert, played by Joel Lagrone. Also, expertly sung, Lagrone and Tripp were well matched as opposing forces, drawing us into the music and story, allowing the outside world to fade away for a while; listening to their voices could almost be felt at a vibrational level in the body.

We laughed along with Camille Shaw whose interpretation of Madame Thenardier was wickedly enjoyable. She sang, sneered, flirted, and manipulated her way into the audience's hearts. Thenardier, played by Jay Lewis, kept us entertained while artfully playing the master of the house, but Shaw made it difficult for us to give him our full attention due to Ms. Shaw's intense charisma. In the second act, Tabitha Barrus as Eponine became the star of this twisted family. Her unrequited love for Marius was sweetly compelling, supported by her endearing voice. Her death in Marius' arms was one of the most powerful moments of the night.

Josh Roberts convincingly roused public support and national pride in his role as Enjolras. Backed up by members from the Men's Student Chorus, Ladies Student Chorus, the Adult Chorus, and the Children's Chorus, The Barricade scene was inordinately dramatic and moving. It would be negligent, however, to skip over the moving performances by Luke Barber, Gavroche, and Ellie Barber, Little Cosette. Ms. Barber sang sweetly pitch perfect and begged to be loved and cherished; Mr. Barber sang and acted beyond his years proving himself as a great young talent. Future Cleburne Carnegie audiences have much to look forward to if these two remain with the group as they mature into adults.

The members of the Carnegie Players were undoubtedly partly responsible for the success of this interpretation of the thirty year old play but they surely did not do it on their own. The sets were professionally built and expertly used to create believable yet functional scenery elements to the credit of Set Construction & Designers Parker Barrus and Jay Lewis with the help of Scenic Artist Mayre Stewart. Kate Hicks had great directorial vision by bringing actors into the audience to punctuate emotion in scenes like Valjean's opening Soliloquy and The Sewers while Cameron Barrus designed lighting which helped guide the audience eye toward these creative exits and entrances. Additional effective lighting design included spotlights during moving solos. There were a few hitches with sound, such as microphones that would occasionally stop working. But, the power of the talented actors' voices and orchestra musicians kept the show strong. Costuming, by Becki Esch, was expertly put together. From Valjean's uniform to Marius's gentleman's suit and Cosette's wedding dress, the costumes resembled authentic 1830's Paris-wear. Additionally, costuming for the ladies of the night, beggars, and people in the street, looked the part with small distinguishable details to individualize strangers in the crowd. It cannot be over-stated how impressive the orchestra was under Helmcamp's direction and how much this contributed to the professionalism of the production and the magic of the evening. The musicians were clearly well-rehearsed and highly skilled. The music was splendid when filling voids and perfectly appropriate when supporting vocals. Sometimes live musical accompaniment can be tricky to incorporate and can create a platform for potential mishaps, but this Les Miserables orchestra was another player in the production, enhancing the work of the stellar cast and production crew.
---
Remaining Dates and Times:
Thursday, June 25-7:30pm
Friday, June 26-7:30pm
Saturday, June 27-2:30pm
Saturday, June 27-7:30pm
Sunday, June 28-2:30pm

All Tickets are $20. Tickets can be purchased with check or cash by visiting the Cleburne Chamber of Commerce at 1511 West Henderson Street, purchased by mail with order form and check mailed to Carnegie Players, PO Box 426, Cleburne, Texas 76033 (ticket order form is available on website at: http://www.carnegieplayers.org/), or ordered online with credit or debit card through a link provided on the Cleburne Carnegie Players website at: http://www.carnegieplayers.org/.

Performances are in the Performing Arts Center at Cleburne High School, Cleburne, Texas 76033