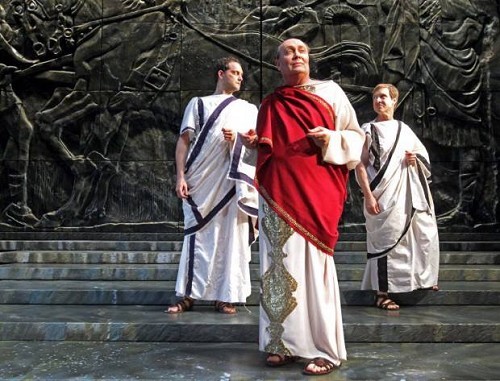 JULIUS CAESAR
by William Shakespeare
Trinity Shakespeare Festival
Directed by Stephen Fried
Scenic Designer – Brian Clinnin
Lighting Designer – Ethan Steimel
Sound Designer – Toby Jaguar Algya
Costume Designer – Aaron Patrick DeClerk
Fight Choreographer – Brandon Sterrett

CAST:
Julius Caesar – David Coffee
Calphurnia – Trisha Miller
Marcus Brutus – Richard Haratine
Caius Cassius – Steven Pounders
Caska, Lucilius – Brandon Potter
Cinna, Dardanius – Bradley Gosnell
Decius Brutus, Titinius – Chuck Huber
Trebonius, Volumniu – Brandon Sterrett
Metellus Cimber, Murellus, Messala – G. David Trosko
Caius Ligarius, Lepidus – Walter Brian Smith
Cicero – Michael James
Flavius, Servant, Cinna (Poet), Young Cato – Wyn Delano
Artemidorus, Octavius Caesar – Daniel Floren
Mark Antony – Alex Organ
Portia – Jenny Ledel
Lucius, Ensemble – Mitchell Stephens
Servant, Ensemble – Christian Greenleaf
Soothsayer, Pindarus, Ensemble – Brandon Burrell
Ensemble–Amber Marie Flores, Delaney Milbourn, Walter Brian Smith
---
Reviewed Performance: 6/22/2013
Reviewed by Kristy Blackmon, Associate Critic for John Garcia's THE COLUMN
Trinity Shakespeare Festival's fifth season showcases two traditional yet contrasting favorites: Julius Caesar and The Taming of the Shrew. At Julius Caesar on Saturday night, directed by Stephen Fried, the blood was flying, the fighting was fierce and the tragedy was oh so Shakespearean. Fried delivered no great surprises but there were no disappointments either, and there were moments that truly impressed.

The first of these came even before the show started. Set Designer Brian Clinnin's breathtaking marble Roman frieze and broad steps, which extended the length of the stage, created a stunning visual and set a high bar for the rest of the show. Fried used the steps to help combat the blocking challenges presented by the thrust stage, staggering his actors so they were mostly visible from all angles, though this strategy did lead to an overabundance of actors talking to other actors' backs. This was most notable with the tortured, brooding Marcus Brutus played by Richard Haratine. Haratine delivered a solid performance though at times he did play with the edges of melodrama. The first half of the show dragged a bit due to long pauses and many moments of gazing into the distance.

There to pick up the pace was Steven Pounders as Caius Cassius, stirring up insurrection and inciting Brutus to action. Pounders' animated Cassius was a pleasure to watch as he manipulated events to rid Rome of Caesar and bring himself out of the political background. While Brutus is motivated by a love of Rome and a fear of Caesar's ambition, Cassius' plotting is born of a petty jealousy and Pounders conveyed this while still giving a convincing depiction of Cassius' true love and admiration for Brutus.

David Coffee gave a unique and highly effective performance as Caesar, relying on an imperious attitude rather than a strong physical presence to showcase Caesar's power. It was a surprising but welcome choice from Fried that worked extremely well and Coffee is to be commended for his performance. Jenny Ledel as Portia lent strength and passion to the role and Trisha Miller as Calphurnia masterfully stayed regal and avoided any hint of hysteria even when giving voice to her superstition and fear.

Alex Organ as Marc Antony delivered a moving performance, convincingly tearful as he discovers Caesar's extremely bloody corpse and wrathful as he stirs the crowd to anger against the murderers during Caesar's funeral. These crowd scenes suffered, however, from a dearth of actors, seeming sparse despite Sound Designer Toby Jaguar Algya's help with background noise. In large productions such as this, double or triple casting actors are not uncommon. Here however, it was just too easy to recognize each member of the ensemble as they appeared in different roles.

The proximity of the audience to the stage is partially to blame for this, but I wish Fried had taken this more into account, not just in his casting but with Aaron Patrick DeClerk's costumes as well. Were there a bit more distance between the audience and the actors, the un-hemmed and fraying edges of the togas and the modern belts used to hold them up would probably not have been noticeable.

Every element of the show improved in the second half, which is chock full of battle scenes skillfully choreographed by Brandon Sterrett, suicides, and tearful goodbyes. The pacing ceased to be an issue, the actors traded togas for very cool Roman battle gear, and the set went from impressive to downright jaw-dropping. The lighting by Ethan Steimel was spot on throughout, greatly enhancing the mood of moonlight gardens and furious fight scenes alike.

Julius Caesar has all the hallmarks of Shakespearean tragedy and Fried's production does them justice. This is a good foil for The Taming of the Shrew and a solid production of one of Shakespeare's most oft-performed plays.
---
JULIUS CAESAR
Trinity Shakespeare Festival
Marlene and Spencer Hays Theatre
2800 S. University Dr., Fort Worth, TX 76129

Final week through June 30th

Wednesday, June 26th at 7:30pm / Friday, June 28th at 7:30 pm
Sunday, June 30th at 2:30 pm
Tickets range from $10.00 - $25.00.
Wednesday, June 26th – ALL seats are $10.00 !!
For info & tix go to www.trinityshakes.org or call 817-257-8080.