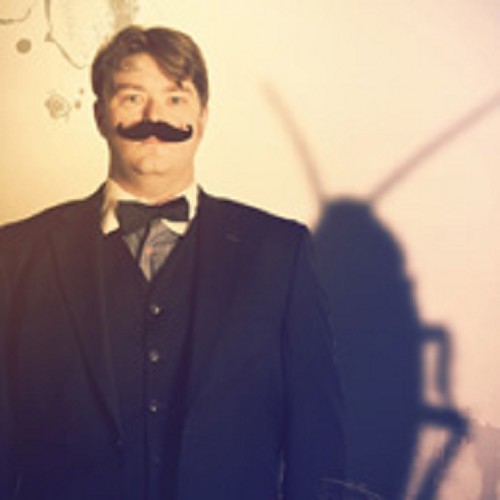 METAMORPHOSIS II
by Jim Kuenzer
Nouveau 47 Theatre
FESTIVAL OF INDEPENDENT THEATRES

Directed by Donny Covington
Costume Design by Samantha Rodriguez
Sound Design by Kellen Voss
Props and Set by Donny Covington

CAST
Gregor Samsa – Ben Bryant
Mrs. Samsa and Darcy – Lulu Ward
Mr. Samsa, Reg, and Apple Genius – John Flores
Sister and Theresa – Diana Gonzales

---
Reviewed Performance: 7/19/2014
Reviewed by Chris Jackson, Associate Critic for John Garcia's THE COLUMN
The Metamorphosis is a novella by Franz Kafka, first published in 1915, and is studied widely in colleges and universities. It is the story of a travelling salesman, Gregor Samsa, who wakes to find himself transformed into some sort of large, insect-like creature. The reason for the transformation is never given and the novella deals with Samsa and his family's attempt to deal with his new incarnation. In Jim Kuenzer's sequel, Metamorphosis II, presented by Nouveau 47, Samsa isn't a large insect but might as well be, as he is now shown as one of the corporate drones that become fodder for the technology grist mill. His family isn't very nice either. In the first scene, they're in the midst of some sort of sitcom/reality show mash-up, and it was all much more interesting when Samsa was still an insect.
Trying to get his old job back, Samsa returns to his workplace only to find his job has been given to someone else. The last scene takes place in an Apple store where the metamorphoses of technology in the modern world take their toll.
In the program, Mr. Kuenzer writes a long tongue in cheek introduction to the play, explaining how Kafka always wanted a sequel to his novella and so here it is minus the big dance number, which according to the Mr. Kuenzer is our great loss.
His program notes pretty much set the tone for the performance put forth by Director Donny Covington and his cast. And what a cast it is, elevating and illuminating the script to a level I'm not sure a reading on the page would indicate.
In the role of Gregor Samsa is the wildly funny and talented Ben Bryant, using a thick accent from some Eastern European country perhaps and a huge, obviously fake moustache. Not to mention a pair of baggy long johns. Mr. Bryant's plastic face metamorphoses constantly, reflecting every nuance of the emotional turmoil experienced by the character. Large in physical and stage presence, he dominates scene after scene, a genuine talent at work.
John Flores fights him tooth and nail for every scene, first as his father in a Jersey Shore track suit and chains, then suited up as Reg, Samsa's nemesis at work, and finally as the Apple Genius with Valley Boy accent and Apple T-shirt. (I had an almost identical scene with an Apple genius just last week, believe it or not!) In each incarnation, Mr. Flores takes his character to the very edge of caricature without losing the basis of reality. A masterful performance.
Lulu Ward, stunningly talented as always, carries the broad characterization of Mrs. Samsa and Darcy to their outer limits, landing just shy of The Twilight Zone of "too much so who cares" by fully inhabiting every eccentricity of each woman with just the right inflections and bodily quirks. Fun, fun, fun!
Playing Sister and Theresa, Diana Gonzales enters first in a blonde wig, carrying her ever-present cell phone, the personification of a "famous for being famous and maybe a sex tape out there somewhere" celebrity. Her Theresa is the very model of the corporate, glib, rattle-it-off while texting executive. Dead-on every time.
Director Donny Covington is to be commended for taking this script, finding the right tone, and setting a pace and style the actors, fortunately, are up to maintaining. They keep the ball going, the plates spinning, and the shtick coming moment after moment. Sound and props keep the style consistent despite the unfortunate scene changes that stop the action.
If this kind of zaniness is your cup of whatever, and you enjoy talented thespians reveling in their craft, Nouveau 47's metamorphosis from the daily Dallas drudge just might be your momentary ticket to a new existence.
---
FESTIVAL OF INDEPENDENT THEATRES
Bath House Cultural Center
521 E. Lawther Drive
Dallas, TX 75218
(East side of White Rock Lake)
Metamorphosis II plays Thursday, July 24th at 8:00 pm, and Saturday, August 2nd at 8:00 pm.
****Festival of Independent Theatres affirms its reputation as one of Dallas' premier fringe festivals with the lineup for its sixteenth season. Eight companies – all native to the Dallas area – present eight world premieres by seven local authors.
The Festival continues through August 2nd, performing Thursdays through Saturdays. Plays are presented in pairs for each time slot.
****This year's festival features FIT Underground, with live music and light refreshments available on the shore level of the Bath House Cultural Center, as well as an exhibition honoring the work of celebrated theater set designer Peter Wolf in the Bath House galleries
Festival Passes are your best value for the money with Two-Week passes at $60.00 plus a $3.00 handling fee per pass. This allows you to see all eight productions, and as many times as you like! A Four-Week Pass is only $70.00 plus handling fee per pass. The passes may be picked up at your first performance.
ALL Festival pass holders receive preferred seating for all performances. No need to make reservations, just come to the Bath House 15 minutes before curtain time, show your pass and be seated first !!
Single tickets are $18.00 plus a $2.00 handling fee per ticket. This allows you to see both performances in one time slot, still a good deal.
For information on all the plays and to purchase tickets, go to www.festivalof independenttheatres.org or call the FIT Box Office at 1(800) 617-6904. The box office is open Tuesday-Saturday (noon-8:00 pm), and Sunday (noon-5:00 pm).
Click here for more information
---