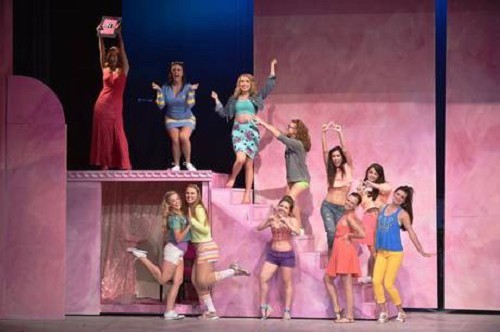 LEGALLY BLONDE THE MUSICAL
Book by Heather Hach
Music and Lyrics by Laurence O'Keefe and Nell Benjamin
Denton Community Theatre
Director – Clay White
Music Director – Rebecca Lowrey
Choreographer – Jaclyn Butt
Set Designer – Joseph Cummings
Costume Designers – Derek Whitener and Victor Newman Brockwell
Wig Designer – Jack Bledsoe
Lighting Designer – Ken Davis
Properties Designer – Connie Hay
Sound Designer – Danica Bergeron
Assistant Director – Katie Moyes Williams
Stage Manager – Rob Stadt


CAST
Elle Woods – Kristi Smith
Emmett Forest – Tim Brawner
Warner Huntington III – Will Chandler
Paulette – Suzanne Lewis
Kyle/Dewey/Dance Capt. – Alex Rodriguez
Margot – Brooke Benefield
Serena – Lauren Carrico
Pilar – Briana Lopez
Brooke Wyndham – Natalie Coca
Vivienne Kensington – Grace Neeley
Professor Callahan – Lon Barrera
Enid Hoops – Leah Clark
Kate – Kelli Ann Pistokache
Delta Nu: Tiffany Weeks, Alyssa McClendon, Elizabeth Gardner, Bonnie Franz
Chutney – Dakota Ratliff
Whitney – Faith Ann Jones
Judge/Store Manager – Elizabeth Lambert
District Attorney – Leigh Ann Stadt
Lowell – Aaron Jakaboski
Guard – CJ Newman
Aaron Schultz – Josh Starmack
Carlos – Tyler Hamilton
Sundeep Padamadan/Kiki – Jonathan Charles
Pforzheimer – Cody Vann
Nikos – Lupe Zapata
Grand Master Chad – Conner Scallan
Mom/Courtney – Michelle Wentroble
Dad/Winthrop/Reporter – Pat Watson

MUSICIANS
Conductor/Keyboard – Rebecca Lowrey
Keyboard – Rachel Olsen
Guitar – Ethan Laurence
Bass – Sara Bollinger
Drums – Thomas Primozic
Percussion/Drumline – Kami Lujan and Jacob Garcia
Violin – Jana Powers
Reed 1 – Tom Kmiecik
Reed 2 – Allison Suding
Trumpet 1 – Carlos Strudwick
Trumpet 2 – Rachel Madden
Trombone – Scott Avant
---
Reviewed Performance: 8/10/2014
Reviewed by Bonnie K. Daman, Associate Critic for John Garcia's THE COLUMN
Denton Community Theatre is ending their 44th season in style and going out in a blaze of PINK! Headed by a phenomenal lead cast and equally superb ensemble, DCT's Legally Blonde The Musical is overflowing with energy and talent and is not to be missed.

If you think you know the 2001 film Legally Blonde starring Reese Witherspoon, the Broadway show is a whole new level of "Like, Omigod" glitz and glamour. Show-stopping choreography and powerhouse vocals are just two of the highlights of DCT's production, and the story that follows Elle Woods' rise from Delta Nu sorority life to the halls of Harvard Law School. Add in a golf cart, a Chihuahua, a bulldog, and great costuming and DCT has the recipe for a performance that surpasses expectations and is set to be a fan favorite for seasons to come.

If Director Clay White had any misgivings taking on Elle Woods, they should be null and void. What work he and the designers have put into this show, the cast and crew of Legally Blonde give tenfold back to their audience with a production that shines.

Rebecca Lowrey's music direction appears effortless in blending over thirty voices for a musical that is almost exclusively sung. With a revolving door of actors coming and going onstage, she makes certain each number is vocally strong, and that they never drop lyrics or make changes in volume. Upstage, Lowrey conducts the small but versatile orchestra her keyboard. The music is balanced well with the help of Danica Bergeron's sound design, the music directed toward the audience instead of being swallowed up onstage, into the wings or behind walls.

The set, designed by Joseph Cummings, flows as swiftly as the cast moves from one scene to the next. Following after the Broadway production's original set design by David Rockwell, Cummings incorporates the sorority house staircase for the opening number. He then downsizes, using dual-purpose set pieces that rotate to create multiple locations such as the salon, Elle's dorm room and the Harvard exterior. Connie Hay's property design elevates Cummings' ability to create additional locations. Using stand-alone props that are easily wheeled on and off by the actors, the department store, courthouse, and even a bathroom all come to life on stage.

Ken Davis' lighting design heavily illuminates the solid backdrop to tie into each scene. Before the show begins and throughout the opening number, the audience is greeted with an abundance of pink, cast over the entire stage. Pink is obviously the running theme but Davis manages to throw in other colors such as green to lead up to the "Ireland" number. Davis also incorporates spotlights to hone in on one or more characters at certain key moments in the show.

The choreography by Jaclyn Butt is nothing short of spectacular. Flexing her muscles in several dance styles, Butt gives the cast plenty of opportunities to shine. The marching band and cheerleaders in "What You Want" encompass the majority of the cast moving as one with succinct, crisp steps. A remix of the song "Ireland" in the second act once again incorporates use of nearly the entire cast. Standing shoulder to shoulder the full length of the stage, they execute Butt's Irish step choreography impeccably, to the delight of the audience. The highlight of Butt's work is the second act opener "Whipped into Shape". Utilizing ropes, the dancers make singing while both jumping and doing rope tricks look easy. It is certainly a crowd pleaser.

Costume Designers Derek Whitener and Victor Newman Brockwell give life to the many characters on stage, whether through the use of brightly-colored fabrics for the Delta Nu sorority sisters or the preppy, muted tones of the Harvard Law students and faculty. The tweed coats worn by the Harvard admissions board members during "What You Want" are classic and the selection of a button-down sweater for Professor Callahan is picture perfect. Emmett's casual Friday attire of sports coat and colored jeans matches the unassuming, blasé approach the character has to fashion. His transformation in the second act is more apparent due to Whitener and Brockwell establishing Emmett's typical style.

For the women in the cast, Whitener and Brockwell surely had their work cut out for them. As the Greek Chorus, the sorority ladies are dressed completely in white but wearing identical pieces of clothing as their "color" outfits. The mirrored costumes help audience members keep track of who's who among the Delta Nu. Paulette is dressed deliciously tacky with bold-patterned leggings and daisy dukes. Vivienne Kensington is strictly in black. Brooke Wyndham's prison costume is an ensemble of orange jumpsuits and workout clothes, making jail time look good.

Perhaps a costume designer's dream character, Elle Woods makes a fashion statement with each scene, her obvious choice of color being pink. Elle's floor length dress with double side slits for the number "Serious" is romantic and flowing. Even in cropped jeans, Elle isn't without her pink top and hot pink, chunky stilettos. Whitener and Brockwell recreate a tamer version of the bunny costume but the scene has the same effect. Costume after costume, Elle's wardrobe is top notch, culminating in the final courtroom scene with a sexy and sleek but professional, pink wrap dress.

Tackling the coveted role of Elle Woods is Kristi Smith. Smith has energy to last for days and a spunk that flows through her singing and movement. Never offstage for more than thirty seconds at a time (or so it seems), Smith carries the show with ease. She's able to throw out one-liners one moment, garnering plenty of chuckles from the audience, and then the next she can pull at your heartstrings. Smith gives an impressive vocal performance including belting and holding out a note for sixteen bars in the act one final number. Her voice truly shines, however, during the tender moments of the songs "Legally Blonde" and "Find My Way".

As Emmett Forester, Tim Brawner has a likeable charm and charisma that will immediately delight audiences. His chemistry with Smith is endearing and Brawner portrays genuine excitement and pride as her character grows and transforms. Brawner is incredibly expressive in his face with good comedic timing but it's his overall mellow approach to the character that balances well with all the frenzied, overexcited activity going on. The song "Chip on My Shoulder" also gives the first glimpse at Brawner's vocal abilities which are by far one of the best in the show. His duet with Smith in the song "Legally Blonde" is emotional and Brawner's tenor voice takes your breath away.

Suzanne Lewis brings down the house as Paulette. Her rendition of "Ireland" is only a warm up to her breakout performance in "Bend and Snap" where Lewis lets loose and gets down with the cast in one of the most entertaining numbers of the show. It's a stark contrast to the timidity she demonstrates at the beginning of the show. Lewis' portrayal of Paulette is a perfect mix of hopeless-dreamer-with-low-self-esteem meets empowered woman.

Another powerhouse vocalist, Grace Neeley, plays the uptight, backbiting character Vivienne Kensington. Vivienne spends a good portion of her role fuming and conniving, as evidenced by Neeley's flawless scowl and a laser beam stare that could kill. She gives a dynamo performance during "Legally Blonde Remix", commanding the stage and delivering an amazing vocal.

The object of Elle Woods' obsession with getting into Harvard, Warner Huntington III is coolly played by Will Chandler. Chandler has an ability to appear level-headed and truthful all while his character is doing and saying irrational things. During the number "Serious", Warner breaks up with Elle then in the second act tries to get her back. Instead of appearing desperate or grasping at straws, Chandler makes his character genuine in his belief that he's being unpretentious.

The great thing about Barrera's performance as Professor Callahan is there's nothing over-the-top about his portrayal. He comes in, gets down to business, and his no-nonsense approach to Callahan works so much more in Barrera's favor than had he played him as the villain. By the way he stalks the students in the classroom, he does however, remind you of the college professor you wanted to please but dreaded when called upon. "Blood in the Water" shows off Barrera's vocal capabilities and his overall performance is commendable. I'm becoming a fast fan of Barrera's, so to see him in action always makes for an absorbing theatre experience.

Exploding into the second act is Natalie Coca as Brook Wyndham. Coca's opening song, "Whipped into Shape", is one of the most rigorous, demanding musical numbers of the musical and she makes it look easy. Coca deftly balances her character between a tough exterior and a peppy Delta Nu on the inside.

There are also a few standouts within the ensemble. Brooke Benefield as Margot, one of Elle's Delta Nu sisters, fully embodies the type of sorority character fans of the movie and musical have come to expect. She gives an excellent performance and audiences will find her enjoyable to watch. As Kate, another fellow Delta Nu, Kelli Ann Pistokache is always doing something interesting onstage. Her quirky and free-spirited character is consistently entertaining. Finally, Pat Watson has the least amount of time on stage but his multiple characters, such as the Reporter and Winthrop, only need a few seconds to make an impact. Watson is comical as Elle's Dad and truly knows how to make an entrance!

There is something good to be said about every member of the Legally Blonde cast, for this ensemble is made of an impressive team of actors, singers and dancers. Denton Community Theatre's production is pure gold (and pink) and will leave you smiling and dancing in your seat for more. If it's not sold out yet, it certainly will be.
---
LEGALLY BLONDE THE MUSICAL

Denton Community Theatre
Campus Theatre
214 W. Hickory St.
Denton, TX 76201


***Limited run through August 17th****

Thursday - Saturday at 7:30 pm, and Sunday at 2:00 pm

Ticket prices are $10.00 Thursday, with $8.00 for students/children; $20.00 Friday – Sunday with $18.00 for seniors and $10.00 for students/children. All tickets purchased online will include a service fee. If available, tickets can also be purchased at the box office, located at the theatre.

For more information and to purchase tickets, visit www.dentoncommunitytheatre.com or call their box office at 940-382-1915.