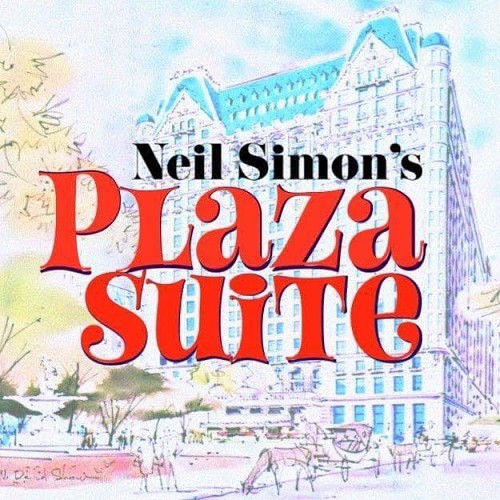 PLAZA SUITE
By Neil Simon
Garland Civic Theatre
CAST & CREW
Karen Nash - Robin Coulonge
Sam Nash - Tim Doyle
Jesse Kiplinger - Steve Golin
Muriel Tate - Polly Harrison
Norma Hubley - Jennifer DeJohn Frawley
Roy Hubley - David Tinney
Bellhop/Borden Eisler - Patrick LaBruyere
Waiter - Mark Inman
Jean McCormack/Mimsey - Bethany Brown

Producer - David Tinney
Director - Timothy Doyle
Stage Manager - Amanda Gonzalez
Costumes - Kerra Sims
Props - Autumn Barangier
Master Carpenter - Josh Hensley
Light Board Operator - Morgan LeMay
Production Assistant - Maddie Loy
---
Reviewed Performance: 9/7/2019
Reviewed by Travis McCallum, Associate Critic for John Garcia's THE COLUMN
Hotels are a curious thing. They are a meeting place brimming with all manner of activities. Take Neil Simon's "Plaza Suite", a play about three encounters in the same room at #719. The story takes place in 1968 at New York City's Plaza Hotel over the course of three unrelated acts.

The first act is one about Karen Nash (Robin Coulong) and Sam Nash (Tim Doyle) whom are in a loveless marriage and Karen is attempting to salvage the situation by bringing them to their honeymoon location 23 years ago. She is wild, unpredictable and not very good when it comes to the finer details (like her own age). Karen flutters around the suite with an airy spring and excitable anticipation for her husband's arrival. When Sam finally enters the hotel room, he ruins her joyful mood with his worry of work.

The scene plays out much like a creative brainstorming session gone sour. Karen, an eternal optimist, tries to spark life and vigor into their relationship. All the while Sam shuts her down with excuses and flat out no's. He is selfishly obsessed with his own weight and white teeth, ignoring Karen's pleas for help.

Enter the underlying cause to such frustration: Jean mcCormack (Bethany Brown).

Karen describes her as skinny and young, two things she seems to be lacking. Her brief stay in the room to discuss business with Sam looked like nothing more than that of a professional and polite secretary.

One of the highlights of this scene were quips of sarcasm the couple would fire back at each other in reference to past comments. There was never a lost beat and everything flowed quickly… albeit a little too quickly. Sometimes there were moments of awkward silence where Karen was by herself for a whole minute or two and she'd just hum a melody while shuffling around the room.

Sam's breakdown news of the affair was convincing to say the least. Of the pair, he played the logical person, which made me appreciate Karen's whimsical personality all the more. Great dynamic of energy feeding from each other!

The second act is about Jesse Kiplinger (Steve Golin) and Muriel Tate (Polly Harrison) whom were high school sweethearts, reunited after decades of being apart. Jesse is a big-shot Hollywood producer and invites Muriel, a married mother with three children, to visit him at the Plaza Suite.

Jesse is suave, debonair and confident. He entices Muriel with alcohol to cool her nerves and she is in a state of apprehension for doing something so crazy. On one side she is absolutely infatuated with the fame of this big-shot while on the other side she is concerned about her normal life situation.

This scene is the classic story of cat and mouse whereby Jesse pounces to catch his prey, and Muriel dodges each attempt to win her over. She does seem to be hiding her real feelings for Jesse as we see her initially reject his advances with the 'right' answer, then share her desires afterwards-- which ultimately find the two in bed together.

I like how as the story progresses Jesse becomes drunker and his speech slurs, his body is disoriented, and he opens up about himself more freely. Likewise Muriel's nerves die down and she eventually tell Jesse how she really feels.

One of the key differentiators of this scene that I liked compared to the others is the strategic use of pauses in between dialogue. It was nice for us as audience members to have time to breathe and process what was happening on stage, something that felt rushed in the first scene.

The third act is about Norma Hubley (Jennifer DeJohn Frawley) and Roy Hubley (David Tinney) whom were a couple trying to get their daughter out of the bathroom for her big wedding. Of all the scenes, this was the most hilarious and comical of them.

Hats off to Roy for pulling off some of the funniest moments including his strong-man attempt to ram the bathroom door down (inadvertently injuring himself) and scaling the outside building ledge (only to be locked out and drenched from a sudden storm).

To compliment him, Norma reacted with superb emotions befitting of a concerned wife. This dynamic of a squabbling couple who love each other very much is very gratifying to watch. I particularly like Norma's sweet voice / mean voice on the phone because she could so easily shift her energy like a chameleon.

I admit I was expecting a scarier, meaner father with all the early intro talk Norma made him out to be. While there was certainly an aggressive front to Roy's demeanor, it was amusing to watch. (Steve Golin might fit the profile of 'scary' in the cast.)

I really loved the lighting for this show. Two major components stood out to me: the lampshades and the backdrop behind the windows. The ability to create ambient lighting that dimmed and brightened based on the stage focus was an excellent move on Director Timothy Doyle's part. Having those beautiful blue hues behind the scenes gave the nighttime feel.

Costumes were spectacular and period accurate with just the right flavor for the special occasion. Roy's tuxedo ripped on the back when Norma tried to pull him from the window, and I swear he was completely soaked after returning. Jesse's leopard attire was an exotic look and Karen's bright red blouse accentuated her wild personality. Norma's hat was expertly crafted as an extravagant piece of clothing.

There were a lot of props on stage to work with and they all got fair use throughout the show. Briefcases, vodka stingers, lingerie and lipstick paraded the floor and the actors helped visualize the scene with their help. Great job curating these delectable props Autumn!

One aspect I liked during intermission was how the supporting staff tidied up each room to fit the new scenes. The waiter (Mark Inman) was a heavyweight garbed in a white suit who gleefully partook in patron activities. For better or worse, he would professionally bring the anchovies, lean meat, and a bottle of champagne with two glasses for his guests. In the end the waiter got some action too. What an eccentric gentleman!

The Bellhop and also Borden Eisler ( Patrick LaBruyere) was mostly a normal person on stage who didn't quite play out the over-the-top exaggeration all of the other characters did. Himself and Bethany Brown were the most tame, which might explain why the ended up married at the very end!

I enjoyed watching Garland Civic Theatre's "Plaza Suite" and would encourage others to enjoy a light domestic comedy of familiar situations. This is a great cast of varying sizes each with their own unique spotlight. Be dazzled by the anti-climatic love affair of the Nashs, the steamy rekindling of Jesse and Muriel's forbidden romance, and the ludicrous scenario the Hubley family find themselves in.
---
PLAZA SUITE
CIVIC GARLAND THEATRE
300 N Fifth Street
Garland, TX - United States
For More Information and Tickets visit:
https://sa1.seatadvisor.com/sabo/servlets/TicketRequest?eventId=1272516&presenter=GRANVILLE&venue=&event=PLAZA&tck=true