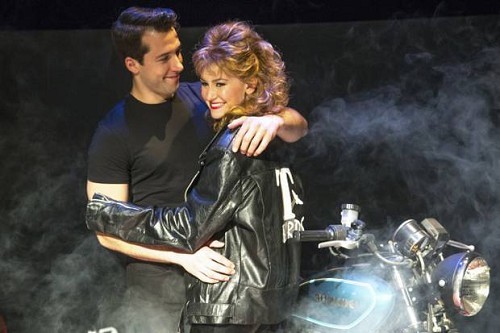 GREASE
Book, Music and Lyrics by Jim Jacobs and Warren Casey
Casa Manana
Director/Choreographer: Joel Ferrell
Music Director: Sheilah Walker
Associate Choreographer: Kent Zimmerman
Production Stage Manager: Hans Meyer
Scene Design: Katie Dill
Hair/Wig/Make-Up Design: Patricia Delsordo
Costume Design: Tammy Spencer
Lighting Design: Samuel Rushen
Sound Design: Jonathan Parke


CAST

Miss Lynch: David Coffee
Patty Simcox: Aubrey Adams
Eugene Florczyk: Tanner Lee Hanley
Danny Zuko: Vince Oddo
Sandy Dumbrowski: Heather Botts
Kenickie: John Ashley Brown
Betty Rizzo: Carrie A. Johnson
Sonny La Tierri: Kent Zimmerman
Roger: John Hays
Doody: Brad Bong
Frenchy: Laura Wetsel
Marty: Alison Hodgson
Jan: Alixe Ward
Teen Angel/Johnny Casino: Maurice Johnson
Vince Fontaine: Scott B. Sutton
Cha-Cha Di Gregorio: Shannon Hucker
Ensemble: Trevor Douglas, Ellie Hertel, Clay Slee, Lauren Weik
---
Reviewed Performance: 9/15/2012
Reviewed by Bonnie K. Daman, Associate Critic for John Garcia's THE COLUMN
The time, the place and the motion is all at Casa Manana and Grease is the word! Fort Worth's cherished, domed theater kicks off their 2012-2013 season with one of America's most beloved rock-n-roll musicals sporting an all-star cast, a few twists on some favorite numbers and unlimited amounts of energy pouring out of every nook and cranny. Casa's tribute to Rydell High School circa 1959 has plenty of hits, very few misses, and any fan of Jim Jacobs and Warren Casey's Grease will walk away with a swing in their step.

The challenge with recreating such an iconic show is deciding on a balance between originality versus embracing the familiarity audiences have with the characters and the scene work made famous the world over by the 1978 film version. Director and Choreographer Joel Ferrell draws a fine line between the two but for the most part gives the audience the characters they know and love with very few liberties taken. It's a rewarding choice, one that reflects well with the actors and is embraced early in the performance.

Ferrell's cast is led by a tight ensemble of powerful singers and exuberant personalities whose love for this show exudes from onstage. What musical theater actor doesn't want to be a Pink Lady or T-Bird at least once in their life? Truly, this cast puts forth an energetic and "hip" performance worthy of those jackets. The downside to having a large number of scene-stealing performers on stage at once is the true action of the scene tends to get lost. Songs such as "We Go Together" and the prom night numbers are prime examples of when it becomes difficult to locate which actors are speaking or singing. It's a barrage of activity, mostly non-choreographed, that draws your attention every which way. There are moments when one section of the audience erupts into laughter while other sections miss out on some sort of hilarity ensuing. It makes you wish you had a rewind button so as to catch each nuance and individual performance.

One of the most anticipated songs in the opening act and probably one of the most recognizable, "Summer Nights", is the introduction of Danny and Sandy's relationship and sets the musical's main plot in motion. The lead up to the number is quickly-paced, familiarizing the audience with each of the T-Birds and Pink Ladies, with good timing between dialogue and their entrances. Once the song begins the scene falls flat and lacks the power to be a show-stopping number. The choreography and the staging doesn't give it the fluidity or strength it needs to be the big opening number the audience wants to experience live. Perhaps only a hiccup for this one performance, the show immediately picks up the pace after "Summer Nights".

Ferrell's choreography is another area that has a fluid balance between his original numbers versus some of the show's well-known dances. The T-Birds' muscle-powered rendition of "Greased Lightning" incorporates Kenickie's classic car-top stance and the guys' typical thrusts and jabs as they dance about the garage. "Born to Hand Jive" in Act II is a powerhouse dance number that integrates the familiar hand jive with some intricate spacing techniques as the actors dance in and around each other. The choreography is simple but big and punchy which makes the number a hit performance. "You're the One that I Want", as in the film, is fun and sexy.

The set by Scene Designer Katie Dill is simultaneously industrial and showy. The entire upper half of the stage holds metal piping scaffolding that spans the full length between the left and right wings and on either side a staircase leads or gives access to downstage. The apparatus holds a catwalk crossing center stage behind which the show's live band is perched up high. In contrast to the structural set, the backdrop is blanketed in thousands of small lights to create a multitude of effects and gives a psychedelic vibe to the overall design when lit.

Unfortunately, the set feels cramped at times and pushes everything downstage with little room to work or maneuver. The scaffolding is utilized here and there but with the full cast onstage, their direction is relegated to front and center with a few actors placed on the different scaffolding levels. In addition, towering over both sides of the stage are murals of a T-Bird and Pink Lady that are impressionable but aren't cohesive with the overall set design.

Samuel Rushen's lighting design is innovative and enhances several scenes where other productions of Grease can usually fall short. The drive-in movie with Danny and Sandy comes to life with one rotating lamp projecting into the audience from far backstage, and Rushen's collaboration with Dill's multi-lit backdrop creates the desired effect. The spotlight work is effective in scenes such as, again, the drive-in movie or any of the ballads but is minimal during the group numbers and any well-lit scenes. The lack of is most likely one of the driving forces behind the audience losing focus during a high-energy number. A stronger beam could help guide and emphasize an action.

Together, the musical/sound team presents a flawless performance. Jonathan Parke's sound design unifies both the live band and the cast's vocals seamlessly with any additional sound effects neither being out of place nor overbearing. Nothing beats having a live band, and these musicians, conducted by Larry Miller who also doubles on the piano, are tight and well-incorporated into the show.

Two highly significant technical aspects to Grease are the costumes and the hair styles of the late 50's and early 60's. Costume Designer Tammy Spencer has the easy task of outfitting the gang in their pink or black leather jacket getup but it's in the remaining pieces where she has an eye for matching the right threads for each character. In fact, if you're familiar with the film, it's the costumes that first help distinguish the Pink Ladies during their entrances, more specifically Marty, Frenchy and Jan. Their characterization continues to build during each scene with Spencer's innovative styling.

Complementary to costuming is Patricia Delsordo's hair/wig/make-up design. While most of the women, and some men, are consigned to wearing one wig for the duration of the show, the character of Frenchy has several hair changes. Here is where Delsordo and Spencer shine because each of Frenchy's hairdos, whether blonde, redheaded or black, coordinates with each costume giving her entire appearance a makeover yet staying true to her character.

The one number out of the entire show that combines the absolute best of each of these technical aspects, from costumes and wigs to lighting and choreography, is 'Beauty School Dropout'. In the words of my guest who attended the review with me, 'This song steals the show!' Ferrell's twist on the Teen Angel character and the dream sequence is something I've never seen done and it pays off handsomely and hysterically. 'Beauty School Dropout' is like a performance all to itself and the cast is superb during this number.

Grease has a long list of characters that make up the riotous group of teenagers trying to survive their senior year of high school. If you line up all the men in the cast and have to pick out which one is Danny Zuko, New York actor Vince Oddo is right on the money. Oddo has the look and the chops to take on the character, and although he may look like he's physically built to be a jock, he has Zuko written all over him. Oddo's first number, 'Summer Nights', does not give a good representation of his vocal skills, and in this particular performance the lyrics and pronunciations tend to be just subpar. Act II is where those vocals come into play and he has an undeniable flare for bringing out the musicality of his character along with some pretty smooth dance moves.

Cast opposite of Oddo is Heather Botts in the role of Sandy. Botts brings a classically trained voice to her performance with amazing control and a beautiful vibrato, but regrettably her interpretation of the character Sandy overall does not sit well. Botts misses the girl-next-door vibe and her interactions with the more worldly cast of characters feels judgmental which makes her come across almost snobbish such as during the girls' sleepover scene. No doubt though, Botts has a star-quality moment during the Sandra Dee reprise where she seems more comfortable acting behind lyrics to a song.

Together Oddo and Botts are a picture perfect Danny and Sandy for Grease fans to enjoy. Although the plotline revolves around them, they are only two of a larger cast of characters. Maybe it's because of my familiarity with the film but Casa's production actually feels more like an ensemble piece rather than the Danny/Sandy show, whether by Ferrell's design or not. There is certainly some remarkable talent bursting from within this cast.

Danny Zuko's right-hand man Kenickie is played by John Ashley Brown. Brown comes off having toured previously with the National Tour of Grease as Kenickie and he easily slips back into the role. 'Greased Lightning' is Brown's leading moment and he carries the number and the choreography with finesse. The relationship between Brown and the character of Rizzo is on fire and the two always look to be off in their own little world. In the climax of their relationship with Rizzo's pregnancy scare, Brown makes a different acting choice in his reaction than what the audience is probably familiar with and it gives his character deeper meaning.

Brad Bong as Doody gives one of the best performances of the show. In fact, its Bong's number that really gets the show going when 'Summer Nights' misses the mark. His rendition of 'Those Magic Nights' is splendidly swoon-worthy and Bong is a true crooner at heart. Ferrell gives tribute to the likes of Jersey Boys using the remaining T-Birds as the background singers in matching blazers and 'concert mode' choreography while Bong steals the number and is reminiscent of a young Frankie Valli. Bong easily has some of the best comedic timing of the group which brings his overall performance out of obscurity to become one of the most memorable of the cast.

Roger and Sonny, played by John Hays and Kent Zimmerman respectively, round out the remaining T-Birds. Hays' entertaining duet in 'Mooning' is amusing and really the only chance we get to see his character pull away from the group, and by the end of Act I you certainly see more of Hays than you bargain for. Zimmerman as Sonny does nothing to stand out, but as Dance Captain and Assistant Choreographer his contribution to the group is certainly one as a dancer and fits in as needed.

Carrie A. Johnson in the role of Rizzo is not as hard or edgy as she could be but she certainly brings the character's sultry vixen persona to life. Grease is not known for having many deep, emotional scenes, however Johnson is privy to the one moment where the audience can embrace and feel for her character. Johnson's execution of 'There are Worse Things I Could Do' shows a broken, lonely woman who lets her guard down for a moment only to bring her walls back up after a sign of weakness.

Laura Wetsel's performance as high school dropout and wannabe beautician Frenchy is easy to watch without the reminder of Didi Conn's version in the film. The great aspect about Frenchy is that everybody loves her and Wetsel is effortlessly lovable as well. She owns the character's quirky habits and ever-changing looks with an honest, genuine approach.

The character of Marty is usually a favorite due to her seductive and mature ways. Alison Hodgson fills those shoes, or should I say heels, with an air of confidence. Her number 'Freddy My Love' is well-executed and lighthearted. I wish there was more interaction between Hodgson and the Vince Fontaine character during the prom sequence so the audience could enjoy more of her flirting.

Last but certainly not least of the Pink Ladies is Jan. Like Doody of the T-Birds, Alixe Ward is another stand out role that remains one of my favorites of the evening. Ward gives one of the most candid performances, with exceptional comedic timing both physically and in dialogue. She has a natural ability to deliver snarky remarks and act clumsy without being melodramatic. Her character's coy relationship with Roger shows the most progression of all the couples. If given the chance, Ward can no doubt take on any of the female roles in Grease.

A handful of kooky characters fill out the remaining cast and it wouldn't be Grease without them. Aubrey Adams is lovingly annoying as Patty Simcox and Tanner Lee Hanley as the nerdy Eugene embraces his inner geek. Together the pair flits around garnering a few laughs and they provide an amusing contrast between the different cliques.

Another stand out performer, Maurice Johnson fills the rafters with his powerful voice for 'Beauty School Dropout' in Act II. Johnson embraces what can best be described as an R&B Liberace for the number and turns out a dynamo performance that has the audience literally cheering and screaming for more.

Adding to the prom night sequences, Scott B. Sutton has a small role as Vince Fontaine and fits the party host and judge with a cool yet haughty countenance. Danny Zuko's dance partner Cha-Cha is pleasantly played by Shannon Hucker who dances like she's hyped up on caffeine or has a serious case of Attention Deficit Disorder but it plays rather well for the tone of the scene. Hucker and Sutton both are nice additions to the cast.

Perhaps one of the best casting decisions I have ever seen made is the cameo appearance of David Coffee in the role of Miss Lynch. Yes, MISS Lynch. Coffee is a wonder to behold in all of Miss Lynch's glory because he is brilliantly perfect for the role, donning a grayish schoolmarm wig and who knows what else to be transformed into Rydell's most dreaded English teacher. Coffee nearly steals the show and is a riot to watch during the finale.

If you love Grease you will love this cast and Casa Manana's production will have you dancing in your seat. Don't miss this final chance to hand jive your way through one last summer night at Rydell High.
---
GREASE
Casa Manana Theatre, 3101 West Lancaster Avenue
Fort Worth, TX 76107
Runs through September 23rd

Tuesday, Wednesday, Thursday at 7:30pm
Friday and Saturday at 8:00pm; Sunday at 2:00 pm

Tickets are $41.00-$76.00, Group sales available For information, go to www.casamanana.org or call their box office at 817-332-2272